C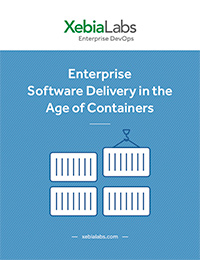 ontainers are popular for good reason. They let developers bundle all the necessary components of an application into one package that can easily be shared and distributed. This approach can greatly simplify deployment to test, user acceptance, and production environments. However, container platforms, such as Kubernetes, Docker, and OpenShift, solve only a fraction of the challenges enterprises face as they try to deliver high-quality software, quickly and securely.
So how can enterprises take advantage of the benefits of container technology without creating more work for their teams?
Download this free white paper from XebiaLabs to learn where containers fall short and how Release Orchestration and Deployment Automation tools can bridge the gap between the promise of containers and the realities of complex enterprise application delivery.
You'll learn how to:
Automate deployments to a widely varying infrastructure that includes containers, mainframes, mobile, and more
Manage and orchestrate complex processes and dependencies for microservices
Enforce compliance, control, security, reporting and audit requirements
Gain real-time visibility into all aspects of your software release processes so teams can stay on track and continuously improve
Harnessing the power of containers for releasing software at enterprise scale has never been so easy!
This complimentary resource is offered by XebiaLabs.
Download Now