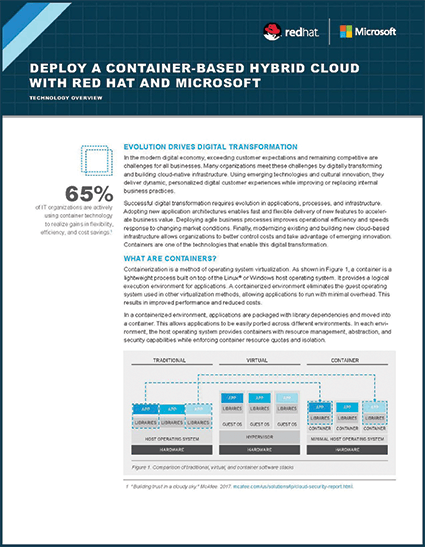 In the modern digital economy, exceeding customer expectations and remaining competitive are challenges for all businesses. Many organizations meet these challenges by digitally transforming and building cloud-native infrastructure. Using emerging technologies and cultural innovation, they deliver dynamic, personalized digital customer experiences while improving or replacing internal business practices.
Successful digital transformation requires evolution in applications, processes, and infrastructure. Adopting new application architectures enables fast and flexible delivery of new features to accelerate business value. Deploying agile business processes improves operational efficiency and speeds response to changing market conditions. Finally, modernizing existing and building new cloud-based infrastructure allows organizations to better control costs and take advantage of emerging innovation. Containers are one of the technologies that enable this digital transformation. In this technology overview, learn how Red Hat and Microsoft can help.
This complimentary resource is offered by Red Hat.
Download Now