Upcoming Webinars & Virtual Summits
Webinars – Where the DevOps World Learns
Below is a list of our upcoming webinars – a trove of valuable resources and information for the DevOps professionals.
You can also access past events and watch them on-demand. Registration is free. Enjoy!
Webinars List Navigation
July 2022
In this webinar, industry thought leaders Eveline Oehrlich and Lance Knight will discuss the difference between value-added (VA) and non-value-added (NVA) work in software delivery... Sponsored By ConnectALL Register
Organizations have practiced application performance management and monitoring for as long as there's been software. Over the years it has evolved and changed to accommodate... Sponsored By Tricents Register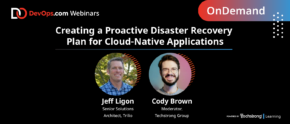 Though we hope they won't happen, disasters are inevitable—especially in today's unstable world. Because your customers, your revenue and your reputation depend on your applications'... Sponsored By Trilio Register
Amazon Elastic Kubernetes Service (EKS) is a managed container service designed to deploy and scale cloud-based or on-premises Kubernetes applications. To help automate Kubernetes deployments... Sponsored By AWS | Datadog Register
August 2022
Join this hands-on workshop, featuring live presentations and interactive labs, to learn how you can leverage a fully managed AIOps solution from AWS.
...
Sponsored By AWS
Register
There are many great tools that exist to track cloud spend. However, one persistent area of concern is containers and Kubernetes: The "black hole" of... Sponsored By Fairwinds Register
+ Export Calendar