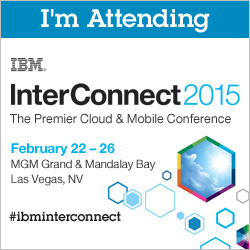 Well, I am an IBMer and going to IBM InterConnect2015 is a part of my job. And the best part about this event is that I will get the opportunity to meet all my clients and colleagues at one location instead of going to three different conference events which we use to call PULSE, IMPACT and INNOVATE. And for our clients, this is an opportunity to really get the broadest and deepest immersion into what IBM has to offer for cloud, mobile, bigdata, security etc.. and of course DevOps. That being said, I am really looking forward to it. By every measure it is going to be the largest DevOps conference ever with 300+ sessions just focused on DevOps. Although, InterConnect as a whole is not a DevOps conference – it has several areas of foci, across IBM's massive and diverse portfolio. DevOps just happens to be one of the most significant areas of focus. At the conference, we have IBMers, sharing the IBM DevOps adoption journey with industry leaders, influencers, SME's, and most importantly several of our customers who will talk about how they have adopted DevOps and achieved business benefits.
I myself have multiple sessions that I am delivering/participating in at InterConnect. These include:
Understanding DevOps (Session DTS-1778, Monday 12:15PM): This is my flagship session which I have been doing at IBM conferences for three years now. I introduce DevOps – it's history, what it means, capabilities that make up DevOps, and where to start on your DevOps adoption journey.
Eliminate Dogwork with Leaner and Smarter Methods (Session DEV-6306, Monday 3:50 PM): This is a unique session. I will be delivering this with Walker Royce, IBM Chief Software Economist. It will be in the [email protected], a developer focused event happening in parallel with the main InterConnect event. You can register just for this event separate from InterConnect. Walker and I will go over how developers can self-empower themselves and reduce the waste in their application development and delivery pipelines. We will explore common sources of waste and techniques on how to identify and mitigate them.
Panels, Panels, Panels: I am on two panels with a bunch of very illustrious experts.
Mobile to Mainframe Experts: DevOps Best Practices for Systems of Engagement and Systems of Record (Session DEM-4399, Monday 2PM) – This panel is focused on organizations developing multi-platform applications – from Mobile to Mainframe. My co-panelists are: Rosalind Radcliffe (IBM Distinguished Engineer), Carmen DeArdo (Nationwide Insurance), Claus Bjorno (KMD A/S), Slavik Zorin (Synchrony Systems Inc), Jeff Blackadar (CMHC) and Mads Frank Zanderson (Xact Consulting).
Experts in Mobile, Deployment, Web IDE and Agile Answer Your DevOps Questions (Session DEV-1902, Wednesday 8 AM). This is a Q&A format panel with SMEs on all things DevOps. My co-panelists are: Yan Tina Zhuo (IBM), Eric Minick (IBM), Donald Thomas (IBM) and Wayne Monk (Skytap).
 I will also be running a series of DevOps workshops in the 'Inner Circle' Event taking place at the MGM.
So, now you know where you can catch me at the conference, but that's not all, there is a lot to look forward to with so many different stories at so many different sessions. Check out the entire agenda here. I intend to spend most of my time in and around the Cloud and DevOps tracks, DevOps Transformation workshops, and in the expo center in the DevOps zone. Come look me up. I will also be signing copies of my updated DevOps For Dummies book (2nd Edition) on Monday and Tuesday nights in the expo center.
Register for IBM InterConnect 2015 today to know what's happening in the world of DevOps and understand how you can be a part of it. And get your signed copy of DevOps for Dummies book today.