Arrcus has added virtualized distributed routing (VDR) and multi-cloud networking (MCN) capabilities to ArcOS, a network operating system (NOS) that can be deployed on-premises or in the cloud.
Company CEO Devesh Garg said these additional capabilities provide the programmatic network services that IT organizations require to foster deployments of hybrid cloud computing environments.
Arrcus MCN provides the ability to securely connect workloads and data across any cloud, while VDR eliminates the need to rely on physical routers that require their own chassis, he said.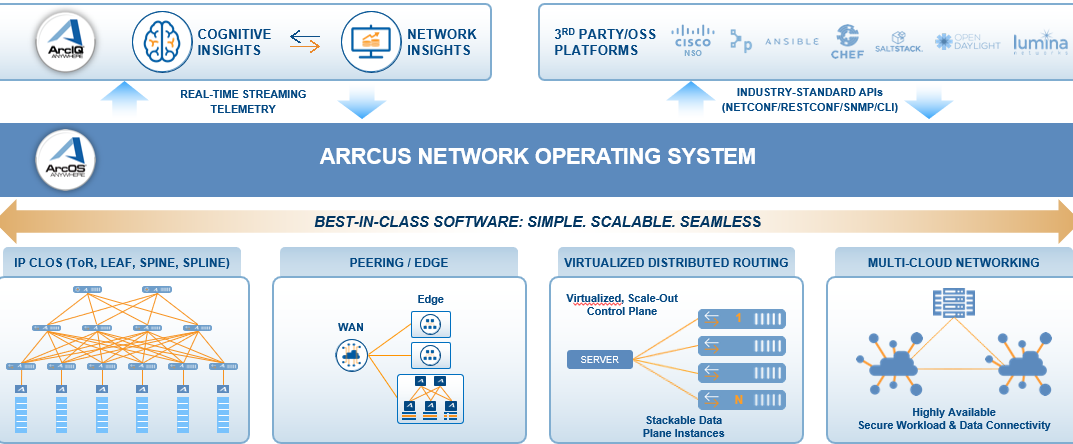 Arrcus has been making the case for a disaggregated approach to networking that eliminates dependencies on physical infrastructure. Instead, IT teams can deploy ArcOS on a cloud service or any white-box appliance they choose in an on-premises IT environment. That approach eliminates the possibility of becoming locked into specific network hardware platforms, he said.
Garg added it also provides DevOps teams with a consistent foundation on which to deploy distributed applications. Rather than having to navigate different NOSes running in the cloud and on-premises IT environments, ArcOS presents a consistent set of application programming interfaces (APIs) for accessing network services.
In fact, the need to programmatically invoke those network services is what's driving the convergence of network operations and DevOps teams, he noted. As applications become more distributed in the age of the cloud, IT organizations are looking for more efficient ways to expose network services on-demand.
That convergence, however, will take time. Many networking teams still tend to prefer to acquire routers and switches as physical devices that include a NOS rather than deploying an operating system on infrastructure they select and manage. However, as DevOps teams continue to push for access to network services that can more easily scale up and down as required, it's now only a matter of time before software-defined networking services become a default requirement.
In fact, Garg said, the rise of microservices will force that issue as DevOps teams look to deploy applications that will be updated frequently.
In addition, he noted, the rise of edge computing platforms and 5G wireless networking services will simultaneously push organizations toward virtualized network services.
It's not clear at what rate network services are being transformed. Software-defined networking services are already readily available in the cloud. Progress in on-premises IT environments has been tied to the willingness of IT organizations to fund upgrades to core network infrastructure. The challenge many IT organizations now face in the wake of the economic downturn brought on by the COVID-19 pandemic is finding a way to achieve that goal cost-effectively. White-boxes provide a less costly alternative to switches from vendors such as Cisco Systems and Arista Networks. At the same time, the total cost of delivering network services across a hybrid cloud computing environment can decline when a common NOS is employed across all platforms.
Regardless of the path forward, the one thing that is certain is legacy network infrastructure has become a major bottleneck at a time when IT organizations need to be more agile than ever.