Despite all the hype about DevOps, little has been written on a formal DevOps strategy. Too often DevOps initiatives starts with tooling discussion and gets stalled in technology. The larger vision is rarely discussed. The goal of this article is to provide enterprises, large and small, with a framework for creating that vision and unlocking the promise of DevOps.
Elements of a DevOps Strategy
A holistic DevOps strategy, at the most basic level, must answer the following questions:
Where should we focus our efforts? Where do we begin?
What are we trying to solve?
What is our goal? How are we going to solve it? How long will it take?
How is this going to impact the larger enterprise? Who are our stakeholders and what do they value?
Is this worth doing it? What are the benefits and costs?
If implemented correctly a good strategy provides an organization with focus, creates a common (unbiased) view of the current problems, develops the future state, unveils opportunities for growth and results in better business outputs.
DevOps Strategy Map: A Balanced Scorecard Framework
A Balanced Scorecard typically consists of four high-level perspectives that highlight key practices and objectives that are needed to build a strategy. We choose this framework primarily because it does three things really well. First, it provides a disciplined approach towards creating a strategy. Second, it links the key activities together and describes the cause and effect between them. And third (and most important), its easy to use and follow.
A scorecard is usually read from the bottom up. Enclosed below is a Balanced Scorecard modified for DevOps.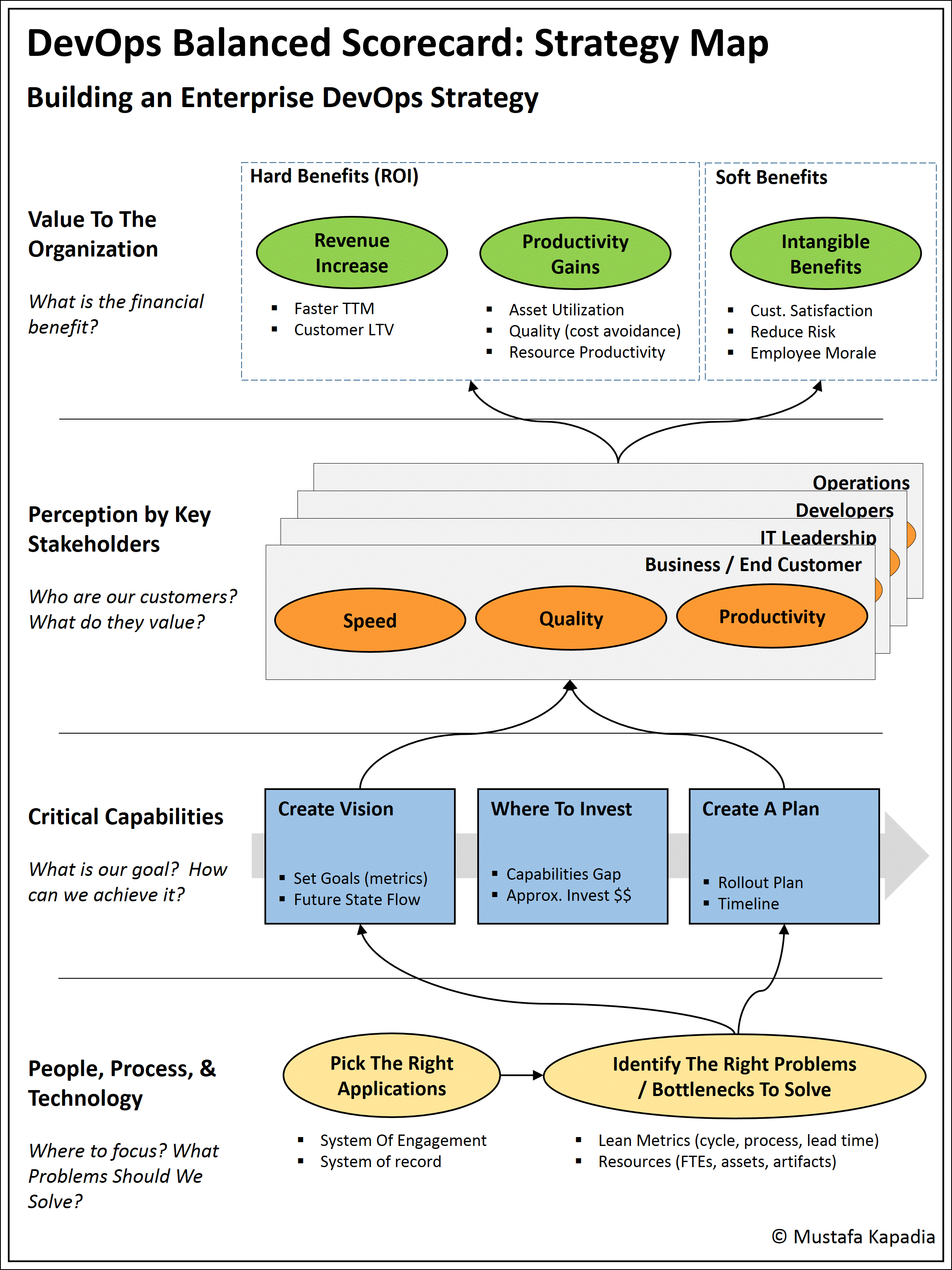 1. People, Process & Technology
In DevOps we have the luxury of plenty: an abundance of applications, technologies, competing initiatives, bottlenecks, nebulous problems, tools, etc. The objective of this dimension is to narrow down the application options (system of record vs. system of engagement) and target the problems that really matter (value stream mapping exercise). By doing so, we bring clarity and focus to the organization and greatly improve the chances of success.
2. Critical Capabilities
The next step consists of three activities – create a vision (which includes a future state value stream), determine where to invest, and build an implementation plan. Three things to keep in mind as you go about doing this exercise. First, pick hard targets for your vision. Instead of "improve speed" try to get to "improve speed by 25 percent". Second, pay particular attention to capabilities gaps. Gaps can then be used to determine areas of investment, approximate budget, and a key input into your ROI model. Third, make sure to prioritize the bottlenecks. Putting the priority list on a timeline can be quickly translated into an implementation plan.
3. Perception by Key Stakeholders
Identifying your key stakeholders, determining their priorities, and aligning your strategy accordingly is the next crucial step. Some of the key stakeholders to consider are business/end customer, CIO and the IT leadership, development, operations and security. Once identified, match the value drivers from the vision to each stakeholder. This along with the output from the previous section will highlight pitfalls of your future state solution, its feasibility, and political objections.
4. Value to the Organization
The financial benefits section serves as the keystone for the balanced scorecard. By using output from the previous sections the business case brings the entire strategy together. As for the benefits themselves, they come in both hard and soft forms. The most common benefits we see are listed in the chart above. To get to ROI, combine the hard benefits with the investments from the previous section.
One Last Thing
The strategy map is meant to be iterative—the great thing about a DevOps solution is that it is not a "one size fits all" approach. Play around with all of the above steps. Move things around, change scope, update solutions and redefine vision until you come up with an objective that is both transformative and achievable for your organization.
DevOps is a journey that's two steps forward and one step back. Good luck!!
Special thanks to Sunil Joshi and Emily Pence for helping create the Strategy Map. To find out more on how to use this map, joins us at IBM Interconnect.
About The Author/Mustafa Kapadia
Mustafa Kapadia is the Service Line Leader for IBM's DevOps practice, a business advisory practice focused on helping large enterprises transform their software & application delivery. He has over 17+ years of experience in the tech. space, both as a service provider and a management consultant.
Prior to joining IBM, Mustafa was a management consultant with Deloitte's Strategy & Operations practice. He lives in San Francisco Bay Area, is an avid blogger (when time permitting), a speaker, and adviser to start ups.