DevOps India Summit 2018, India's biggest DevOps conference, concluded with notable audiences and best in industry experts setting the tone for the future of DevOps in India. The summit was held Sept. 1 at the Marriott Hotel, Whitefield, Bengaluru with a pre-event workshop Aug. 31. Around 500 professionals, including corporate leaders and mid-level managers from across the country, who witnessed the best minds in DevOps sharing their valuable insights on all phases of DevOps transformation. The event was designed to create a platform where practitioners of DevOps in India can hear the stalwarts share their experience and share their own journey and experience through calls for papers.
The world-class summit, organized by Xellentro in partnership with DevOps Institute, Crevise Technology, Confinity Consulting, GitLab, Datamato, Sumologic, Zoomcar, MongoDB, TechGig, The Entrepreneur and PEOPLECERT, focused on the future of DevOps in India. The attendees got an opportunity to connect with the industry pioneers and learned about some of the emerging DevOps practices they can apply in their own organization. Experts from the United States, France, Brazil and India gave a sneak preview of DevOps adoption and how those initiatives and technical practices can help organizations attain the highest levels of performance.
The topics were well-chosen and balanced, starting from the keynote by John Willis on DevSecOps to Marc Hornbeek speaking about the Continuous Delivery Architecture, Aymen El Amri speaking about Cloud Native and Amanda Mattos sharing her DevOps journey in the organizations she has worked. We also had sessions on Container-based CI Solutions by Archana Joshi, director of Cognizant Technology Solutions; DevOps Assessment Framework by Dr. Shome from TCS; High-Speed DevOps from Zoomcar, the Importance and Use of Database by MongoDB; Gaming in DevOps by Wipro; Scaling DevOps by Padma; DevOps in Automotive Engineering by KPIT; and many more. There were 30 sessions and six lightning talks, all of which were received with great enthusiasm.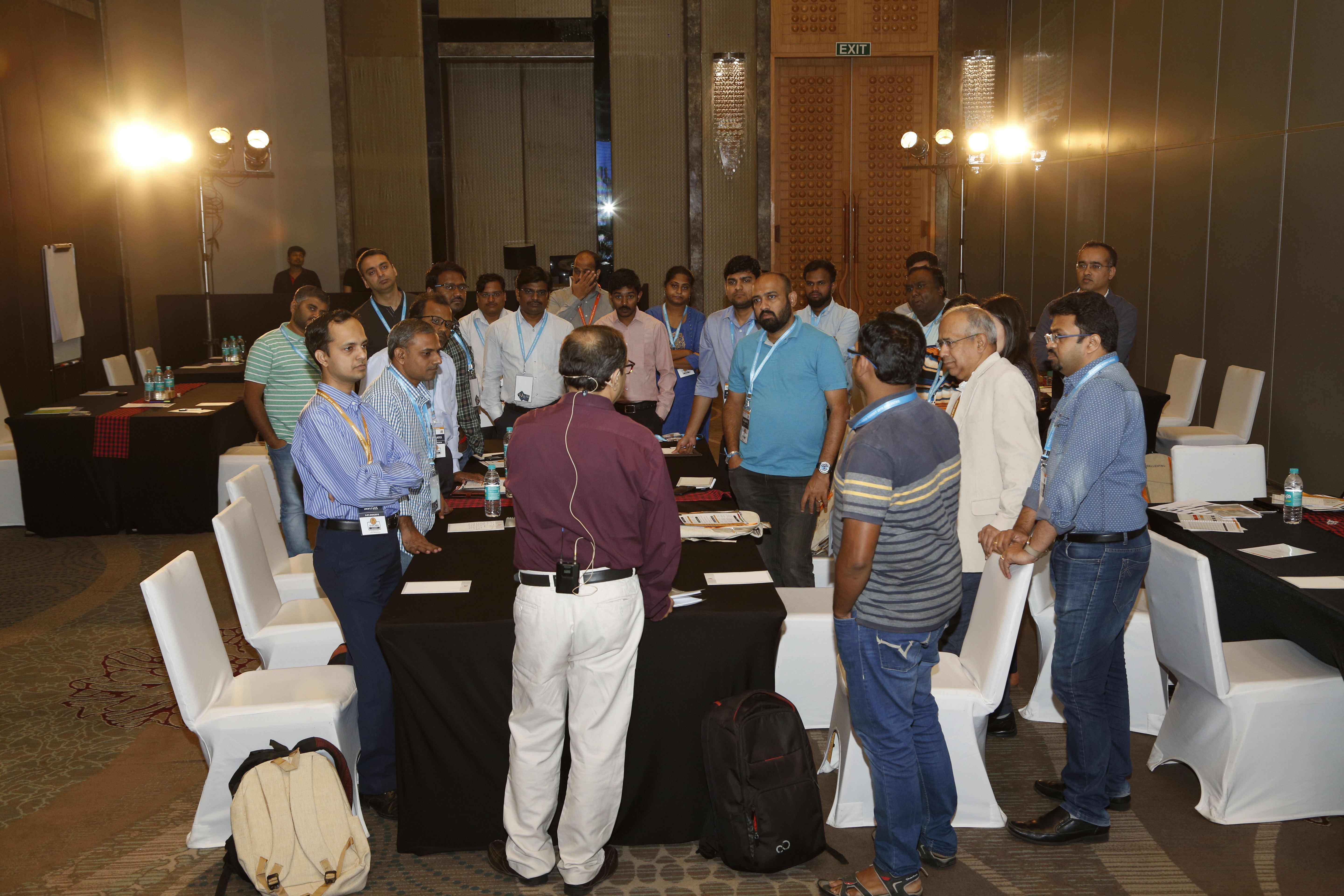 There was a panel discussion with 10 speakers and various topics were discussed from various areas of DevOps including DevSecOps and the need to include DevOps in university curriculum.
The participants expressed their happiness to be able to hear such varied topics on DevOps and the great learning they had in the event and expressed their desire to attend in future years.
During the event, Xellentro also awarded the highest Tweeter with Amazon vouchers.
The pre-event had workshops by Marc Hornbeek on Architecting Continuous Delivery and was attended by a large audience who found this session extremely useful.
Niladri conducted the G2G3 DevOps Simulation and the participants were intensely involved in this great immersive experience, which taught them the basic principles of DevOps—a great way to start the DevOps transformation and helps in making the participants feel the difference practicing the principles.
GitLab products were also shown by their representatives.
"It was a great feeling to attend this summit, as we get to meet new people who have been in this industry for a while," said John Willis, president, DevOps and Digital Practices at SJ Technologies. I have come across people who are smart, aggressive learners and are eager to know more that they put up questions that was never asked before, it took me a time to navigate to an answer."
Marc Hornbeek commented that the event had the feel of DOES Summit but at a more manageable scale, where speakers could mingle with the delegates and take part in more knowledge-sharing among each other.
At the end of the event, prizes were awarded on behalf of Xellentro. PEOPLECERT announced awards for five participants who were given free examination vouchers for training through Xellentro. DevOps Institute also announced prize to the highest scorer in DevOps Practitioner certifications conducted through Xellentro.
Thanking all the partners and participants at the event, Niladri Choudhuri, who conceptualized the event said: "It is very encouraging to see people coming together and working as team to promote the real essence of DevOps. I thank all the participants who brought their enthusiasm along and asked so many relevant questions. This is the first ever DevOps event in India in such large scale with prime focus on the core content and quality of speakers who bring value to organisation. This is a start to more such future initiatives and I thank everyone for their support."
DevOps India Summit is starting a community of DevOps practitioners to create a platform to share, learn and enjoy the DevOps journey and help each other in the journey. People interested, other than the delegates who are already members of this community, can join this community here.