A new IDC white paper sponsored by IBM and CA Technologies reveals the adoption of DevOps is a hallmark of those organizations that are actively modernizing and integrating legacy systems such as a mainframe to support digital transformation.
Early adopters are blazing a path for faster innovation and greater ROI.
DevOps Delivers Mainframe Modernization and Integration
I'm encouraged to see DevOps recognized as an important element in realizing a "connected mainframe" vision. Respondents demonstrated a continued commitment to modernizing their mainframe environment.
The IDC study confirmed that leveraging Java on the mainframe was one of the most popular approaches. In fact, I'm constantly surprised at how few managers realize that these days, Java and Git can be used by developers in such a way that allows them to completely separate themselves from the mainframe "green screen" environment when coding or maintaining applications.
DevOps automation has also helped organizations overcome many of the cultural and operational challenges to a fully end-to-end enterprise by aligning application development tools and orchestration chains across multiple platforms and teams.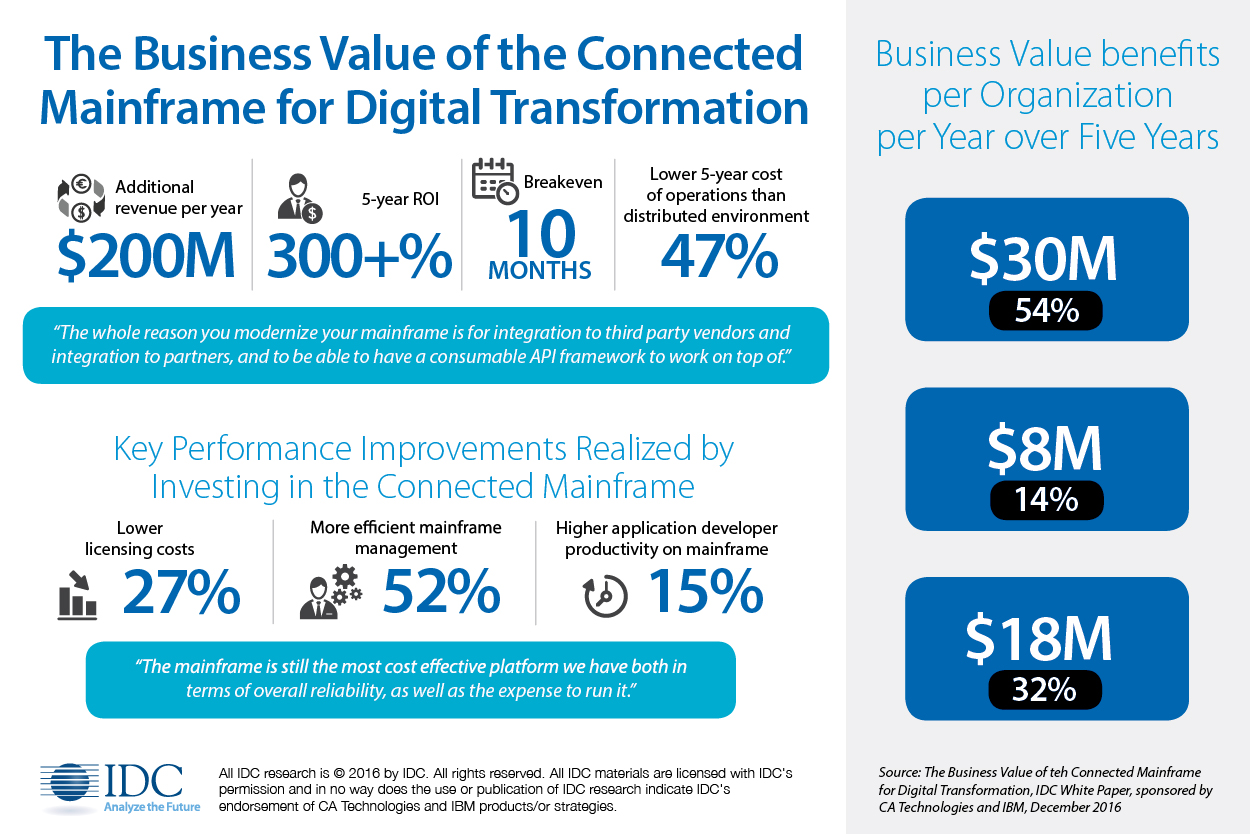 Adopt a Business-First Approach
Customers I've spoken with are experimenting with DevOps for mainframe tools and practices, with many piloting new approaches across the life cycle. They're immediately becoming more agile, realizing shortened development cycles, improved collaboration between distributed and mainframe teams and faster MTTR that maximizes availability. In all, these early adopters have benefited from increased speed to market, improved business agility and better platform economics.
The IDC study concurs, identifying more effective delivery of applications and services as a powerful cost-saver, with savings of $58,900 per application achieved through increased developer productivity and day-to-day support efficiencies. By helping mainframe organizations to realize improvements at every stage of the application life cycle—from build through test, deploy and operate—DevOps delivers compelling benefits; for example, from our recent study Accelerating Velocity and Customer Value with Agile and DevOps:
Advanced DevOps users reduce the time taken to develop, test and release new applications by 42 percent.
Advanced agile users reduce their time to decide and act on new opportunities by 40 percent.
Advanced agile users accelerate the time to develop, test and release new apps by 36 percent.1
Excited? I encourage you to catch up on the full IDC White Paper here.