During its online an HasuraCon '21 conference, Hasura today announced that it has made it possible for developers to employ GraphQL application programming interface (APIs) to launch queries against data residing in multiple databases.
At the same time, Hasura announced a preview of schema sharing capabilities along with support for workflows based on GitOps processes that it will make generally available later this year. The Hasura Cloud platform can now deploy local migrations from staging to production with a simple git push in addition to accessing previews of applications on every pull request to the git repository.
The schema sharing capability added to the Hasura GraphQL Engine is intended to bridge the gap between beginner and power users by allowing them to share and install samples of permissions, relationships and metadata. In addition to improving collaboration, the goal is to make it easier to onboard software engineers as projects evolve and become more complex.
Originally developed by Facebook, GraphQL has emerged as a popular alternative to REST APIs because it enables developers to retrieve data at a more granular level, which results in improved performance.
Hasura is a provider of an instance of a GraphQL engine the company has developed around a project that is now hosted by the GraphQL Foundation, an arm of the Linux Foundation. The GraphQL Foundation counts among its members Airbnb, Amazon Web Services (AWS), Apollo, Coursera, Elementl, Facebook, GitHub, IBM, Intuit Hasura, Paypal, Prisma, Shopify and Twitter.
GraphQL provides a complete description of the data made available via an API and is organized in terms of types and fields rather than traditional endpoints. In addition to clarifying what data is available via that API, developers can employ types to avoid writing manual parsing code.
Since last summer, Hasura has been making available a pilot of a GraphQL implementation that is capable of supporting remote joins across disparate databases. That capability is critical because data sets that are related to a specific business process may wind up being stored in multiple databases.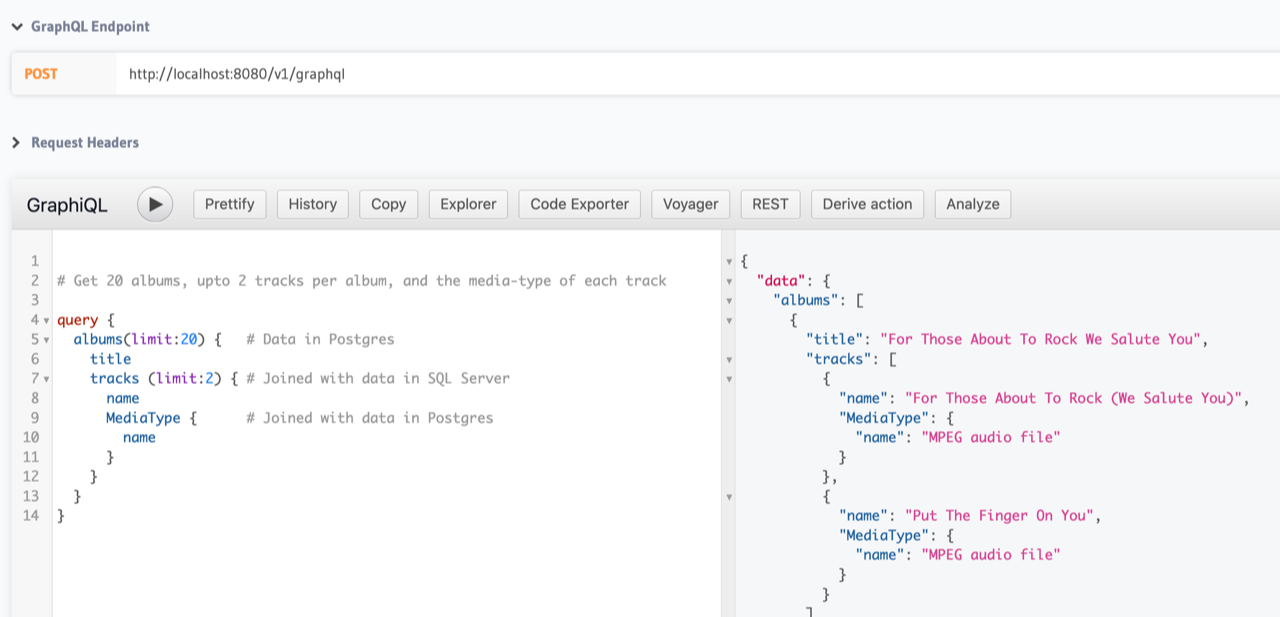 Tanmai Gopal, Hasura CEO, said the open source Hasura GraphQL Engine has already been downloaded more than 250 million times this year. Downloads in 2020 reached 100 million. The challenge is that while GraphQL offers a superior alternative to REST APIs, most of the API tooling that exists within organizations is still designed around REST APIs, noted Gopal.
To accommodate that reality, Hasura has made a tool available that will convert a query designed using GraphQL into a set of calls that are compatible with REST APIs. Developers still gain the benefits of being able to launch more granular queries, noted Gopal.
REST APIs, in general, are becoming more problematic as organizations embrace microservices-based applications. It often takes minutes to refresh a simple dashboard because of the amount of data that REST APIs are trying to pull from various data sources. As organizations embrace digital business transformation, they are also encountering application latency issues that can be traced back to the amount of data being called from multiple microservices.
Hasura says in addition to providing a more efficient method to access data, Hasura is also working on adding caching capabilities to its core engine to further improve performance.
It's not clear at what rate GraphQL might replace REST APIs, but DevOps teams should assume organizations will wind up employing a mix of both for years to come. The challenge is going to be determining when to make the transition as organizations become more dependent on APIs.