Juniper Networks today announced it can now apply the same artificial intelligence (AI) engine it uses to automate the management of wireless local area networks (LANs) to software-defined wide area networks (SD-WANs).
Based on an AI engine that Juniper Networks gained when it acquired Mist Systems, the Juniper Mist WAN Assurance cloud service streams telemetry data gathered from Juniper SRX devices to an AI engine that advises IT teams on how to best set WAN service levels as part of a larger transition to intent-based networking.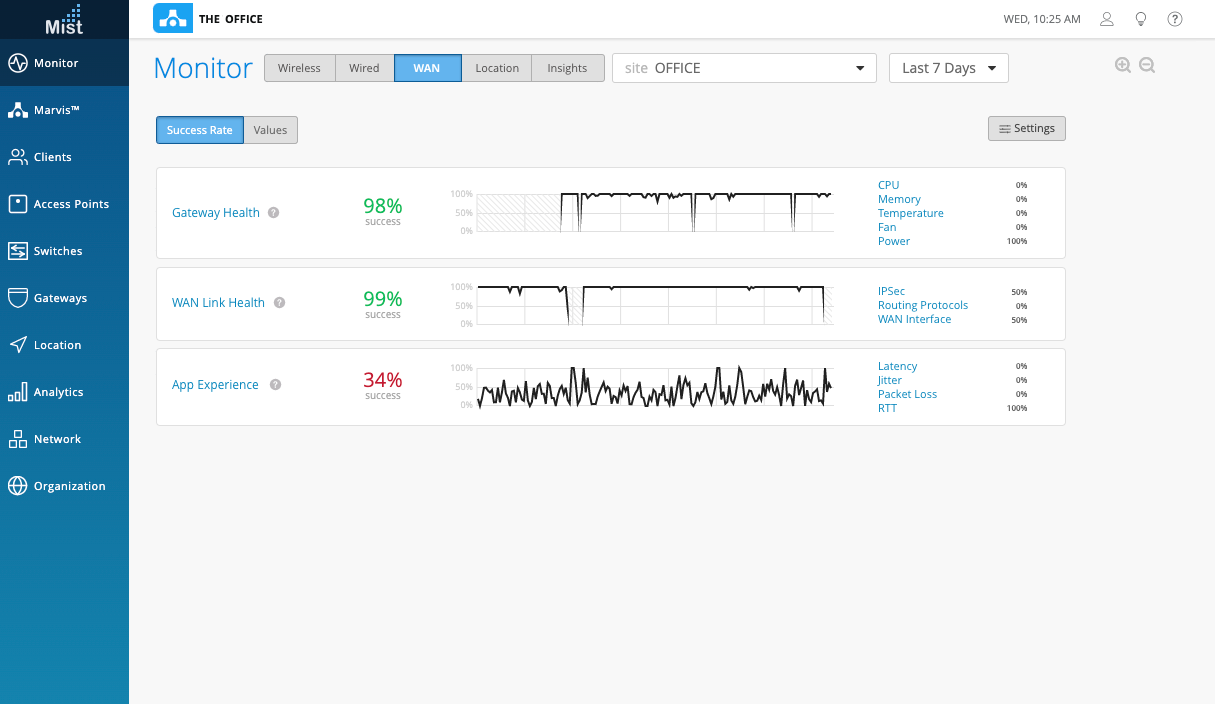 As part of that initiative, Juniper Networks is also providing access to a Marvis conversational interface originally developed by Mist to enable IT teams to verbally issue commands, replacing the traditional command-line interface (CLI).
Christian Gilby, director of product marketing for Juniper Networks, said as the number of remote branch offices that IT organizations need to manage increases at a time when travel is limited, the need to apply AI to SD-WANs has never been more apparent.
Rather than return to central offices in the wake of the COVID-19 pandemic, Gilby noted, many organizations are shifting staff to smaller remote offices to enable collaboration while continuing to minimize potential exposure to anyone who might be infected.
The challenge is that many IT teams tasked with managing the WANs that connect those remote offices aren't growing during the downturn caused by the pandemic. AI provides a way to troubleshoot and optimize WAN performance without having to increase network operations headcount, Gilby said.
Platforms such as the Juniper Mist WAN Assurance cloud service provides the added benefit of never forgetting anything they learn or taking a day off.
Gilby said it's not likely AI systems will replace the need for network operations teams anytime soon. However, Juniper Mist WAN Assurance is part of a larger wave of AIOps technologies that are augmenting existing IT staff. It may take a while for them to trust the optimizations being made by AIOps platforms, but the more data those systems collect, the more accurate they become over time.
In the case of a cloud service, the machine learning algorithms that drive the AI models are being trained continually using anonymized data collected from thousands of systems.
The launch of Juniper Mist WAN Assurance comes at a time when more organizations are looking to embrace SD-WANs as a way to more easily scale the delivery of network services when employees are working from home for the foreseeable future. In many cases, IT teams are now dropping Mist wireless routers into home offices to extend the reach of SD-WAN services in a way that can be managed and optimized using the same core AI technologies, said Gilby. In its most recent quarter, Juniper Networks reported a 170% rise in orders year-over-year for Mist wireless LANs.
It remains to be seen how much or how quickly networking operations will be transformed by AI. However, at this point, that transformation is all but inevitable.