LogicMonitor today announced the general availability of LM Intelligence, an extension of its monitoring platform that leverages machine learning algorithms to identify potential issues that are indicative of a major impending outage.
Sarah Terry, manager of product management for LogicMonitor, said rather than acquiring a separate AIOps platform, it makes more sense to employ machine learning algorithms within the context of a tool that DevOps teams already are using to monitor their IT environment. Monitoring platforms collect the massive amount of data required to train those algorithms, but a separate AIOps platform has to find a way to collect that data, noted Terry.
The LM Intelligence module created by LogicMonitor provides a root cause analysis (RCA) capability that automatically discovers infrastructure topology in both cloud and on-premises IT environments. Once an issue is discovered, LM Intelligence will aggregate all the alerts being generated into a single notification that pertains to the root cause of any potential issue. That capability will substantially reduce the amount of alert fatigue that today results in IT teams often disregarding what could be a critical alert that would have averted a system failure, said Terry.
DevOps teams can also employ LM Intelligence to define expected performance ranges for IT resources based on historical trends. Any anomaly outside those ranges will generate a notification.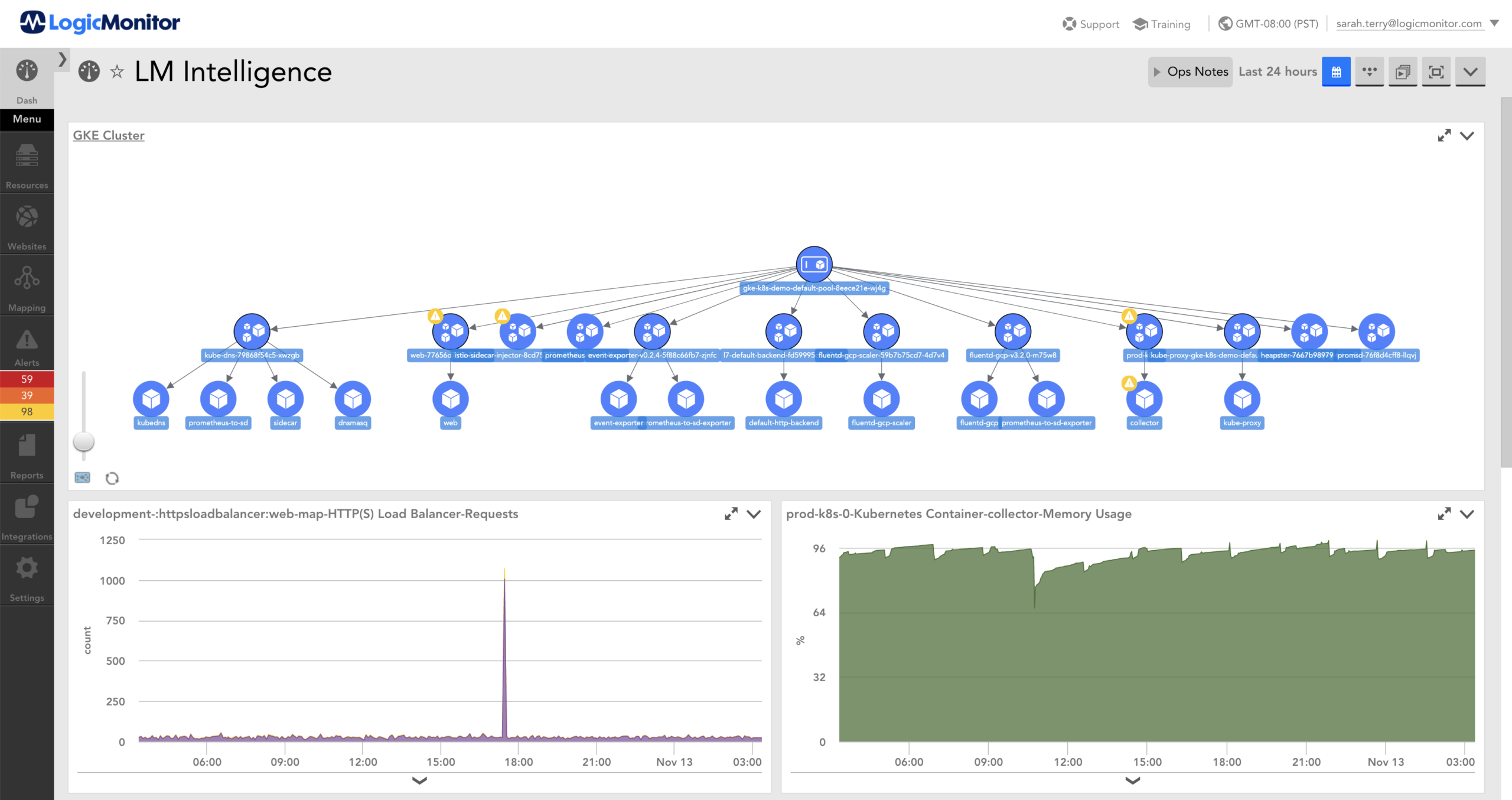 As IT environments become more complex, thanks in part to the rise of multi-cloud computing and microservices-based applications based on containers, it won't be feasible for the average IT team to identify all the relevant events that might be impacting that IT environment without help. There are simply too many parameters that need to be tracked. Tools such as LM Intelligence don't replace the need for IT operations expertise as much as they augment the capabilities and expertise of the teams trying to manage complex IT environments, where there are large numbers of dependencies between systems. In effect, Terry said, tools such as LM Intelligence will enable DevOps teams to identify the signal in all the noise being generated within an IT environment.
As IT management tools continue to evolve, DevOps teams should expect to see reliance on machine learning algorithms to become more pervasive. Rather than being a standalone platform, AIOps is quickly morphing into a feature that will become a capability embedded across a wide range of tools.
Of course, each DevOps team will need to decide to what degree they want to trust any form of AI. However, the longer algorithms collect and analyze data, the more accurate they tend to become. That doesn't mean DevOps teams should automate processes based on the recommendations of an AI engine; there are likely to be parameters that an AI engine may not have accounted for that could have an adverse impact. However, having the equivalent of a digital assistant that provides timely advice may soon prove indispensable.