This is the moment you have all been waiting for. It is time to announce the honorees for the 2020 DevOps Dozen² Awards, and we couldn't be more excited to share the names of the most outstanding leaders and tools in the DevOps community. Although, I must say, all the finalists have done an amazing job at making the DevOps community better through their mentorship, service and innovative ideas, and every single one is deserving of special recognition.
The DevOps Dozen Awards recognize the best of the best in the maturing DevOps space and this year's winners have demonstrated exceptional leadership and support to the community through 2020 and the COVID-19 pandemic. Last year was a tough year for all of us for sure, but it was also a year of agility, innovation and rapid digital transformation. The 2020 honorees have displayed resilience, determination, commitment and willingness to embrace change in a year of unprecedented challenges to drive their business—and the industry—forward. Congratulations to each and every one of the honorees.
Winners have been chosen from among the finalists with general public voting being weighted for 40% of the final total and our judges selections for 60% of the weighted total. Our team has gone through thousands of votes to pick out the winners in each category—it was not an easy task. Many thanks to our panel of judges for making the hard calls and to everyone who voted and nominated candidates.
Ladies and gentlemen, I am proud to present to you the 2020 DevOps Dozen² Awards honorees:
DevOps Dozen Community Awards
Best DevOps Industry Implementation
Lloyds Banking Group, the largest financial services organization in the UK, is the winner of the Best DevOps Industry Implementation award. Lloyds Banking Group has invested heavily in driving the adoption of Agile development and DevOps practices across its business to strategically modernize its digital service capabilities and align with customer expectations.
Best DevOps Survey/Analysis/Research
The Best DevOps Survey/Analysis/Research award goes to Puppet's 2020 State of DevOps Report. The report focuses on two areas that can help organizations scale their DevOps initiative: a platform approach to software delivery and applying DevOps principles to change management. It is the ninth year in a row that Puppet produces a State of DevOps Report. It is the longest-running and most widely referenced DevOps research in the industry.
Best DevOps Related Video Series (Video
)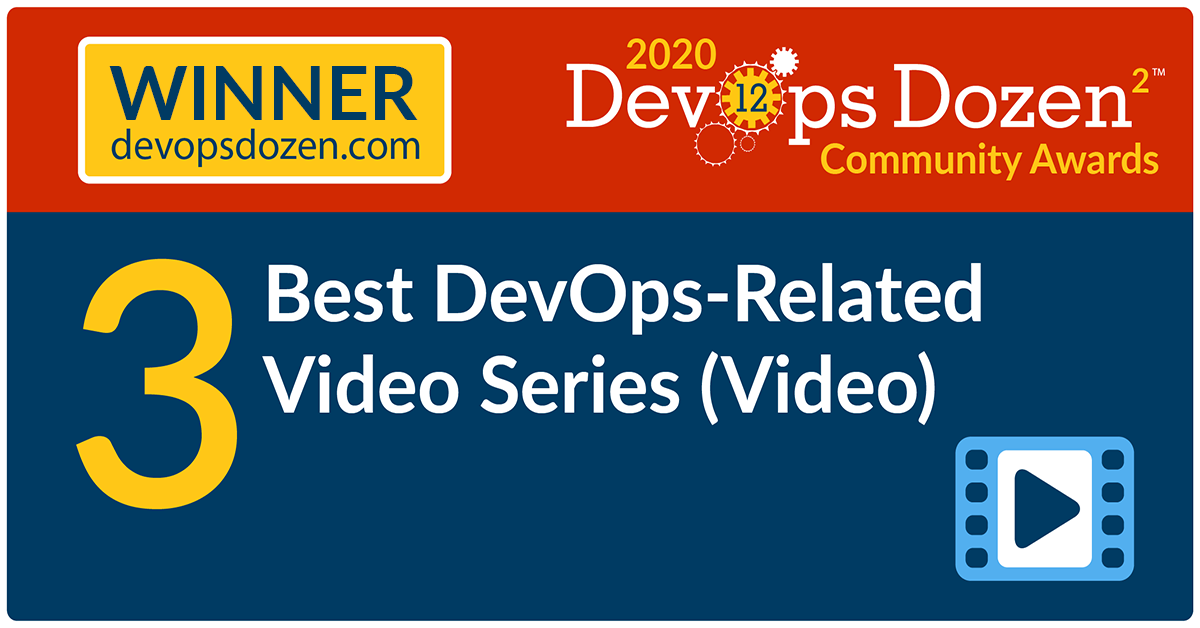 The Best DevOps Related Video Series is DevOps Unbound, a bi-weekly video series that focuses on DevOps, automation, CI/CD and testing. Top industry leaders join the series to explore the challenges and issues that software delivery and IT teams face on a daily basis.
Best DevOps Related Podcast Series (Audio Only)
The Modern Mainframe: Building a Better Software Delivery Platform is the Best DevOps Related Podcast Series. The Modern Mainframe is a podcast by Compuware that explores mainframe modernization and how to transform mainframe culture, processes and tools with DevOps to help your business compete in a digital age. Building a Better Software Delivery Platform is episode 9 of the podcast, featuring Compuware DevOps Architect Rick Slade.
Best DevOps Books / eBook of the Year
Standing On Shoulders: A Leader's Guide to Digital Transformation by Jack Maher and Carmen DeArdo is the Best DevOps Books / eBook of the Year. This must-read provides leaders with practical, actionable information about the breadth of Agile, Lean and DevOps topics that are generally dealt with individually; and explains how each of these are necessary but alone are not sufficient to avoid market disruption of your business. The authors focus on how to build an employee and customer-obsessed culture with an organizational structure that drives speed and efficiency, while leveraging technology to enable speed to value that is faster, safer, better and cheaper.
Top DevOps Evangelist
The Top DevOps Evangelist award goes to Helen Beal, chief ambassador at DevOps Institute. Helen is a well-known DevOps evangelist leading the DevOps Institute Ambassador program's efforts to provide broad-based thought leadership and localization. She is an analyst at Accelerated Strategies Group and an editor at InfoQ. Recently, Helen has been working with a group of ambassadors to develop a new, online DevOps Capability Assessment (DOCA), launching in 2021. Taking on strategic advisor roles with Plutora and Moogsoft has given her the opportunity to dive deep into value stream thinking and observability. She is the host of Day-to-Day DevOps, a BrightTalk series that focuses on topics ranging from neuroscience, to ChatOps, to AIOps and everything DevOps related.
Best DevOps Transformation (Non-Vendor)
The winner of the Best DevOps Transformation award is Fidelity Investments, a financial services company that supports financial institutions with innovative investment and technology solutions to grow their businesses. Fidelity's embrace of cloud-based platforms has yielded tangible improvements, such as better operational resiliency.

Best DevOps Virtual Event of the Year
The DevOps Dozen award for the Best DevOps Virtual Event of the Year goes to DevOps World 2020. The virtual event, featuring more than 100 business and technical breakout sessions, focused on how DevOps is transforming the world of software delivery and how businesses are adapting their ways of thinking during the COVID-19 pandemic. Top industry leaders discussed where DevOps is headed and how the audience can best leverage advanced practices to succeed in the future.
Most Innovative DevOps Open Source Project
Grafana Loki was chosen as the Most Innovative DevOps Open Source Project. Loki is a horizontally-scalable, highly-available, multi-tenant log aggregation system inspired by Prometheus.
DevOps Executive of the Year
The DevOps Executive of the Year is GitLab CEO and Co-Founder Sid Sijbrandij. Sid's career path has been anything but traditional. He saw the first Ruby code in 2007 and loved it so much
that he taught himself how to program. It was during his time as a Ruby programmer that he first encountered GitLab, and quickly discovered his passion for open source.
In 2012, he helped commercialize GitLab, and by 2015, he led the company through Y-Combinator's Winter 2015 batch. Under his leadership, the company has experienced 50x growth in the last five years, expanded from nine to more than 1,300 remote team members across 65+ countries and regions and is now valued at $2.75 billion. A champion of the open source community and a pioneer in scaling remote organizations, Sid is altering conventional wisdom on DevOps practice.
Best DevOps Presentation of the Year
On Ramp to Open DevOps for Mainframe by George DeCandio, chief technology officer of the Mainframe Software Division at Broadcom, is the winner of the Best DevOps Presentation of the Year award. In this keynote presentation, George DeCandio explained what you need to adopt an open strategy and how you can integrate with existing DevOps tools such as Git and Jenkins, or into existing cross-platform CI/CD pipelines. George discussed how Zowe, OMP's first project devoted to the mainframe, is opening mainframe system commands, data sets and source libraries so you can integrate with tools that know nothing about mainframe.
Best DevOps.com Article of the Year
How to Reduce Engineer Burnout During COVID-19 by Henry Jewkes, staff software engineer at Split, is the Best DevOps.com Article of the Year. Henry explains how to cope with burnout effectively as it becomes increasingly common during the COVID-19 pandemic.
DevOps Dozen Tools and Services Awards
Best End to End DevOps Tool/Service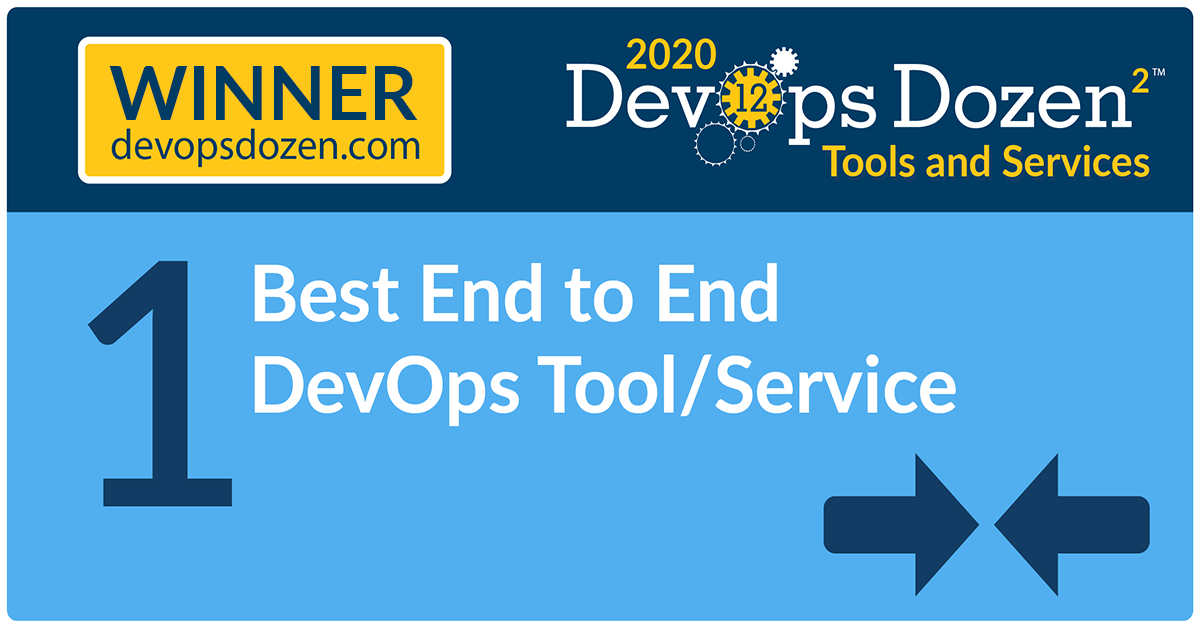 The winner of the Best End to End DevOps Tool/Service in 2020 is GitLab. GitLab has demonstrated to be the most efficient solution for DevOps teams to collaborate and build software. The GitLab solution is the result of the collaboration between thousands of community contributors and feedback from the more than 100,000 organizations that have adopted GitLab to power their DevOps transformations. The GitLab community contributes code, documentation, translation, design and product ideas based on their real-world challenges, making GitLab more useful and valuable.
Best DevOps Repo/GitOps Tool/Service
The DevOps Dozen award for the Best DevOps Repo/GitOps Tool/Service goes to GitHub, the most popular open-source version control code repository. GitHub is great to manage and maintain code in the cloud and contribute to projects quickly with automatic environment setup.
Best CI/CD Tool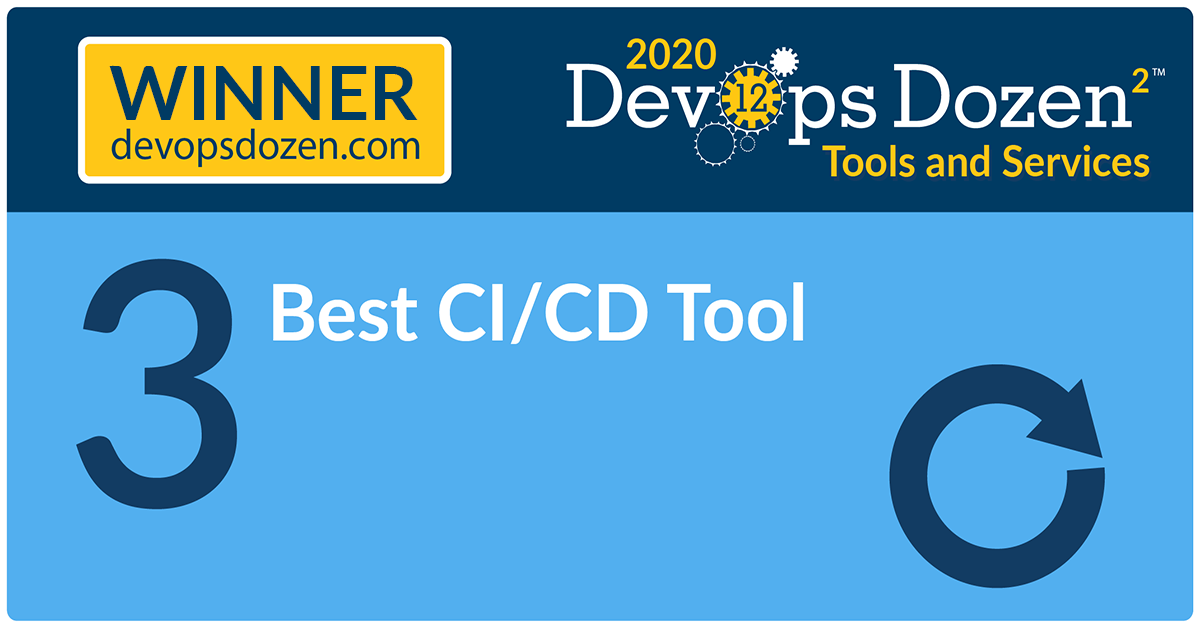 CircleCI was chosen, by the public and the judges, as the Best CI/CD Tool. CircleCI is the leading CI/CD solution for software innovation at scale. The CircleCI platform allows teams to build and deliver software in the cloud or on their own infrastructure. CircleCI manages more than 35 million builds per month on Linux, macOS and Windows.

Best Value Stream Management Tool
The 2020 DevOps Dozen winner of the Best Value Stream Management Tool is Digital.ai Value Stream Platform. Digital.ai enables the world's largest enterprises to accelerate their digital transformation initiatives by combining industry-leading enterprise Agile planning, application security, continuous testing, software delivery and AI-powered analytics in the first intelligent value stream platform. Digital.ai Value Stream Platform provides a unique view of the software delivery lifecycle through the customer experience lens to better align with business objectives and scale Agile and DevOps processes.
The Digital.ai Value Stream Platform features end-to-end connectivity, visibility with AI-powered analytics, continuous testing and quality, release management and flow optimization, and measurable outcomes through quantified metrics. The platform allows organizations to set business goals based upon market needs, deliver products and technologies to achieve those goals, measure and analyze results, and make adjustments to continuously improve.
Best Observability Solution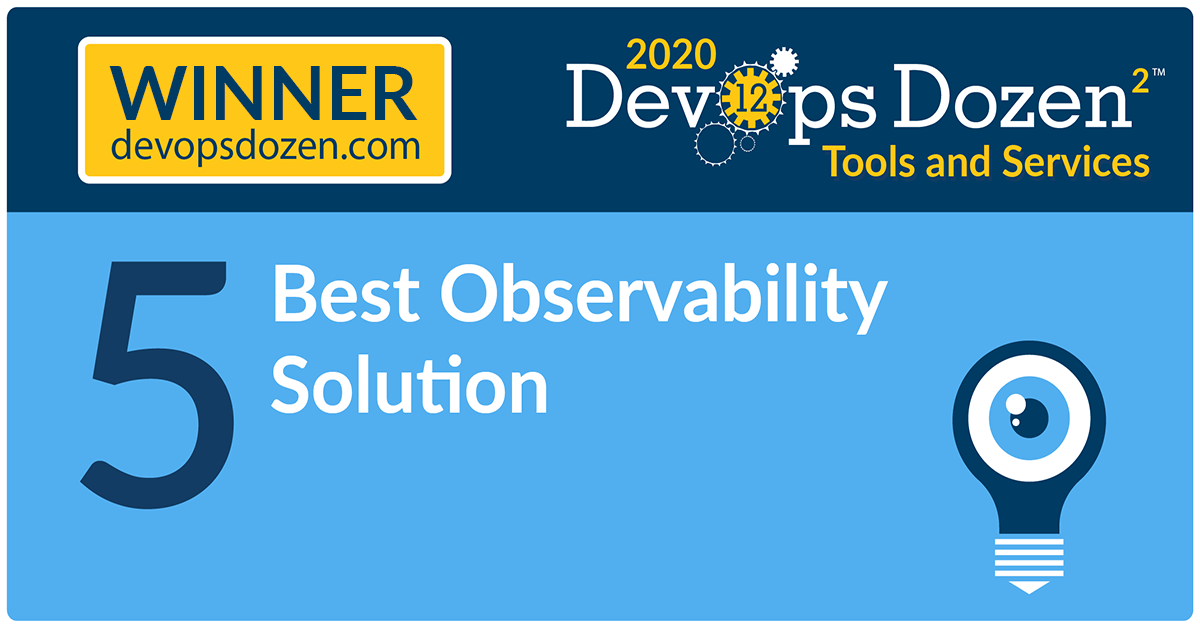 The award for Best Observability Solution goes to Splunk Observability Suite, a comprehensive combination of solutions designed to help IT and DevOps teams tackle new monitoring challenges that other tools haven't been able to effectively address. The Observability Suite helps users maintain the highest levels of business performance and adaptability, improve release quality and velocity, improve developer efficiency, minimize downtime, and deliver world-class digital experiences.
Best DevSecOps Solution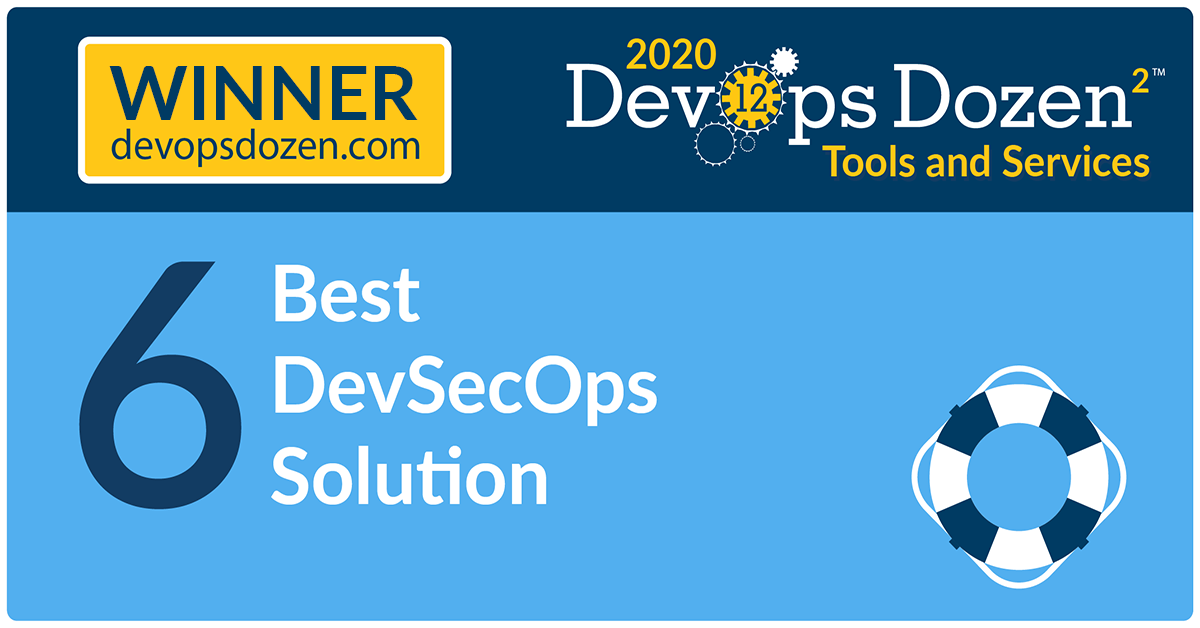 JFrog Xray was voted the Best DevSecOps Solution of 2020. JFrog Xray is a universal impact analysis product enhancing artifact security, container security and OSS license compliance across your DevSecOps pipeline. JFrog Xray scans your artifacts, builds and Release Bundles for OSS components being used, and detects security vulnerabilities and licenses in your software components.
Best Testing Service/Tool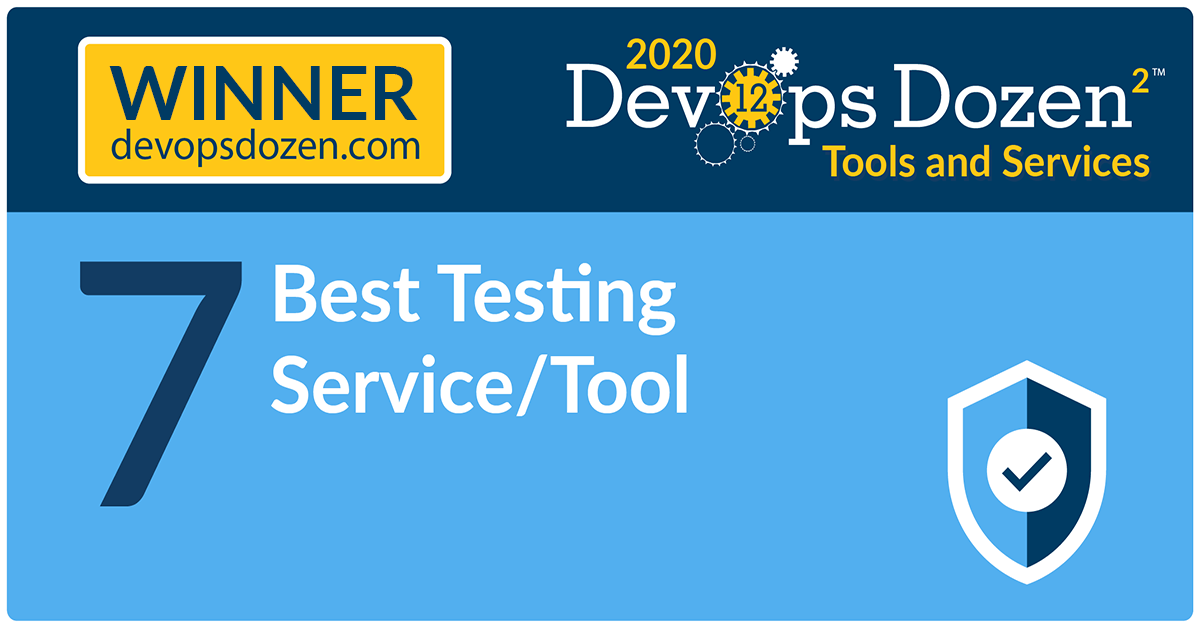 Tricentis Tosca, a continuous testing platform that accelerates testing to keep pace with Agile and DevOps, is the winner of the Best Testing Service/Tool of 2020. With the industry's most innovative functional testing technologies, Tricentis Tosca breaks through the barriers experienced with conventional testing tools. Simplifying end-to-end functional testing, Tricentis Tosca automates tests across all layers of modern enterprise architectures.
Best Kubernetes Platform/Service
The Best Kubernetes Platform/Service award goes to Red Hat OpenShift Container Platform. 
Red Hat OpenShift is an open source enterprise Kubernetes platform offering a consistent hybrid cloud foundation for building and scaling containerized applications.
Best Cloud Native Security Solution/Service
Styra's Declarative Authorization Service (DAS) is the winner of the Best Cloud Native Security Solution/Service award. Styra DAS was purpose-built to solve the authorization challenges of cloud-native, containerized application, and the infrastructure they run upon. Built on the open source project Open Policy Agent (OPA), Styra policy-as-code solutions have been proven in production, at scale, in many of the largest cloud-native deployments in production today.
Styra DAS allows enterprises to define, enforce and validate authorization policy across services, teams, clusters and clouds. As businesses move their cloud-native applications from development through to production, Styra DAS provides the tooling to minimize the risk of human error, offload compliance overhead and ensure security and compliance best practices are enforced across your environment. Styra DAS simplifies policy creation with a built-in library of best practices and security policies, as well as a point and click interface for building custom policy from scratch.
Best DevOps for Mainframe Solution
It was very difficult to choose a winner in this category. There was a tie between two solutions, CA Endevor Bridge for Git by Broadcom and Compuware's Topaz, and after a long discussion the judges decided that both should be honored as the Best DevOps for Mainframe Solutions of 2020.
CA Endevor Bridge for Git is a component of the CA Endevor Integrations for Enterprise DevOps. It connects Git to Endevor via an Enterprise Git Server, such as GitHub, Bitbucket or GitLab. Git as well as traditional mainframe developers can easily collaborate on the same mainframe application managed in Endevor. Only code that is pushed from local Git repository to the Enterprise Git repository is recognized by the integration and gets propagated to Endevor.
Topaz is a modern Agile platform of mainframe development and testing tools that integrates into the DevOps toolchain, empowering any developer, regardless of experience, to understand and work on any program, no matter how old or complex, so that their organizations can easily maintain and innovate from their base of mainframe investments.
Best DevOps for DataOps/Database Solution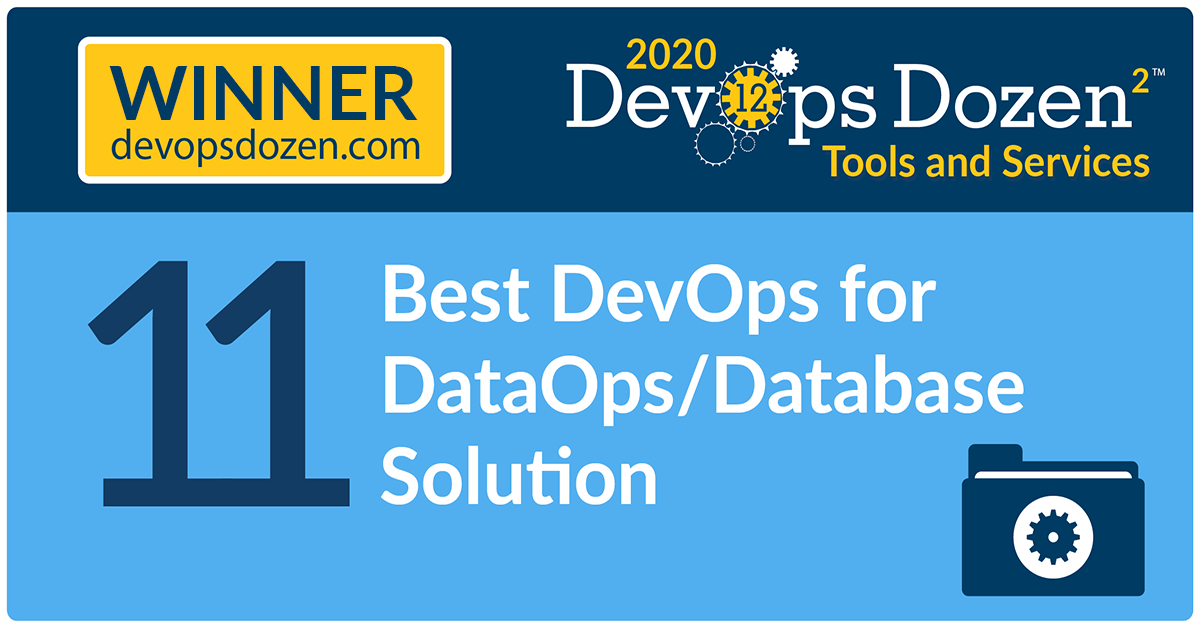 The Best DevOps for DataOps/Database Solution is InfluxDB. Developed by InfluxData, InfluxDB is an open-source time series database that empowers developers to build IoT, analytics and monitoring software. It is purpose-built to handle the massive volumes and countless sources of time-stamped data produced by sensors, applications and infrastructure.

Best New DevOps Tool/Service Provider
The winner of this category is Opsera, the first continuous orchestration platform for DevOps teams. The Opsera platform automates any CI/CD toolchain, enables declarative pipelines and provides unified insights across the entire software delivery process.
Winners will receive both digital and physical trophies and badges celebrating their achievements.
Thanks for supporting DevOps.com and the DevOps community. For more information, visit the 2020 DevOps Dozen² Awards website and stay tuned for the 2021 DevOps Dozen Awards.