When people say "mobile" most folks think "devices." Phones. Tablets. Phablets. Smart things. Wearables.
But what we really ought to be talking about in most cases is apps.
A McKinsey & Company survey noted, "When we recently surveyed 250 CIOs on their mobility strategies, 56 percent reported strong demand from employees to support a wide range of mobile devices." With no direct mention of applications you might think CIOs are reporting just that employees be allowed to use mobile devices, but dig deeper into this and similar surveys and you'll find what CIOs and employees mean by "support a wide range of mobile devices" is really this: make applications available across all the myriad devices we might want to use.
When we say "mobility" is a driving factor for the adoption of a technology or an emerging methodology like DevOps, we don't mean just the insatiable demand consumers have for engaging with you through mobile apps. We also mean your employees, who have an increasing appetite for engaging with business applications and tools through mobile apps.
For enterprises, mobile means apps as much as devices – and lots of them. If there is one area of enterprise concern that aligns well with the startup mentality of measuring the success of a DevOps approach by the number of deploys per , it is around mobile applications.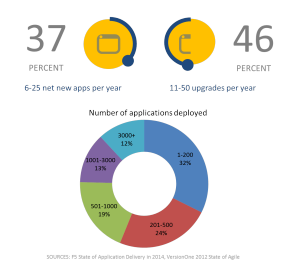 That's because mobile apps change a lot. According to an Oracle-sponsored survey, "35 percent of midsize and large enterprise organizations update their application portfolio monthly, while an additional 34 percent update their applications quarterly. More than four-fifths (82 percent) of respondents expect those rates to increase over the next two years."
That rate may seem trivial to organizations seeking to achieve "X deploys per day" but traditionally enterprises plan for a single change window a month, and if you can't fit in that window, you'll just have to wait. There's only so much time – and so many cans of Mountain Dew one can drink – in a single Saturday night change window and these numbers don't take into account existing applications – both new and updates to existing – that are being pushed out on a monthly basis.
A 2012 survey from VersionOne found 37% of organizations push 6-25 net new applications per year. Nearly half (46%) push 11-50 upgrades during the same time period. That's atop an existing base of apps that must be managed, scaled and secured.
One of the ways DevOps is able to assist is through the optimization of deployment processes that take that app or app update to production. Whether it's through value-stream mapping or Six Sigma or automation – or all of the above- the precepts of "lean" that underpin many DevOps concepts are invaluable to enterprises looking to up their number of deploys – even if it is just per window.
If you can automate and optimize deployment processes to fit 2 or 3 more applications into each window, you gain ground. And gain ground you must, because mobile isn't going away and neither is cloud and neither is the application economy we're running headlong into.
There is certainly room for operational improvement – and DevOps – in the enterprise to accommodate the increasing number of applications (mobile and otherwise) that need to get to market faster and with greater assurance of availability and competitive performance.