Nobl9 has released version 1.0 of an open specification for defining service level objectives, dubbed OpenSLO, and, in addition, has defined a repeatable SLO methodology.
Kit Merker, Nobl9 COO, said the Service Level Objective Development Lifecycle (SLODC) methodology represents an effort to create a set of best practices for achieving and maintaining SLOs that are implemented as code within an application environment.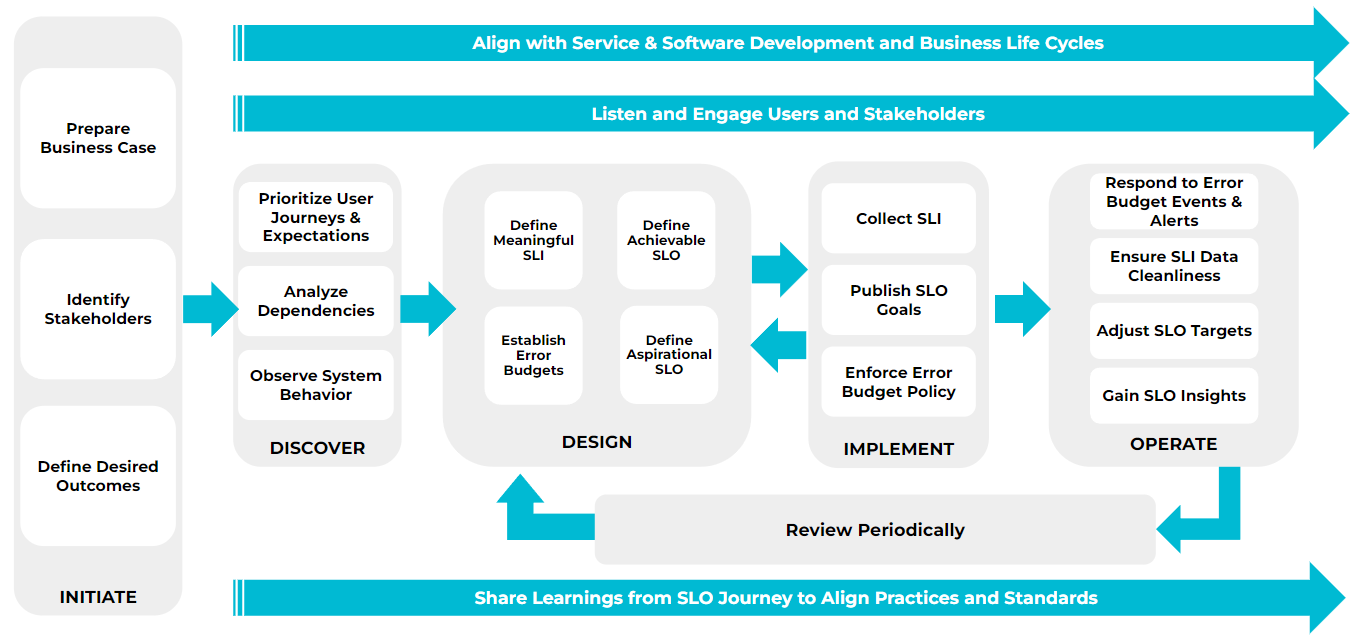 A survey of more than 300 IT managers and executives conducted by Dimensional Research on behalf of Nobl9 found only 29% of respondents had no plans to implement SLOs. A full 94% of respondents that have or plan to implement SLOs intend to map them directly to business operations, with 91% reporting they expect that effort to improve decision-making. More than 80% also said their organizations are planning to increase the use of SLOs, with 87% indicating SLOs should improve overall microservices performance.
The challenge is that most organizations have limited visibility into their IT environments. The survey, for example, found less than half of respondents (46%) had visibility into all their IT environments. Only 45% and 35% claim to have visibility into containers and microservices, respectively. More than three-quarters (78%) said hybrid clouds make observability more difficult.
Ironically, 45% of companies reported they already employed 11 or more observability and monitoring tools. On the plus side, 31% have hired site reliability engineers (SREs), while nearly half (46%) planned to create that role.
Nobl9 is trying to spur greater adoption of SLOs by making available an open source SLO specification that defines a common interface for constructing SLOs across a Git-based workflow. Since OpenSLO was initially launched, more capabilities have been added including a DataSource object that makes it easier to reuse connection details and which makes creating SLOs less verbose and three alerts have been defined: AlertCondition, AlertPolicy and AlertNotifcationTarget.
Nobl9 is also releasing an OpenSLO-to-Nobl9 converter to transition OpenSLO YAML files into Nobl9 YAML when required.
SLOs, of course, are not a new idea. They have been employed as a metric to track the performance of IT services for decades. However, as more microservices-based applications are built and deployed, it's becoming more challenging to maintain SLOs across applications that have many more dependencies than legacy monolithic applications. Ultimately, each IT team needs to provide some sort of objective benchmark that assesses their overall effectiveness at delivering application services. SLO-as-code is intended to make it simpler to gather the metrics that confirm whether service levels are being achieved. Those SLOs are then tracked and integrated across everything from financial operations to supply chains, noted Mercer.
It's not clear to whether reliance on SLOs has waned over the years or if application environments simply became too complex to track meaningful metrics. However, as applications are increasingly viewed as services, it's now only a matter of time before SLOs become more widely adopted across a modern application environment. The challenge, of course, is that defining an SLO is a lot easier than maintaining it—especially within today's highly dynamic application environments where services tend to come, change and eventually go unexpectedly.