At the AnsibleFest 2019 conference, Red Hat this week announced the general availability of the Red Hat Ansible Automation Platform that combines several IT automation technologies into a single subscription.
Built on top of Red Hat Ansible Engine, the platform also includes Red Hat Ansible Tower, a management console, and Red Hat Network Automation, an instance of Ansible designed to automate the management of network resources.
Red Hat is also providing access to a software-as-a-service (SaaS) analytics application that enables IT teams to monitor how deeply Ansible has been adopted within any IT environment. That application also provides access to Ansible Content Collections, a packaging format that streamlines the management, distribution and consumption of Ansible content, and Automation Hub, a repository for certified content packaged using Ansible Content Collections.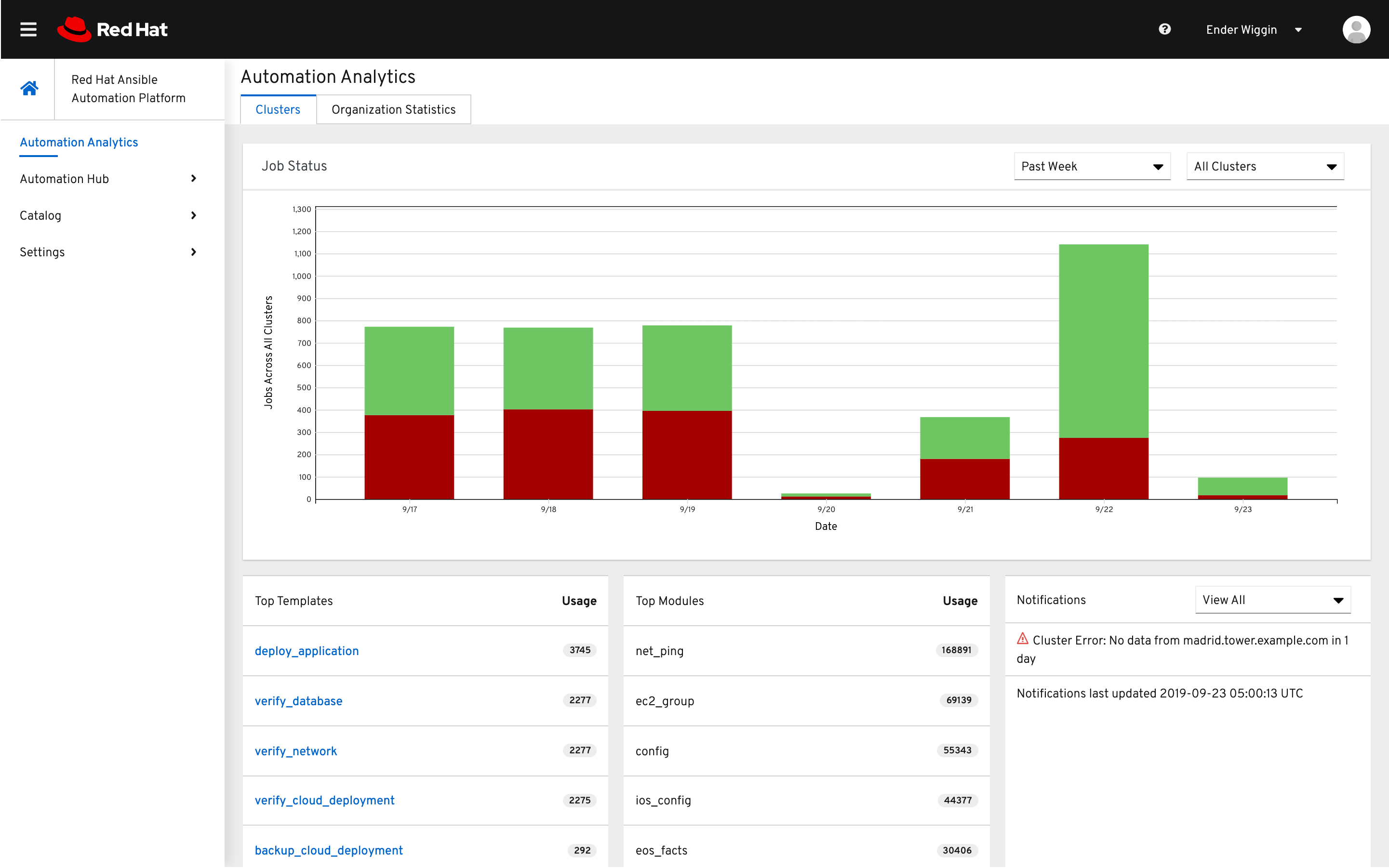 Richard Henshall, product manager for Red Hat Ansible Automation, said with this offering Red Hat is trying to make it easier for enterprise IT organizations to implement Ansible at scale. Most of the time the Ansible framework is adopted from the bottom up within an IT organization. Red Hat Ansible Automation is intended to make it easier for enterprise IT organizations to centrally deploy and manage all their instances of Ansible, he said.
Although it's not possible to know how many instances of the open source IT automation framework have been installed, Henshall noted there are already more than 4 million Ansible nodes that are tied to a paid support subscription from Red Hat. Most of those instances involve organizations that have adopted a declarative IT automation framework as part of their overall DevOps strategy, he said. While IT organizations don't necessarily have embrace DevOps to employ Ansible, Henshall said there is a strong correlation.
Much of that success can be tied to the fact that as a declarative framework Ansible doesn't require IT operations teams to learn how to program to manage IT operations at scale. That approach has allowed IT teams to adopt the open source framework to meet the demands for more agile approaches to managing IT infrastructure stemming from developers who have embraced best DevOps practices.
In addition, IT infrastructure vendors such as Cisco Systems, NetApp and F5 Networks have begun to embed Ansible within their server, storage and networking platforms. As those vendors sell the latest edition of their offerings, the number of IT organizations exposed to Ansible should begin to substantially increase.
Henshall said the biggest issue now is expanding the scope of Ansible deployments. Most organizations initially wind up using Ansible to automate disaster recovery before moving on automate additional existing processes. Red Hat is now trying to encourage those teams to create new processes that previously would not have been possible without an IT automation framework, he said.
Ansible may not be a de facto standard in the enterprise just yet, but it's well on its way. Of course, there are still many IT professionals for one reason or another still tend to resist relying on IT automation frameworks. There are also several rival IT automation frameworks that have been embraced by DevOps teams. But when it comes IT automation, it's clear Ansible is starting to emerge as the path of least resistance.