At the AWS re:Invent conference this week, Sumo Logic announced that in addition to collecting log data, metrics and traces, it now can collect telemetry data from the Lambda serverless computing service provided by Amazon Web Services (AWS).
In addition to collecting telemetry data, Sumo Logic also revealed that the Sumo Logic Continuous Intelligence Platform hosted on the AWS cloud can now analyze how functions used on the AWS Lambda service perform during transactions.
That data can then also be correlated against the performance of other AWS services that Sumo Logic tracks via integrations with the AWS CloudWatch and AWS CloudTrail monitoring services.
George Gerchow, chief security officer for Sumo Logic, said the company is making extensive use of the OpenTelemetry agent software created under the auspices of the Cloud Native Computing Foundation (CNCF) to make it simpler to instrument IT environments. That data is not only being used to improve application performance but also to surface anomalies indicative of a security breach, he added.
As part of this ongoing security effort, Sumo Logic this week also added Sumo Logic AWS Quick Start integrations for rapid access to security and compliance insights along with support for Amazon Inspector, a vulnerability management service provided by AWS.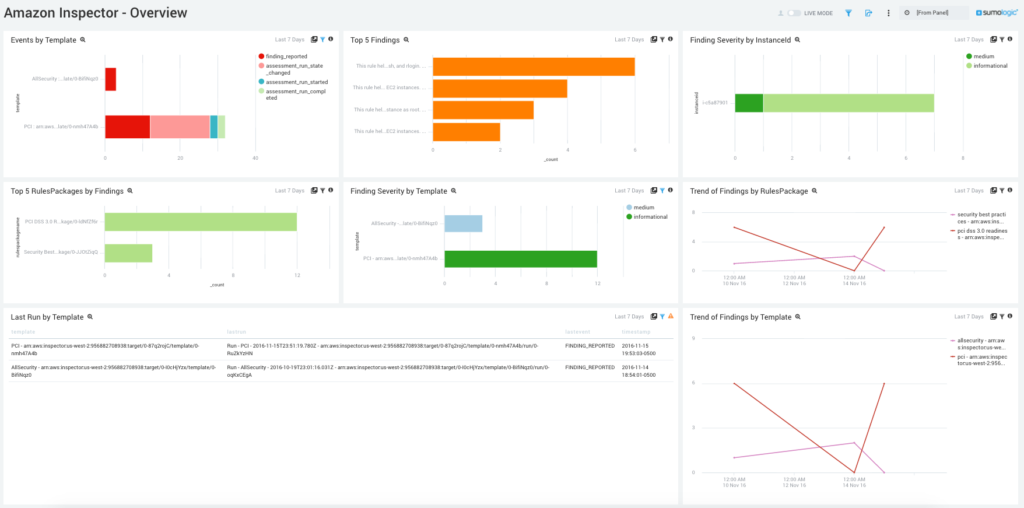 AWS this week named Sumo Logic as its independent software vendor (ISV) partner of the year. The two companies have a longstanding relationship that began with Sumo Logic's decision more than 10 years ago to build a monitoring platform hosted on the AWS cloud.
As IT monitoring tools continue to evolve into observability platforms, Gerchow said it's becoming much easier to leverage machine learning algorithms and open source agent software to identify the root cause of an issue before it results in a major disruption.
Most IT teams today are still relying on legacy monitoring tools that only tack a set of predefined metrics to identify when a specific platform or application is performing within expectations. The metrics tracked generally focus on, for example, resource utilization. In contrast, observability combines metrics, logs and traces—a specialized form of logging—to instrument applications in a way that makes it simpler to troubleshoot issues.
Observability, of course, in one form or another, has always been a core tenet of DevOps best practices. Initially, DevOps teams focused on continuous monitoring as the most effective way to proactively manage application environments. However, it can still take days (and sometimes weeks) to discover the root cause of an issue. Observability platforms promise to make it easier to manage IT environments even as the overall complexity of those environments continues to increase.
It's not clear at what rate IT organizations will be transitioning to observability platforms. However, it generally takes only one major outage before IT organizations start looking for better tools to manage their IT environment. As those IT environments become more complex, the probability that there will be a significant disruption is now higher than it's ever been. The challenge and the opportunity is to find a way to instrument applications more widely; the expectation being that an observability platform will be able to analyze telemetry data to reduce the number of issues that lead to service disruptions.