IDG and Insight Datalink recently conducted a survey into how companies were doing on their digital transformation journey. Like so much in technology these days, it is easy to feel as though you'll be left behind if you aren't well on your way with digital transformation.
You're not.
Who Are You People, Anyway?
The survey had decent industry distribution and was focused on director level and above in larger organizations, with more than a third of respondents in financial services or high tech. So in short, a third of respondents are the very organizations most motivated to implement a digital transformation project.
Nearly Half of Respondents Haven't Even Started
Let's get the easy one out of the way first: The survey showed that a significant proportion of companies had done nothing more than talk about digital transformation.
Adding up "It's on our radar" and "We're talking about it," we get to 44 percent of respondents who haven't even started. In fact, due to the nature of digital transformation, I would argue that less than 1 in 4 are actually doing it. Then there is the 24 percent who are undertaking enterprise-wide transformation: You can convert projects, but that isn't transforming the way you do business. It is a start, so I admit this is well and truly a debatable statement, but true transformation is cross-app, cross-team, agile and locale-mobile.
Why So Small?
Since we frequently hear about digital transformation and how important it is, "Why are the numbers so low?" is a valid question. The truth is that transformation of complex infrastructures is difficult. There just isn't any way to get around that fact. When there is a mainframe with heaps of data and a midtier that often has replication of mainframe functionality on it, then separate apps that are doing web-based transactions in (insert language here, but normally Java in the above environment), there are many parts that are complex, and something as simple as moving and/or rationalizing data stores can be majorly complex.
But I won't go on and on here, I'll simply show you what IDG found.
Looking at mainframe toolsets in particular, there have been massive steps forward over the last several years to make them more compatible with modern development and deployment practices. But making use of those changes often requires updating systems that are not otherwise broken. And there is always the risk that such updates will break something. The more research an organization does into modernization tools, the more comfortable they are that there is a valid path—but that doesn't make it easy when it is added work.
Data privacy also ranks high, and that is because IT has been dealing with locking down data in a data center for ages. Additionally, some spectacular configuration mistakes in public cloud datastores have made us all gun-shy. There are solutions to data security in public cloud from a variety of companies, but that doesn't change that we've all followed "due to bucket misconfiguration" stories while cringing.
Technology silos are a fact of IT. There can be some breaking down of those silos, but they are unlikely to disappear completely. The EMC specialist or Cisco specialist are unlikely candidates for elimination in the quest for reduced silos. (I just picked two roles whose knowledge sometimes astounds me—both for the depth these people can have, and for the requirement that they need that depth.) Working your network and storage teams into the digital transformation without undermining the thing that makes them valuable—their silo-specific knowledge and insight—is a challenge that can be achieved, but not by "breaking silos"; more like, "increasing communications between silos while reducing silo behavior."
If You Dive Like That, You'll Stall!
The last point in this survey that I'd like to address is the "Stalled Digital Transformation Initiatives" slide. (There is a ton of good data in this survey, but these three fit together really well, so I pulled them out.) The fact is that if you are attempting to transform a complex system, you will have wins and losses. Some things will work out better than you planned, while others will not work out as you had hoped at all. I believe that, due to the question's wording, that is what we are seeing here: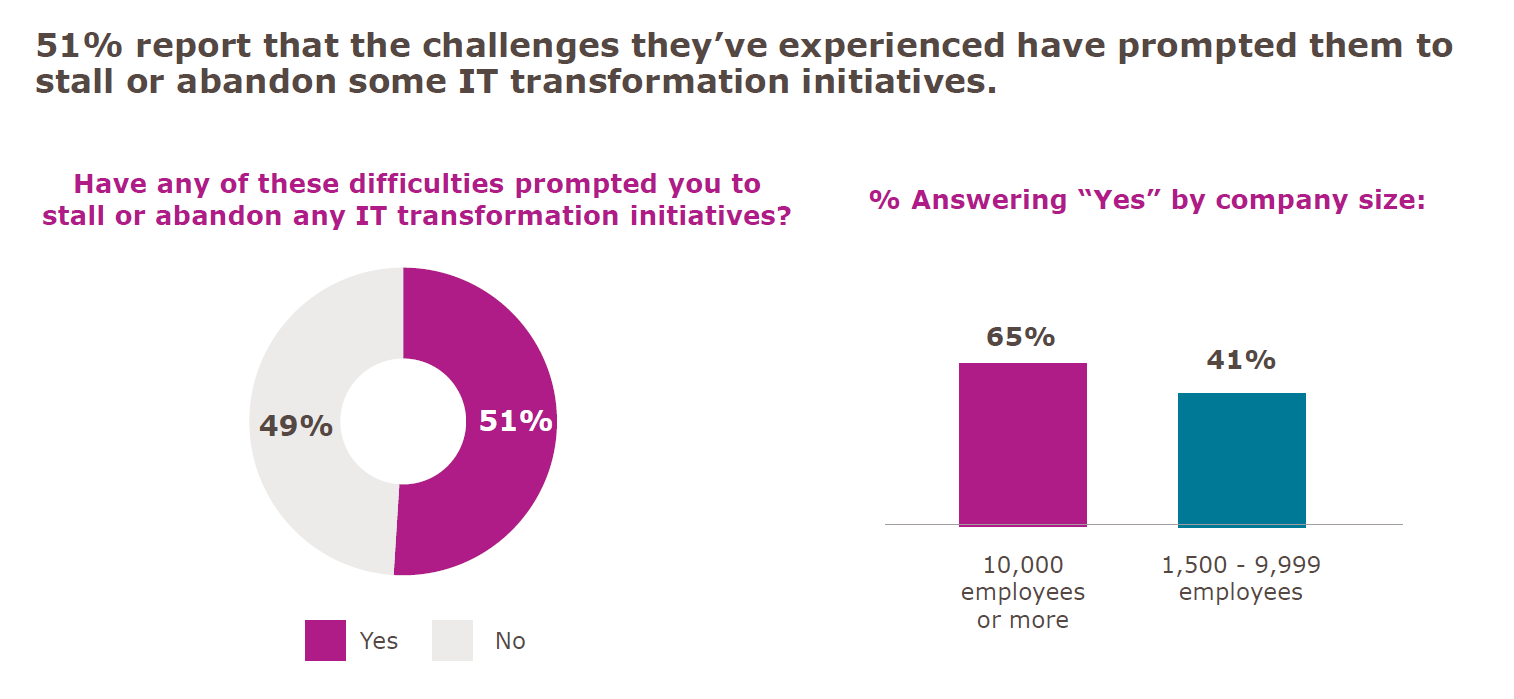 Yes, 51 percent would be appalling in any other context, but the question was, "Have any of these difficulties prompted you to stall or abandon any IT transformation initiatives?"
Any is a big word. In fact, any is the largest word in that question. If it were worded with "your" instead of "any," I will guess the positive answers would be a limit approaching zero.
If you pronounce a large reorganization and implementation of a slew of new processes, statements such as "that doesn't fit our infrastructure" are going to shake out. That doesn't spell doom and gloom for digital transformation; it is simply another obstacle to overcome. Dropping it for now, while focusing on the more viable portions of the plan is common sense, unless whatever isn't working is core to the transformation. Then it still causes you to stall while figuring it out.
Honorable Mention
On average, respondents said they expected more than one-third of their digital transformation activities to be conducted by third parties. That's a big chunk. Not "off-shoring" big, but still a large portion of work they expect to outsource to get the job done.
So. Much. Typing.
Okay, I'm about to shut up now. The takeaway is pretty straightforward. Contrary to hype, you're not behind on your digital transformation. It's a tough job, and knowing what you hope to get out of it before starting will help you to continue when things get rough. And they will get rough. The word "transformation" should tell you that. But keep going: There is better/faster/smarter/more mobile out there if you can stay on track, and because they are complex systems getting complex modifications, slow and steady does indeed win the race.
And just remember, you're responsible for those horribly complex, hard-to-transform systems doing what they do. Every day. Making them better and easier to manage is a no-brainer, but so is taking a moment to bask in the idea that you're keeping things running in an environment that is complex.