xMatters today announced it has expanded the capabilities of its incident management platform to better address the requirements of more complex IT environments.
New capabilities include an Incident Console to better visualize and triage incidents, automate responses, improve collaboration and access to richer analytics to optimize response times. Incident metrics are now also automatically collected from integrated systems and surfaced along with the notification to improve resolution times.
IT teams can also use a Flow Designer tool to automatically keep related systems current with one another, including issue tracking systems, service desks and status pages.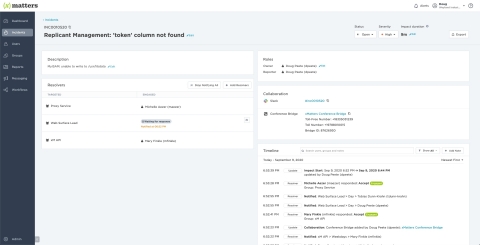 xMatters CEO Troy McAlpin said the updates are part of an effort to unify IT incident management at a time when the adoption of new applications and systems to enable organizations to have employees working from home has increased.
A survey of 300 IT leaders and business professionals published today by xMatters revealed nearly three-quarters of respondents (72.3%) now spend at least half of their time resolving incidents, with more than a quarter (27.3%) of those respondents saying they their team spends at least 80% of that time resolving incidents. A total of 43% of respondents said their organization still relies on less sophisticated processes to manage IT incidents, such as alerts, email, paging, conference bridges and physical outreach.
IT incidents are also starting to have a bigger impact on the business, noted McAlpin. The survey finds 20% of companies with 1,001-5,000 employees are budgeting more than $10 million on digital transformation initiatives. Each IT incident involving those applications now typically involves not just employees but also end customers, he noted.
As IT becomes more complex, he said, the need to modernize IT environments has become crucial. One of the many reasons IT organizations find it difficult to automate IT management is there are still many unique platforms running isolated applications. IT teams would be well-advised to ask themselves if these unique instances of a platform are truly warranted. If not, that application workload should be retired or shifted to a platform that is more easily automated.
Longer-term, McAlpin said artificial intelligence (AI) will increasingly be employed across IT operations, otherwise known as AIOps. Those advances won't replace the need for humans to manage IT, but it will allow IT teams to better automate responses to routine incidents that today require too much time.
Even as IT becomes more complex, the simple truth is most organizations are not looking to expand the overall size of the IT department. In fact, in the wake of the economic downturn brought on by the COVID-19 pandemic, there are many organizations that need to reduce the size of their IT organizations. Regardless of motivation, there are a host of mind-numbing tasks that IT teams are asked to perform every day that, in keeping with best DevOps practices, should be ruthlessly automated.