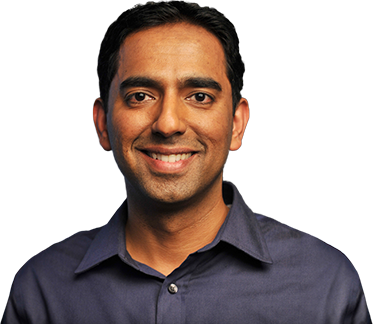 Continuing our DevOps Chats, Leadership Series I recently sat down with Sunil Rajasekar, CTO of Lithium.
As Chief Technology Officer, Sunil oversees core product, development and delivery of Lithium's enterprise platform. Sunil is a seasoned technology executive who brings more than 15 successful years of enterprise, small business and consumer software experience. Prior to joining Lithium, Sunil served as Vice President of Engineering, Operations and Program Management at Intuit Financial Services and held a variety of senior roles in the Intuit Small Business and Central Technology groups. His passion is building innovative and successful web and mobile offerings that companies and end users love. Previously, Sunil worked at Oracle, Cisco and several startups.Sunil holds a MBA from the University of Toledo.
Sunil and I had a nice chat about what it means to lead transformation at at organizations today using the many tools and options available. Regardless of tools though, Sunil emphasized what leaders have to do to enable transformation. It was a great chat that I hope you enjoy!
[soundcloud url="https://api.soundcloud.com/tracks/230736526″ params="color=ff5500&auto_play=false&hide_related=false&show_comments=true&show_user=true&show_reposts=false" width="100%" height="166″ iframe="true" /]
Alan Shimel:
                Hi, Alan Shimel at DevOps.com here for another Dev Ops Chat in the Leadership Suite. Today's guest is Sunil Rajasekar, CTO of Lithium, Lithium Technologies who are helping people with their social customer service software and social software in general. Sunil, welcome to Dev Ops Chats.
Sunil:                           Thank you, Alan. Happy to be here.
Alan Shimel:                So Sunil, for those of our listeners who may not be familiar with Lithium, can you give us just sort of a quick background on what it is Lithium does?
Sunil Rajasekar:          Sure. So we're in the business of helping companies engage with their customers in new patterns and what they're dealing with now, right? Where consumers have all the power, they have access to all the data that they need and companies don't own their brand anymore. The consumers are the ones that determine the brand. So we help companies deal with this environment in this reality that they are dealing with by helping them engage with their customers at scale through social channels and also facilitate conversations between customers.
Alan Shimel:                Sure. And Sunil, I thought this was such a great topic for our Leadership Suite because I'm sure many of our listeners are grappling with this issue right now. There's just a new way of doing things including a new way of engaging with customers. A new way of presenting your brand in the marketplace. And so much of it is wrapped around the social media and social communications that we see today. And companies who aren't grasping this are quickly becoming dinosaurs. People tend to think of it's the Unicorns, the Googles, the Facebook, the Twitters who are getting this or the startups. But that's not really who your customer base is, is it Sunil? You guys work with some large customers?
Sunil Rajasekar:          We do, yes. So we work with a wide variety of customers. We work with companies that have been a really long time so AT&T, Telstra, Cisco, HP; these are all customers of ours and they've seen a lot of success _____ [inaudible]. And we do work with a lot of the new companies that have been born in the "digital age" as well. So we work with companies like FitBit. We actually do work with Google, they are huge customer of ours as well. So we actually have a variety of customers across the spectrum, those who are new who get this new reality and those who get this reality but are adapting their business to adjust to it as well.
Alan Shimel:                Sunil, I'm sure we have some people out in our audience today who are leaders in their respective companies and they are faced with an evolve or die reality. What, as a CTO, as someone who founded companies and so forth and you are background, what would your advice be to them?
Sunil Rajasekar:          I would say three things, Alan. So one is make sure you have a diverse network. And so and the reason I bring that up first is we were talking about this earlier as well. Things are changing so fast in the tech world right now, it's hard to keep pace and it's hard to know whether it's a passing trend and what's here to stay. And it's hard to digest all this data and then figure out the _____ [inaudible]. And if you're going to try to do it by yourself, I would say it's going to be next to impossible. And if you stick to just your countered network, right, the people you work with day in and day out, you're probably getting the same level of information and you do end up with a group think type of situation. So making sure that making the time to engage with people in other industries, similar roles who are probably trying to figure out the path forward just like yourself. I think that's the way to do it. You want to make sure you're plugging into these other networks, you're sharing your learnings and learning from others as well. So this is something that I've made a conscious effort to do in the past couple years and it's been invaluable so I would say that's one.
In the second thing is, it does boil down to good old change management as well. Yes, there are some great trends that are out there and you should probably thinking about implementing it. But at the end of the day, you've got to know how to take this trend or new technology or new process and make it work for your organization. And that's good old change management, right? So you need to know about your team. You need to know about the business needs and make sure that you can tailor whatever transformation you want to drive to the needs of your company. So what does boil down to change management?
And then the third thing I would say is just resilience. And anybody who has made it up the ranks, they probably know this already but it's a good reminder. Anytime you're driving a large transformation, there are going to be challenges along the way. And you need to make sure that you are resilient and your team is resilient and the rest of your executive staff has bought into the transformation you are driving and they come here to support you and there are roadblocks as well. So as those are the three things. Make sure you have a diverse network, focus on change management and make sure you don't forget about being resilient.
Alan Shimel:                Sure. Sunil, I have questions I'd like to follow up with you on two of those points you've made. First of all, in terms of a diverse network which as you said you have pursued over the last couple years, what advice can you give our listeners on what kind of group should they be looking for? Where do they find them? How do you make that a reality?
Sunil Rajasekar:          Sure. So there's three ways I'm going to do it and there's a plan to do it, I would say, here as well. One is of course your personal network. There are people you've worked with in the past who you admire, probably have gone on to do other things and have other experiences. So making sure that you really cultivate your network and you reach out to people and check in and if you have a situation you're dealing with, reach out and ask for advice. Or if you're contemplating a big technology decision or a business decision, reach out to these folks who are in your network and get the advice.
Another thing that we've done is we've set up a technology advisory board so we have course have the board for the company. We've got a special technology advisory board that we've set up as well. And this has people from companies like Google, LinkedIn, Netflix. So some very, very strong background for all these folks and we've use this technology advisory board extensively for some key decisions that we've made. So that's been invaluable.
And then the third thing I would say is plug into meet ups that are going on. Chances are whichever city you're in, there are a ton of tech meet ups that are going on and if there's not that many, start one and get people from other companies to come and share their learnings on different topics. So we have a _____ [inaudible] ops meet up that we set up and we meet pretty regularly in our office and it started off as a small thing and now we have members who participate from again, the Googles of the world, the Air B&Bs of the world and we have over 1000 members. And that's been great as well.
Alan Shimel:                Yeah, no, that's fantastic. Sunil, jumping to one of the other points you made which was about change management, so something else – just my opinions, observations and advice is sometimes it's about embracing change. Too many people look at sort of the new technologies, the new ways of communicating, the new ways of doing things as oh my goodness, I've got to learn something new. Or this is changing what I do and no one likes to change what they are used too. I get all that. But sometimes embracing change is what makes the difference. Right? Embracing this change, looking at it as how can I make it a positive rather than just defending my turf if you well? Way too often people are just defending their turf, it seems, instead of embracing the change and running with it. And that would be my advice as well is don't think of these changes as yet another thing you have to do. Think of them as ways that are going to make your life easier, make you more successful, make your organization and those around you more successful. So I –
Alan Shimel:                That's part of it.
Sunil Rajasekar:          That is so true, Alan. There was a time when I think leaders were looked up to for stability and making sure that things stayed stable. But I think that paradigm has changed. In this time and age, the leader is looked at primarily for their ability to predict change and guide the organization on the path that they can adapt to this change and be successful in the future as well. So as a leader, that is one of our key responsibilities, looking at what's coming around the corner and making sure that you are guiding the organization in the right direction. So it's changed in my opinion.
Alan Shimel:                Absolutely. Well, Sunil, the problem with changes sometimes it moves too fast and so does the time we have for our web chats unfortunately. We are well over our 10 minute kind of target so were going to have to wrap it up. But for people who want to find out more about Lithium and kind of how you guys can help, where can they find you on the web?
Sunil Rajasekar:          Oh, it's easy; www.lithium.com. And from there, you can connect to a lot of good information and hopefully you know me as well; if you have follow-up questions or comments.
Alan Shimel:                Fantastic. Sunil Rajasekar, and I may have messed that up; I apologize. Thank you for appearing on this episode of Dev Ops Chats for the Leadership Suite. And continued success with Lithium.
Sunil Rajasekar:          Thank you very much, Alan. Thanks for having me.