We are very pleased to announce the winners of the third annual DevOps Dozen Awards. In many ways this year was a watershed year for the DevOps Dozen, as the process of selecting, voting and choosing the winners was much more refined and mature. In each of the 12 (it is a dozen, after all) categories the winners were absolutely deserving of the award and recognition.
Many thanks to our all-star panel of judges: Jayne Groll, Robert Stroud, Helen Beal, George Hulme and Ericka Chickowski. I was the tie-breaker judge and had to cast a vote in just one category. I should also say that almost all of the categories were very tight. Every one of the finalists was deserving of the recognition!
These awards are a reflection of some of the great work being done in the DevOps community. They are not exhaustive; there are many, many worthy companies, people, projects and products out there. But here is our take on the best of the best in DevOps.
So, without further ado, here are the 2017 DevOps Dozen winners:
Best DevOps Open Source Project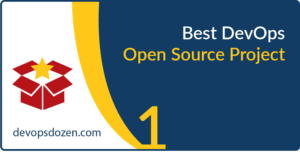 Jenkins is the winner of the Best DevOps Open Source Project for 2017. Originally created in 2004 as a fork of "Hudson,"  Jenkins is one of
the leading open source automation servers available. Jenkins has an extensible, plugin-based architecture, enabling developers to create 1,400+ plugins to adapt it to a multitude of build, test and deployment technology integrations. In 2017, Jenkins surpassed 155,000 active installations (these are active installations that report usage back to the Jenkins project—only a fraction of total installations), and approximately 1.5 million users, making it the most widely deployed continuous delivery automation server in the world. Learn more: https://jenkins.io/
Best DevOps Commercial Solution
ElectricFlow from ElectricCloud is the winner of the Best DevOps Commercial Solution for 2017. ElectricFlow is an enterprise-grade DevOps
release automation platform that simplifies provisioning, build and release of multi-tiered applications. A shared, model-driven approach to managing environments and applications allows teams to coordinate multiple pipelines and releases across hybrid infrastructure in an efficient, predictable and auditable way using the tools and stacks teams already know and love. Learn more: http://electric-cloud.com/products/electricflow/
Best DevOps Solution Provider Executive
The winner in this category was actually a 1/1a entry of the CloudBees team of CEO Sacha Labourey and CTO Kohsuke Kawaguchi. Sacha's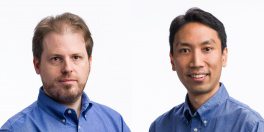 background prior to CloudBees was as CTO and key person at JBoss. KK was a Sun engineer when he first became involved with Hudson and later founded Jenkins. Together, they have built CloudBees into a powerhouse in the DevOps and CI/CD space. While working closely with the Jenkins community, they also have been instrumental in the continued growth and popularity of the Jenkins project. Together, they are a formidable team worthy of this award!
Best DevOps Solution Provider
CA Technologies, which now includes Automic, BlazeMeter, Runscope and Veracode, is the winner of the Best DevOps Solution Provider for
2017. From a toolchain perspective, CA Technologies provides the widest array of highly automated solutions necessary to build and optimize integrated workflows across application development, delivery and operations. Spanning the entire application life cycle—including planning, development, testing, release and operations—only CA Technologies offers the full range of capabilities needed to deliver secure, quality applications quickly with an unparalleled customer experience.
Most Innovative DevOps Solution of the Year
The Most Innovative DevOps Solution of the Year 2017 goes to Habitat from Chef, the leader in Continuous Automation. Habitat
is a SaaS-based service that provides the fastest way to package apps simply and consistently for deployment and management across flexible cloud-native architectures such as those comprising Docker Swarm, Kubernetes and Cloud Foundry, both on-premises and in-cloud. Habitat gives developers and operations teams complete control over the containerized application life cycle. Learn more: https://www.habitat.sh/
Best DevOps Evangelist
Derek Weeks VP and DevOps Advocate at Sonatype (co-founder of All Day DevOps) is the Top DevOps Evangelist for 2017. This year All Day DevOps offered 100 free online
sessions led by DevOps practitioners to 33,000 professionals around the world. Since its founding, the community has attracted, educated and supported more than 40,000 DevOps professionals. The conference also brought attention to more than 250 DevOps-related communities, meetup groups and organizations that are helping to educate practitioners around the world. In 2017, Derek delivered 18 DevSecOps-related keynote addresses, conference speeches and meetup presentations in the United States and Europe. He also produced more than 75 DevOps-related blogs over the year, covering topics from continuous delivery to DevSecOps, modern infrastructure and cultural transformations. The blogs not only delivered first-hand experiences, but also highlighted the work of more than 40 DevOps practitioners from different companies around the world.  The blogs can be seen at Sonatype, All Day DevOps, DevOps.com and Dzone. In addition, Derek championed a number of DevOps reports and surveys in 2017, including the "State of the Software Supply Chain Report" and "2017 DevSecOps Community Survey," to shed light on industry best practices and areas in need of attention or evolution.
Best DevOps Transformation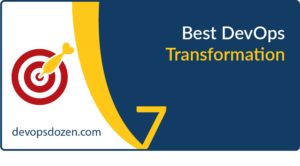 CapitalOne was the judges choice for Best DevOps Transformation for 2017. Over the past few years, the 20-year-old financial services giant

has been transforming itself, tapping DevOps to establish a continuous software delivery cycle. Topo Pal, a senior director and senior engineering fellow, told a packed room at the recent DevOps Enterprise Summit in San Francisco the company's journey suits its entrepreneurial spirit. "We consider ourselves a startup, and like any startup, we have different DNA," said Pal. "For instance, we build our own software." All the better for adopting DevOps. The company does just about everything (including back-end processing) in the public cloud now, with a focus on building microservices using open source technologies. Having spent the previous three years building out automation steps, scaling DevOps, adopting open source and cloud and starting to measure its success, Capital One is now turning its attention to continuous delivery. Learn more:
Case Study: Capital One Invests in Continuous Delivery to Automate Software Development Pipelines
Best DevOps Transformation Leader
Paula Thrasher is the winner of the Best DevOps Transformation Leader for 2017. Paula is Director of Digital Services at CSRA Inc. Paula 
Thrasher has 20+ years experience in IT and has spent the last 15 years trying to implement Agile culture in the federal government. Her first Agile project was in 2001; since then, she has led more than 15 programs and projects as an Agile developer, technical lead, Scrum master or Agile coach. Her teams have helped two federal agencies migrate applications to Amazon AWS GovCloud and done some other amazing DevOps ninja work along the way. Paula is also the executive lead for CSRA's corporate giving group's search for a STEM charity and joined forces with Girls Who Code to bring summer programs and after-school clubs focused on closing the gender gap in IT. She also participated in the DevOps Forum 2017, co-authored a paper on DevOps learning in organizations,"Continual Learning: Building a DevOps inspired Career Track," and peer reviewed other paper topics produced by the forum this year. Paula has spoken publicly at multiple industry conferences including AllDayDevOps  2017, Red Hat Government Symposium and DevOps Enterprise Summit 2017.
Best New DevOps Solution Company

nClouds is a provider of DevOps and cloud services, products, and solutions, specializing in modern infrastructures on AWS — and winner of Best New DevOps Solutions Company for 2017. They work as an extension of their customers' teams to build and manage modern infrastructure solutions that deliver innovation faster. nClouds is a certified AWS Advanced Consulting Partner with 250+ DevOps AWS implementations, 500+ deployed pipelines, and 10,000+ managed servers. They call their new SaaS offering, nOps, modern change management at the speed of DevOps. nClouds was named to CIOReview "20 Most Promising DevOps Solution Providers – 2017" and "20 Most Promising IT Service Management Providers – 2017".
Best DevOps Book/eBook
"The DevOps Adoption Playbook" by Sanjeev Sharma of IBM won the Best DevOps Book Award for 2017. The book lays out a clear "how-to"
for DevOps, including topics such as value stream mapping, how to lead the transformation of culture and scaling DevOps to the enterprise. As Sanjeev himself says, the book started from a Powerpoint deck of best practices he created to take in everything he had learned.
This book represents the culmination of years of learning by not only Sanjeev, but by IBM in general, and includes some of the leading names in DevOps that he learned from during this time. Sanjeev also stays true to the "playbook" paradigm, making references to cricket, soccer and other sports throughout. It is a good read and well-organized. To learn more, listen to this DevOps Chat: 'The DevOps Adoption Playbook' by Sanjeev Sharma.
Best DevOps Presentation of the Year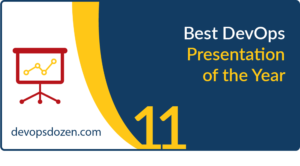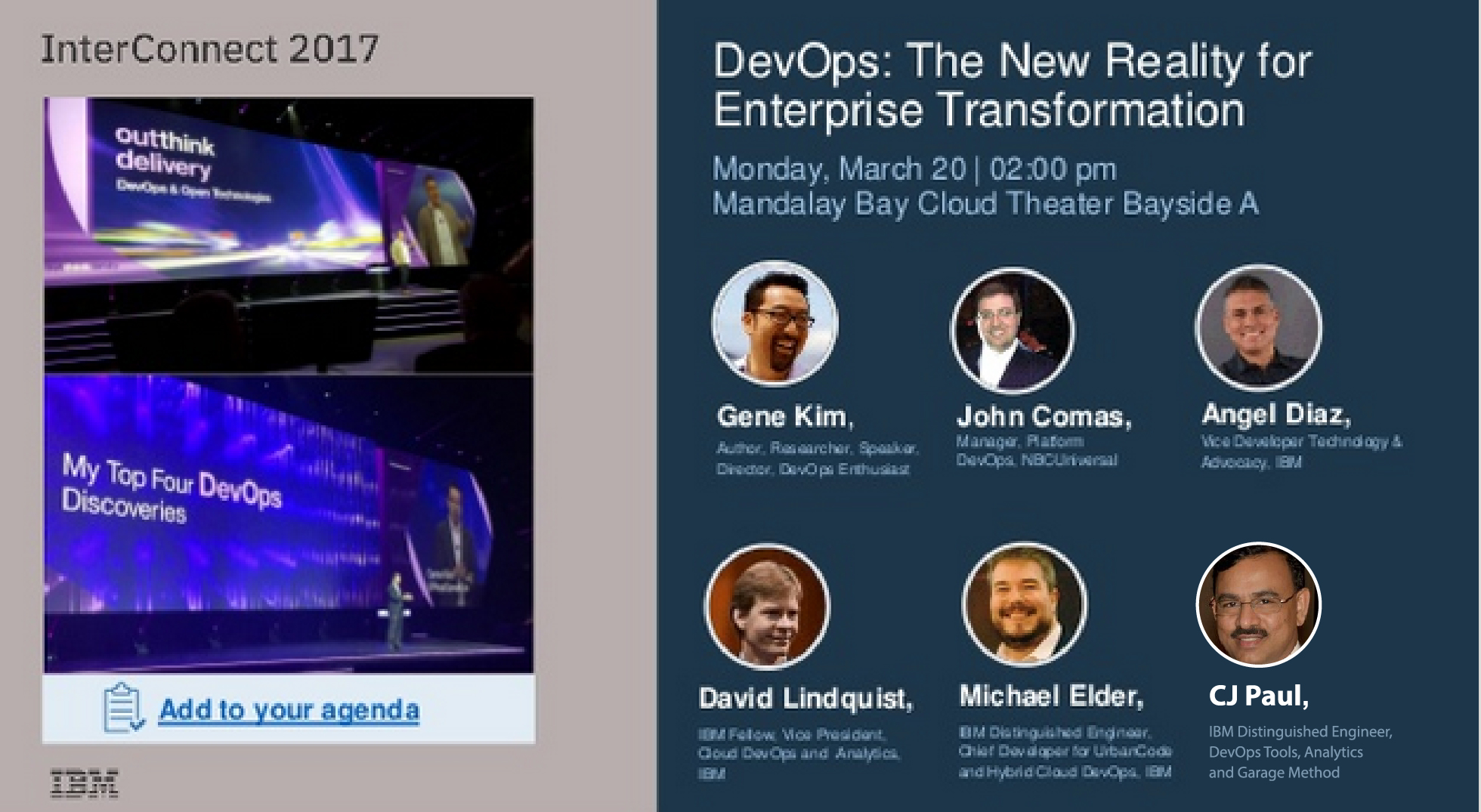 "DevOps: The New Reality for Enterprise Transformation," a 45-minute keynote presentation at IBM InterConnect 2017, is the winner of the Best DevOps Presentation for 2017. It features Gene Kim, John Comas, NBCUniversal and IBM execs and  distinguished engineers including David Lindquist, Angel Diaz, CJ Paul and Michael Elder. Are you dabbling in DevOps? Maybe you've run a great pilot project or have a terrific two-pizza team that's innovating new apps. How do you scale their success to your whole organization? The answer lies with a combination of cultural, personal and technical transformations that blend methodologies and cloud-native approaches with proven automation patterns and existing on-prem development. The presentation includes client stories and demonstrations of the latest IBM solutions to help companies transform their teams and build, deploy and manage their apps for large-scale enterprise IT environments.
Best DevOps.com Article of the Year
"Continuous Integration vs. Delivery vs. Deployment: What's the Difference?" by Chris Tozzi won the Best DevOps.com Article of the Year
Award for 2017. Christopher Tozzi has covered technology and business news for nearly a decade, specializing in open source, containers, big data, networking and security. He is currently Senior Editor and DevOps Analyst with Fixate.io and Sweetcode.io.
Again congratulations to the winners—well-deserved recognition for all of your efforts.
For those interested in next year's DevOps Dozen, information will be out in July or August of this year.