We're attending Adobe Summit 2019 to research the intersection of DevOps and marketing. Follow along for more stories.
In a recent article, we described how DevOps is transforming retail from brick and mortar into an omnichannel "brick and click." At Adobe Summit, we garnered more insights, discovering how other institutions are implementing an innovative convergence of physical and digital spaces.
The result is impacting all sectors, creating new hybrid environments within home tech, banking, apparel, and more. Let's see which ones Adobe decided to highlight in its opening keynote to discover how companies of all types are reinventing themselves through digital transformation.
Best Buy: Evolving 1 Storefront into 3 Services
Best Buy is a prime example of digital transformation for retail. At Adobe Summit, Best Buy CEO Hubert Joly described how the company is reinventing the "New Blue" to enrich lives with the help of technology; a sense of purpose is a mobilizing factor that affects innovation.
For $200 a year, Best Buy in-home advisers will be your No. 1 on-call tech support. The company is also using AI to monitor seniors to trigger assistance when they are in need. Lastly, an app that compares features is bringing new in-store customer experiences.
Not solely a brick-and-mortar retail anymore, Best Buy is transforming with subscription services and online presences, bringing in multiple new touch points to stay competitive with eCommerce.
Intuit: Reinventing the SaaS Platform Model
Atticus Tysen, SVP & CIO at Intuit, described, how, over the years, Intuit has transformed its platform-based SaaS offering. Intuit is now utilizing ML and AI to improve its customer experience process. Doing so requires great data, as well as powerful data structures. As Atticus mentioned: "It all comes back to data…You need to monitor your data pipelines just like you monitor your offerings."
According to Atticus, a core component of curating data infrastructure is democratizing it. Opening such data to all employees dismantles silos to increase the speed of IT. It's this sort of horizontal thinking that fosters the collaboration digital transformation requires.
Zumiez: New Zero-Code Methods to Build Online Shopping
Jennifer Small presented how the newly Adobe-owned Magento can be utilized to build and personalize shopping experiences. She walked through a theoretical Zumiez implementation, demonstrating how to make visual edits to develop cross-channel retail applications.
With the rise of eCommerce, traditional retailers such as Zumiez must create lean digital spaces to interact with end users. Not only must such environments be agile, but every point along the customer journey also must be individually personalized.
Online presences are adopting new tools such as AI-driven photo search, mobile A/B testing, user-driven optimization, responsive layouts, instant purchase and more. It's only with the use of innovative tech that traditional retailers can stay relevant in a competitive landscape.
Foot Locker: AR-Driven Demo
David Nuescheler, Adobe Fellow & VP of Enterprise Technology at Adobe Systems, has been working hard in the lab using Adobe Sensei AI to take physical retail to new heights. In his demo featuring Foot Locker products, he painted an augmented reality that may be closer than we think for storefronts.
Using a catalog of cloud-aware assets, David demonstrated how a storefront could render innovative user-facing views in real-time. Using AR, his live demo rendered a custom shoe to appear on an empty shelf. He scanned and identified shoes on a product stand, and overlaid warehouse inventories on top of products in real-time.
Though demonstrated as a futuristic work-in-progress, such AR-infused digital experiences will likely arise in retail soon, adding a sense of magic to typical storefronts.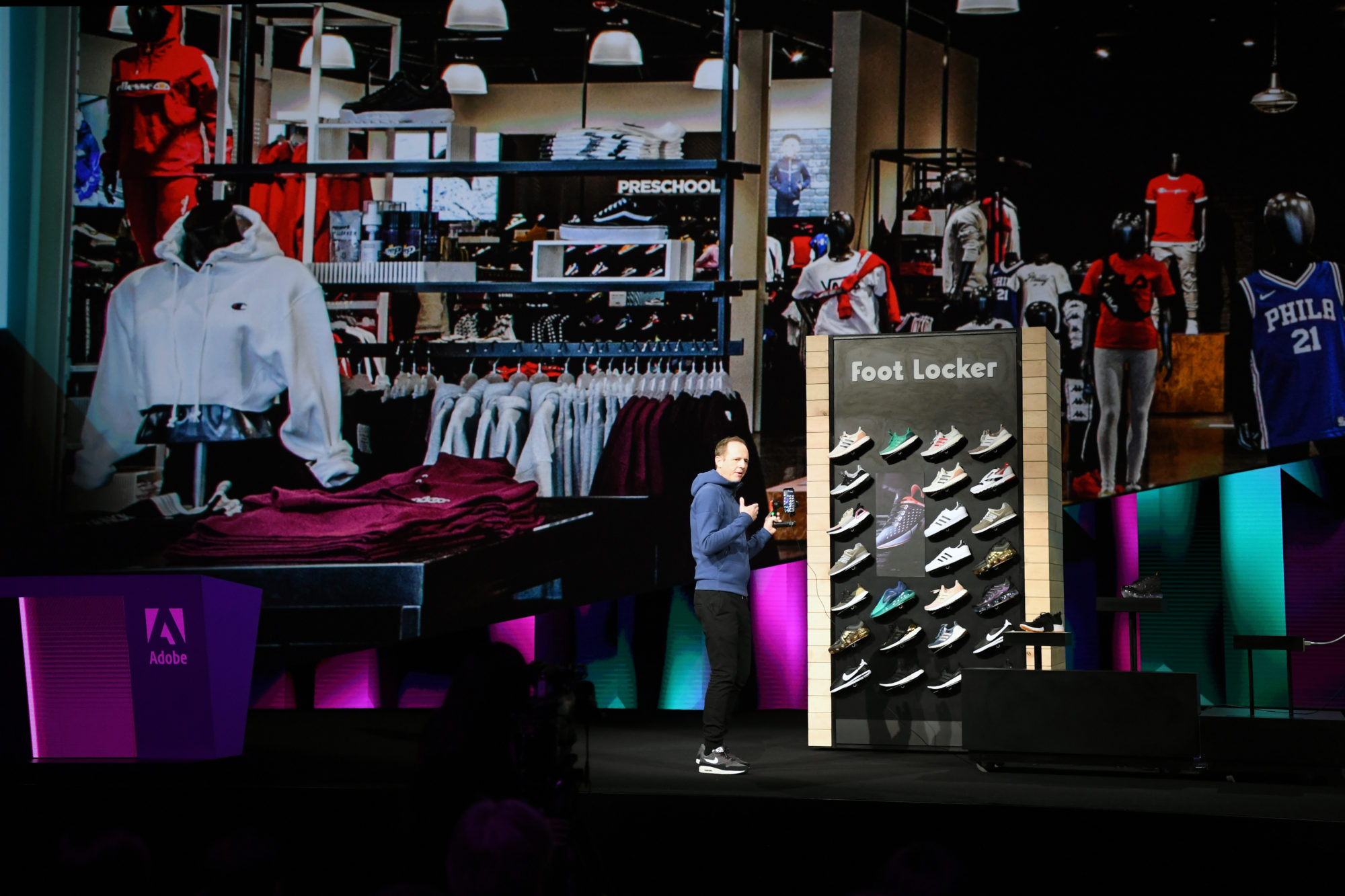 Chegg: From Textbooks to Online Tutoring
Textbook rental and academic platform Chegg also made an appearance at the Adobe Summit keynote. Chegg CEO Dan Rosensweig detailed the company's initial fear when its IPO plummeted, and the frantic reorganization that followed. If any digital transformation story has a positive end in sight, it's Chegg.
Now valued at $4.5 billion, Chegg was pressured to make a complete 180-degree pivot from shipping textbooks to embracing online subscription-based services. Though the company still ships about 5 million books a year, Chegg now has 1 million digital users. Academics from high school through to continuing education are leveraging Chegg's tutoring and online study communities.
Chegg is deeply tapped into its consumer base, placing great emphasis on responding to "who [the customer] is, and not who they used to be." For Chegg, using consumer analytics to architect the new digital business is a continuous, and necessary, commitment.
Adobe: An Integrated, Impressive Services Catalog
A sure-fire case study in digital transformation is Adobe itself. Adobe CEO Shantanu Narayen kicked off the Adobe Summit 2019, its annual conference full of 17,000 tech-leaning CMOs and digital transformers in attendance.
Shantanu transparently outlined how, years ago, innovation in the Adobe product line had become stagnant. Compared to the infinite growth of content creation across the world, its static products weren't doing the trick. This began to change rapidly with the introduction of subscription-based formats including Creative Cloud. Again, Adobe had found a foothold.
He demonstrated the company's new Adobe Experience Platform, a holistic customer experience management platform. With many of the tools having been used as dog food at Adobe itself, the platform unites a large suite of applications dedicated to advancing the customer journey.
Discover, Try, Buy, Use, Renew
Discover, Try, Buy, Use, Renew. Adobe's creed for customer experience management was reiterated many times at the Summit's keynote. Such insights ring true in the agile transformation tactics taken by the businesses showcased above.
Adobe Summit—or, as Marketo's Steve Lucas calls it, "the Woodstock of marketing"—showcased how successful agile companies placed customer experience as the driver for product design. In tandem, the future of retail holds an interesting future that meshes both traditional physical and digital experiences.
With customer experience now the No. 1 driver, should we place a "Mar" in front of the DevOps to create the triumvirate MarDevOps? The dogs are out.