Analysis of the 2021 Accelerate State of DevOps Report (SODR) data shows an increasing number of organizations are choosing multi-cloud and hybrid cloud solutions. In our survey, respondents were asked where their primary service or application was hosted, and the results showed that public cloud use is on the rise.
Of the 1,200 survey respondents this year, 55% indicated they're using a public cloud, a 5% increase from 2019. Of those approximately 660 people, 21% indicate they use multiple cloud providers and 34% indicate using a hybrid cloud strategy. For clarification, multi-cloud refers to the use of two or more public cloud providers and hybrid cloud refers to the use of an on-premises data center and/or private cloud in combination with one or more public clouds.
Our data indicated that the No. 1 reason for using multiple providers is to leverage the unique benefits that each provider brings to the market. Every cloud provider provides basic compute and storage services, but building a best-in-class business can be best achieved by taking advantage of best-in-class cloud computing features and not being locked into a specific vendor. In fact, 26% of our respondents indicated this was their primary reason for their multi-cloud or hybrid cloud approach.
The second most-reported reason, at 22%, was availability. Companies around the world are increasingly identifying as software companies and relying on software to be their primary business driver. Software allows companies to deliver value to their customers, outperform their competition, respond to market events and bring innovation to the market. Availability of this core product is not a "nice to have", it is essential. The truth is, however, that computers and networks are fragile—they fail. If we accept this fact, we can design and build systems that are prepared for this eventuality. Companies are addressing these risks with strategies that decrease the blast radius of changes and allow systems to continue operating even in the face of failure.
Speaking of worst-case scenarios, disaster recovery (DR) is the third most-reported reason for adopting multiple cloud providers. In fact, the cloud and the global proliferation of data centers has allowed companies to rethink what disaster recovery actually means. Gone are the days of systems going down and operators scrambling to rebuild systems and restore from tape backups—the cloud is the backup. The adoption of cloud plus fully automated pipelines creates a paradigm shift around DR that allows companies to design their disaster recovery strategy around zero downtime.
In addition to hybrid and multi-cloud strategies increasing, we also saw a rise in the use of the five essential characteristics of cloud computing. The National Institute of Standards and Technology (NIST) defines the five essential characteristics as:

These five characteristics must be embraced and used to realize the value of the cloud. A company that adopts cloud but does not employ these characteristics simply shifts their operating environment from one place to another but doesn't gain anything. In fact, the unfamiliarity of a new environment, new pricing models and lack of optimization from years of running on-premises often leads to disappointment. Successful companies embrace these five characteristics.
We know from previous reports that these characteristics are essential for delivering software at a high or elite performance level. We see adoption rates between 73% and 78% across the five characteristics with the lowest being on-demand self-service (73%) and the highest being measured service (78%). There is no doubt that this increased adoption is a key driver for the jaw-dropping performance we saw this year from our elite performers.
Elite performers can now deploy 973x times more frequently, have a 6,570x faster lead time to deploy, have a 3x lower change failure rate and a whopping 6,570x faster time to recover from incidents when failure does happen. Go back and read that again—no, those are not typos nor an error in the data! An elite-performing company can bring a new feature to market 6,570x faster than a low-performing company. This is one of the reasons we see a direct link between software delivery performance and overall business performance.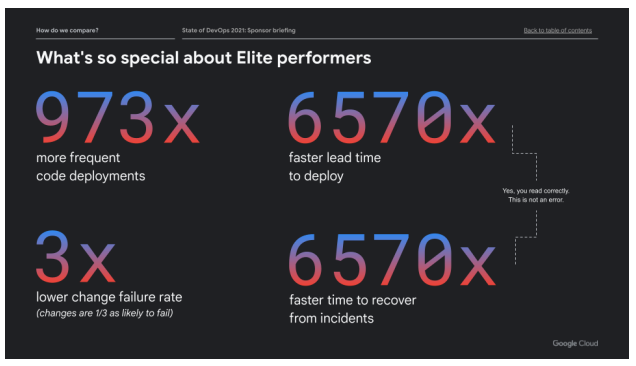 We encourage you to read the entire 2021 Accelerate State of DevOps report. There's lots of great information in the report including the addition of a fifth key metric—that's right; the 'Four Keys' are now the 'Five Keys.' "What is the new metric?" you ask? Well, I guess you will have to read the report and find out. 🙂