BMC this week updated its portfolio of mainframe tools as part of an effort to make mainframe platforms more accessible to IT operations teams and developers.
At the core of these offerings is BMC Automated Mainframe Intelligence (AMI), which embeds machine learning algorithms in mainframe platforms to automate a wide range of processes. BMC AMI supplants the company's existing MainView tools with a framework that promises to make artificial intelligence (AI) more accessible via a revamped user interface.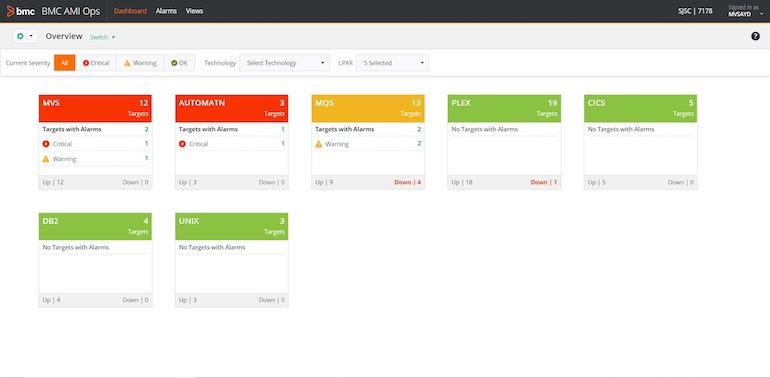 John McKenny, senior vice president and general manager for ZSolutions at BMC, said an AI model based on the data collected by BMC AI can now be spun up in a matter of minutes, and can identify a potential issue days before it might otherwise occur.
BMC AMI also exposes a REST application programming interface (API) through which more mainframe tasks will be automated.
McKenny said as organizations accelerated digital business transformation initiatives in the last year, the need to modernize mainframe platforms became more acute. Mainframes are now the backend for multitier application environments that need to be managed in concert with other platforms, McKenny said.
BMC is also adding Compuware zAdviser dashboards to the DevOps platform it gained with the acquisition of Compuware last year. BMC also updated Compuware Topaz for Total Test to streamline test creation for mainframe applications. There's a growing need for better tools to test digital business processes created for the mainframe, noted McKenny.
Other updates include Control-M job scheduler and Compuware ThruPut Manager integration, to ensure jobs run at or before their expected times on a mainframe, and an update to BMC AMI Data for IMS that simplifies database management in mainframe environments.
Finally, BMC updated the BMC AMI Security offering with the Compuware Application Audit tool; this update allows for better capture of relevant user access and behavior data.
McKenny said while mainframes remain one of the most secure platforms available, administrators must ensure security policies are properly implemented. IT organizations should avoid complacency and ensure zero-trust security in mainframe environments, McKenny said.
McKenny added that, despite their long tenure and the rise of cloud computing, mainframes remain relevant. Many organizations determined that the fastest way to achieve their digital business transformation goals is by extending their mainframe platforms – platforms many of them already rely on to process and analyze transactions.
What's changing is the IT professionals that manage mainframes alongside other platforms, such as the cloud. Many of those IT professionals naturally expect integrated AI capabilities that enable the average IT administrator to manage a platform that was once the sole realm of dedicated IT specialists.