I am very happy to announce that our next Camp DevOps event will be in Houston on October 28, 2014.  The conference will take place at the Norris Conference Center in City Centre, Houston. Camp DevOps Houston will be a one day event featuring keynotes, business orientated and technical tracks. There will also be ad hoc panels and more. We are today opening up the call for speakers for Camp DevOps Houston. More information on that below.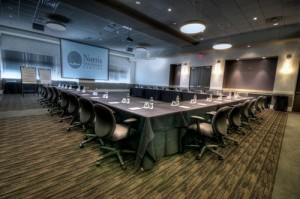 The Norris Conference Center in City Centre is a premiere event location. Featuring state-of-the-art facilities, AV equipped, soundproof rooms and complimentary wifi, Norris Conference Center also features Ergonomic Seating, Full Spectrum Lighting, Individual Room Thermostat Controls and Free Parking. Oh and did we mention great food?
Following up on our successful Camp DevOps Boulder event, the Houston event is aimed squarely at the Enterprise DevOps market. We could not pick a better location for this than Houston, Texas. Houston of course is the capital of the energy industry and one of the largest cities in the US. Besides companies directly in the energy field, there are a wide variety of enterprises that support the energy industry, as well as other large enterprises based in Houston.  But don't think that Houston doesn't have tech chops. In fact Houston is home to a thriving tech sector and start up community. Plus its proximity (Texas style where everything is bigger) to Austin, San Antonio and yes even Dallas, make it a perfect location for Camp DevOps.
Camp DevOps Houston already has four gold sponsors. CA, ITinvolve, JumpCloud and Serena Software are already on board. We are seeking other sponsors though. If you want to reach this important segment of the DevOps audience and your organization wants to be involved in Camp DevOps Houston, write [email protected] for more information. Sponsorship programs are affordable and a great value. You can also get more information at the Camp DevOps website.
In addition to corporate sponsors, we are proud to be working with the local South Texas DevOps Meetup Group. Two founders of the group, Darryl Bowler and Anthony Barnhart, have been instrumental in getting Camp DevOps Houston organized.  Many thanks for all of their help. One of the aims of the event is to strengthen this newly formed group going forward.
We are very happy that CA's Chief DevOps Architect and Senior Vice President of Product Management and Strategy of Application Delivery, Ruston Vickers will deliver a keynote address at Camp DevOps Houston. We have more speaking slots open in both our Biz DevOps and technical tracks. Speaker sessions are 30 to 50 minutes and can be one or two persons or a panel.  Biz DevOps sessions are aimed at the business side of DevOps. Technical tracks should be highly technical, assuming a high degree of proficiency of audience members.
If you are interested in presenting at Camp DevOps Houston please write to [email protected]. Include your name, CV or bio, a short abstract on your suggested topic and what track and format you would like to be considered for. We are looking for speaking sessions that explore DevOps in the enterprise in terms of both beginning a DevOps culture/mindset, as well as advanced issues surrounding Enterprise DevOps.  We will announce the selected speakers by August 31, 2014. All speakers are responsible for their own expenses to attend the event.
Besides schedule track sessions, Camp DevOps Houston will feature ad hoc panels. Growing out of our experience in Boulder, we have round tables set up for on announced topics. Audience participation in the panels is highly encouraged and in fact required. Any registered guest can sit in on a panel.
If you are in the Houston area or plan on coming to town for the conference you can register for Camp DevOps Houston on Eventbrite here. Registration is $99.95, with an early bird price of $69.95. Sponsors may offer greater discounts to their guests. Registered guests receive a continental breakfast, all day refreshments, lunch and afternoon snacks in addition to admission to all of the tracks.