And we're back with another episode of the "Continuous Delivery 101 Podcast."
In Episode 1, we covered the three waves of IT disruption—and how these disruptions, combined with the move toward digital transformation, are drastically changing every industry.
This, of course, underlined how accelerating speed-to-market is clearly more important than ever before.
In this second episode, we talk about Agile methodologies with expert Dan Rice, who addresses how these practices can enable business strategies to be implemented at greater speed.
Listen closely and you'll learn more about what Agile actually means across various teams, roles, product owners and scrum masters, along with related points on DevOps and CD tooling.
All of these topics are great food for thought as you think about how you can move to build software faster and with increased quality. Yet, if enterprises only focus on these issues, they aren't tackling or talking about the real problem in their organization that Agile can solve.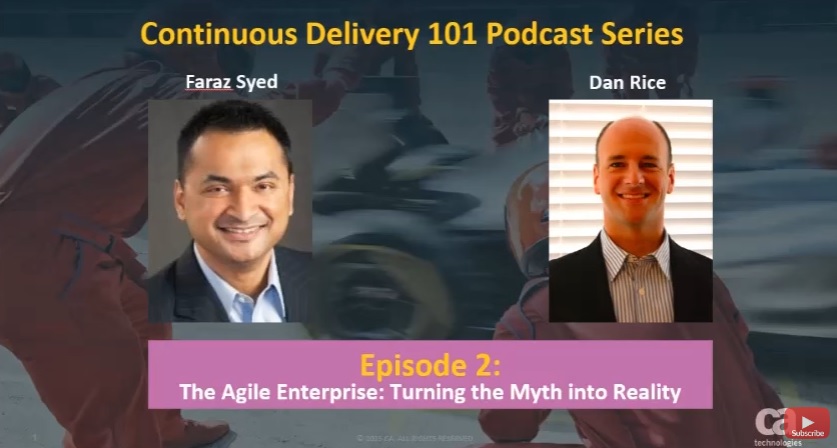 It's time to take the conversation beyond the team level and talk about how work flows to every involved team, enterprise-wide—specifically, about how initiatives can expand across multiple teams, how to manage shared resources and how to pull in other dependent teams.
For Agile to work, it has to expand universally and be ingrained further at program level, to understand precisely how work is coordinated and flows across every domain.
You can listen to Episode 2 of the "Continuous Delivery 101 Podcast" via:
Or by searching for it in the iTunes Podcast App under "Continuous Delivery 101 Podcast"
Thanks for tuning in to the "Continuous Delivery 101 Podcast." We hope you'll continue the conversation by posting your comments below or in the comments section on YouTube or iTunes.
Meanwhile, keep tuning in: We'll be back soon with another episode!