We conflate idealism with naïveté and pessimism with 'just being realistic'. But to deny the existence of perfection is to deny the evidence of our own lives.
Was 2015 a win or a loss?
It can be tough calling the winners and losers. The mathematics department I studied in had a habit of calling out the As in the class or saying nothing at all. One professor considered us lucky as his alma mater called out the Fs when handing back papers. It's interesting how information presented from different perspectives can have such a dramatic impact on the range of emotions it invokes.
A postmortem is an activity that focuses on the time line leading up to a failure. Etsy has done an excellent job of encouraging blameless postmortems in industry. It's a matter of when things are going to fail, not if failure will occur, when we're dealing with complex systems.
Retrospectives are a similar meeting held at the end of a development sprint where team members try to identify actions they can take to have more successful sprints in the future. Looking back on 2015 I see the need to balance our successes with our failures. When we're focused on optimization we're too quick to celebrate our successes. When we're focused on stability we tend to only see the failures and ignore the wins as we come across them. When we're well balanced it can be hard to tell the difference between our postmortems and our retrospectives, but we definitely have both.
No matter how you feel about it 2015 is quickly slipping through our fingers. Chronos & Kairos represent time as we typically think of it, mechanically, and the opportunistic time to take action, respectively. I happen to be a fan of Janus, the god of all beginnings and endings, as he was said to exist through all space and time simultaneously. While I do not have that type of experience or foresight I am capable of looking at this past year as I anticipate the next and try to adjust.
I can remember students that had trouble making passing grades that would be excited about Cs. I can remember other students that would be disappointed if they made a B and utterly devastated if they failed a test. Odds are you've been both of these students as our performance is just as dynamic as the courses we're faced with over time. While we celebrate As it's really a sign that a student isn't being challenged. An F is a sign that they need to slow down or maybe back up a bit, and C students represent those that are being challenged by the curriculum and are successfully making forward progress.
Cultural Balance
In early November I gave a talk called "Precision, Accuracy, and Debugging the Bimodal Model" at the devOps Summit during Cloud Expo in Santa Clara. My focus was on the granularity in which we measure things and our tendency to get caught up in sorting things as right or wrong, good or bad, new or old, and into other extremes instead of simply acknowledging them as being different. While boolean categorization can be accurate in some contexts there's often circumstances that require the precision provided by defining a spectrum between two extremes. These intermediate states often increase our odds of implementing successful change as they provide gradual steps to follow instead of expecting a single instantaneous jump to occur.
When undeniable failure occurs we find where to learn by following a time line of small successes. At some point our expectations will not accurately line up with the reality we're faced with and this is where we need to take a closer look.
I was able to catch Devops Days Silicon Valley while I was in Santa Clara. The conversations I had where intended to gather more feedback around culture hacking and how culture influences the artifacts an organization produces. The theme was "bridging devOps cultures", which made it easy to get feedback on some models I've been working on as it was a general topic of conversation at the event.
Matter of fact, concerns that cultural change is ultimately what is needed for sincere advancement echoed throughout various sectors of the science and technology industries I found myself in this year. Devops Days Silicon Valley made it a theme, but cultural change seemed to be the hallway track topic at most of 2015's events. Dave Snowden's cynefin framework was also present at most events I attended this year. I was introduced to the model during Jabe Bloom's talk in NYC. Both J. Paul Reed and myself mentioned it at devOps Summit, but Jason Hand went into it in more detail with his talk, "Flaming Poo and the Human Response" at DevOps Days Silicon Valley.
Lean Agile Scotland had a lot of discussion around culture and cynefin as well. It was even in the carpet. This worked for me since I made the trip in an effort to contrast the cultural differences in tech communities across US cities I had visited with an international group. Outside of the presentations culture was a common topic among corridor conversations. Lean Agile Scotland had folks from all over the world in attendance. It's often the little differences, like calling it a corridor instead of a hallway, that we tend to find amusing.
Conway's Law links the artifacts an organization produces to its communication structure, which ultimately is an artifact of the organization's culture itself. I'm starting to look at culture as the context of an organization with respect to how it communicates. Jabe Bloom and Chris Matts both gave presentations on culture in Edinburgh but the videos have not been posted yet. Here's a picture of Jabe providing a definition of culture during Chris's keynote.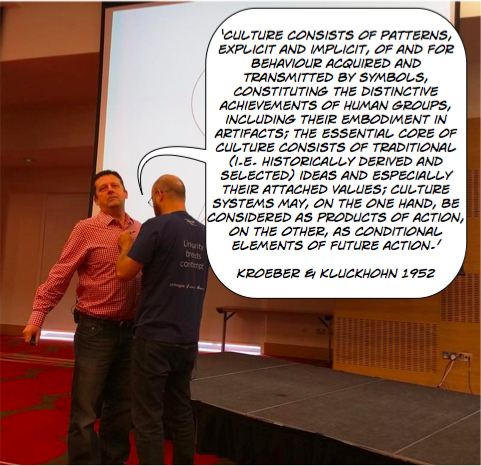 I was really delighted with Chris's keynote. It was well rehearsed and entertaining but it also provided a missing piece to a vector based model I've been developing in an effort to more consistently benchmark organizations. I had hit a wall as I couldn't see how I could quantify something like culture without injecting my personal bias into the metric, but what Chris shared about Hofstede's Cultural Dimensions easily drops into my model and satisfies the requirement.
I've received a lot of feedback on my model between Pittsburgh, Edinburgh, and Silicon Valley and it's all been very encouraging. I've seen initial doubt turn to optimism and have had lots of people offer to help me extend my efforts and research this further, which I intend to be a focus for me in 2016. I do look forward to benchmarking organizations next year in an effort to find more paths between safe game states in industry.
Looking back at the communication I described earlier with professors handing back graded tests, it is clear to see that how we learn is influenced by the emotions that are emphasized when we communicate. Are we focused on failure or are we focused on success? Does the culture we're in value stability or optimization more? Does your team have postmortems, retrospectives, or both?
Katherine Kirk advocated "Why Team Happiness Can be the Worst Thing To Aim For". Insight is enveloped in emotion and equanimity is the tool we need to access it. As emotions are fleeting we should not pursue them. Instead, by anchoring ourselves in equanimity we are prepared for the waves of different emotions that will come and allow them to pass without judgement.
Richard Sheridan, author of Joy Inc and CEO of Menlo Innovations, offered a different perspective with his keynote on how to "Build A Workplace People Love – Just add Joy". He describes an open, high trust community that's centered on learning. This means an environment that's comfortable with failure when it happens and embraces the opportunity to learn from it. To pursue an emotion may be folly, but when culture is so harbored on stability that the failure ultimately manifests in the human components of the system it is only natural to drastically course correct towards different bearings.
To Err is Human
Jonathan Disher's talk, "DevOps Army of One" at devopsdays Silicon Valley was an excellent blend of technical and cultural information. We automate in an effort to gain some room for balance but that space can quickly be filled with other work instead.
Asking for certain kinds of help, like more team members to offset workload, can bring leadership to question an individual's level of commitment. Fear of retribution may discourage us from taking the personal time we need even if we don't have adequate depth on the team, but eventually something will give. This is why burn out rate is high in our industry.
The intention of mapping is to clearly challenge our assumptions. This helps us to realize we're off course as soon as we checking our bearings. Wardley Mapping is a value chain mapping approach developed by Simon Wardley, appropriately enough. His mapping is quite practical and provides an interesting contrast to Edward Tufte's techniques, another data visualization and mapping expert I was pleased to meet this year.
It is unfortunate that the time needed to give the level of attention required for this type of insight is often a considered a luxury in corporate cultures. Thanks to automation and adaptive visualization frameworks the standards are slowly rising. Will Evans's presentation from Lean Agile Scotland provides a solid blend of Wardley Mapping and design as he explains how new practices like these enter our workplaces.
A Culture of Learning
As 2015 enters its final moments I feel successful in finding consensus that the cause of our failure is a cultural one. I believe we cannot improve what we do not measure, and therefore my plans for 2016 are to further study, model, and visualize organizations and their equilibrium states.
I cannot help but form a hypothesis on how we fix the problem before I've gained the context to make a reasonable attempt, but mapping is intended to help us challenge our assumptions. I'm assuming the solution lies in our actions as individuals and we must want to improve ourselves if we expect to see improvement around us.
Often the final state we are striving for is literally not achievable. John Willis introduced me to this concept of "True North" from Toyota Kata, by Mike Rother, and suggested I read it myself to learn more. We're currently reading Toyota Kata in a devOps book club we started, now that we've finished reading Designing Delivery by Jeff Sussna.
The book club is intended to help us discuss ideas as we move through a book. I've been surprised to find how asynchronously a book club can operate. Everyone reading the same book at the same pace is a more typical book club approach, but given we live in different time zones and keep busy schedules we're adapting to a model that's a better fit. If you've read Designing Delivery, Toyota Kata, or plan to read either book and would like someone to discuss them with feel free to ping me on twitter.
The improvement kata from Rother's book maps the scientific method into Plan, Do, Check, and Act. Instead of focusing on processes we should focus on enabling people to improve themselves. We improve when we learn and we learn when we communicate. If your culture does not foster communication can if foster learning? If you're not open and honest with yourself, how does that effect your environment?
I could go into more detail about my intentions for next year and may do so at a later date, but my plans are of no use to you as we are different people. I would encourage you to gain awareness of your own situation by challenging the assumptions that have bounded your operation over the past year. You have had successes and failures and both deserve attention. Reviewing your outcomes with equanimity will help balance your actions, and hopefully lead you into a successful 2016. Happy New Year.