If you work in software quality assurance (QA), it's time to find a new job.
The overall software development process has always consisted of the following core activities:
Creating a requirements analysis;
Producing a specification of the software artifact;
Constructing the software;
Investigating the quality of the product or service;
Finding and fixing defects; then
Deploying to production.
In most organizations, this process generally has occurred within one or more methodologies such as waterfall or agile. In waterfall, the testing process occurs relatively late. The software is produced, bugs are found by the QA team and then the software is fixed. These last two practices repeat in a cycle until management is comfortable that it can be released to the public.
In agile, individuals and teams—including QA—work closely together to release and then update software on an ongoing basis rather than deploy an entire platform all together and all at once. DevOps, as we have written in our "What is DevOps?" guide, is the next generation of agile development. Agile is a way of thinking in software development; DevOps goes one step further and is a concrete cultural change that implements the philosophy within an organization.
And that implementation eliminates the need for QA as a separate entity in the organization and disperses the responsibility for quality across different teams, even though many have argued that the discipline is still needed in one form or another.
Past Interpretations of QA in DevOps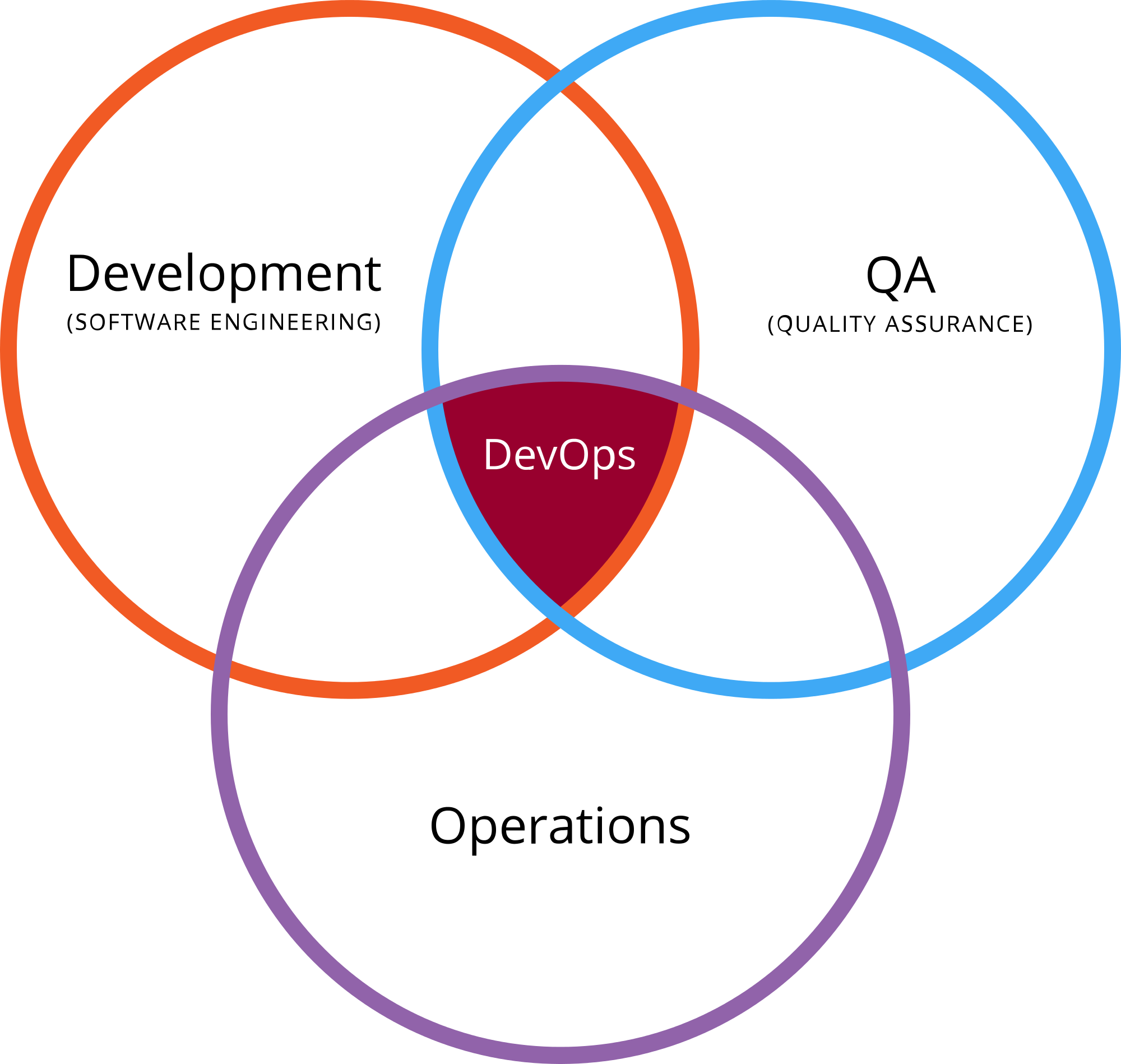 One common argument is that DevOps sits at the center of a Venn diagram of dev, ops, and QA:
On one side, QA works together with development in trying to push more of their tests into the continuous integration system. Tests must have zero human intervention and generate their own test data.

On the other side, QA works with operations to collaborate on monitoring tools; perhaps to continuously run smoke tests in production. Chances are that operations is developing scripts for backup and restore of production systems, rollback of deploy, or scripts for disaster recovery.
Tim Hinds at NeoTYS looks at the issue differently and says that "DevOps QA" is meant to prevent defects rather than find them:
QA takes a critical role in this organizational structure because they have the visibility and the directive to push code out when it is working, and roll it back when it is not. This is a very different mindset from QA organizations of 10 years ago, whose primary responsibilities involved finding bugs. Today QA groups are charged with preventing defects from reaching the public site.
With all due respect, both are wrong.
Why DevOps Does Not Need QA
DevOps often uses continuous integration (CI) and continuous delivery (CD). In CI, developers use various continuous integration tools to integrate code into a shared repository multiple times each day, and DevOps relies on automation to determine the quality of the version. You cannot have any human interaction if you want to run CD, which ensures that any version of a batch of code in the repository can be released at any given time.
Essentially, the traditional QA cannot work in a full CI/CD environment. In older structures, the responsibility for software quality was in the hands of QA. Today, it's part of the DevOps culture and methodology—the developers now own the responsibility rather than a separate entity within the organization.
Specifically, DevOps entails the use of vendors and tools such as BUGtrack, JIRA and GitHub to aggregate and report software bugs and defects. Test automation tools including Selenium, Cucumber, JUnit, TestNG and JMeter manage, execute and measure functional tests and cycles.
In the end, if there is a layer of people in the middle between development and operations, then you cannot perform CI and CD seamlessly and, therefore, cannot do DevOps. To run a proper DevOps operation, you cannot have QA at all.
The Future of QA
So, what will happen to all of the people who work in QA? One of the happiest jobs in the United States might not be happy for long as more and more organizations move to DevOps and they become more and more redundant.
According to the U.S. Bureau of Labor Statistics (BLS), software quality engineering is one of the high-tech professions whose growth rate is projected to be slower than average:
However, the BLS numbers are likely too generous because the bureau does not yet recognize "DevOps" as a separate profession at all:
As evidence, just look at how the relative number of Google searches in Google Trends for "sqa jobs" is slowly declining while the number for "devops jobs" is rapidly increasing: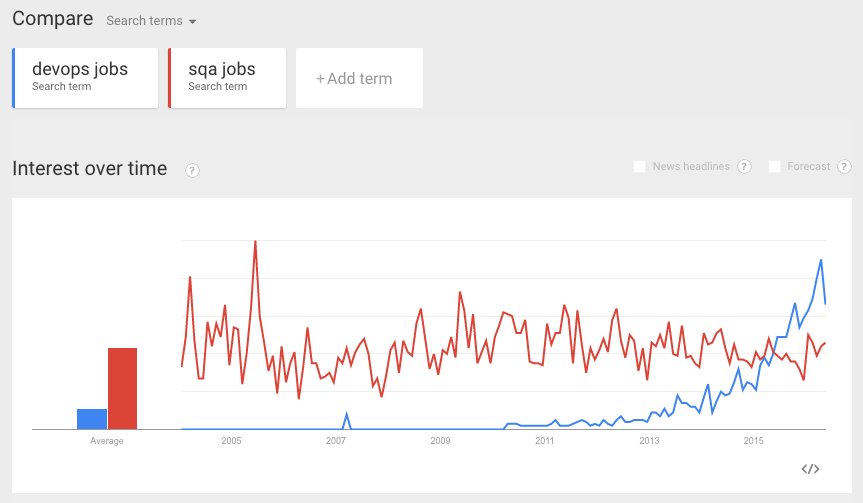 For QA, the trend definitely does not look good.