De
vOpsQA NJ just held our July Meetup on Containers with Casey Bisson from Joyent and Jeremy Rampon from Syncsort as speakers.   The meetup was held at a new ROKITT location,  a state-of-the-art office space with breathtaking views of NYC.   This session marked 1 year since our Meetup was formed in July of 2014 and it was great to celebrate it with a great group of fellow DevOps and Automation enthusiasts.
Jeremy R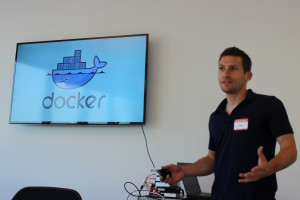 ampon gave a great introduction to Docker and container technology.  He spoke about how Docker allows to build, ship and run any app, anywhere with almost no overhead.  We also discussed how Container technology is different from VM and future plans of Docker on Windows.
Casey Bisson gave a b
rief overview of the Joyent technology which offers container native infrastructure that runs in public and private cloud.  We all want to run Docker on bare metal, but don't want to lose security and elasticity.  Joyent provides a way to do this without the overhead attributed to VMs.  The Triton Elastic Container Infrastructure is build on top of SmartOS  and provides its implementation of the Docker API, with full support for the Docker client and related orchestration tools.  The advantages are the ease of management and improved performance from running on bare metal.    We also got a live demo of the software that runs SmartDataCenter (software that runs the Joyent public sloud and powers private clouds) all the way from install to provisioning customer containers.
At the end of the session we did a raffle for 3 awesome books sponsored by Pearson and then toasted to 1 year Anniversary of DevOpsQA NJ.