A growing number of providers of tools widely employed by DevOps teams that are extending their reach into business analytics has been joined by Dynatrace. The provider of a namesake application performance management (APM) platform unveiled a set of business analytics applications aimed at application owners who need to understand how changes to the  application experience their organization is providing ultimately impacts the business.
Ajay Gandhi, vice president of product marketing for Dynatrace, said Digital Business Analytics applications from Dynatrace extends the single-agent architecture Dynatrace created for its Software Intelligence Platform to make it easy to employ an APM service delivered via the cloud into the realm of business analytics.
The difference between the applications being made available by Dynatrace and traditional business intelligence (BI) applications is the agent software Dynatrace developed enables application owners to track all events in real-time, said Gandhi.
As organizations launch digital transformation initiatives, Gandhi said many discover they lack visibility into the actual end user experience. The suite of Digital Business Analytics applications provides access to a set of applications that enables application owners to track transactions as well as metrics such as conversions and revenue performance by product, customer segment and geography.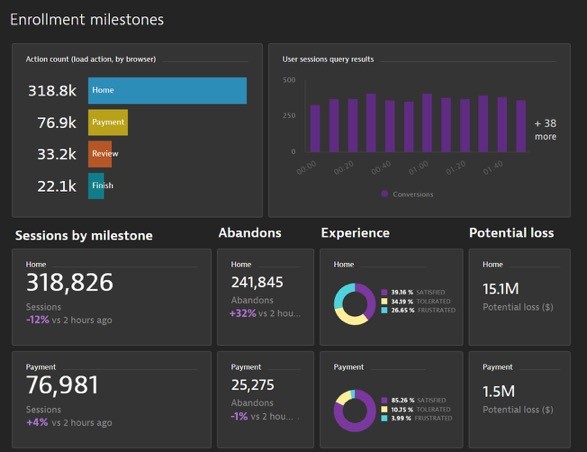 Gandhi noted organizations don't necessarily need to have embraced best DevOps practices to derive value from the company's analytics applications. However, those that have embraced DevOps are likely to appreciate the value of these applications because they view themselves as a software company that happens to build a specific product or digital service.
It's not clear to what degree application owners may be willing to give up relying on spreadsheets and legacy BI applications they have relied on for decades to manage the business. However, a case can be made for aligning the business to IT more closely by tracking the events in real-time as they occur across application environments and the IT infrastructure on which they depend. In fact, the one thing that has always differentiated Dynatrace is its ability to leverage an artificial intelligence (AI) engine, dubbed Davis, to surface events and deliver actionable intelligence by identifying the root cause of an issue, said Gandhi.
Other DevOps vendors that are venturing into the realm of business analytics include CloudBees and GitLab. As these vendors increasingly realize that business processes now frequently revolve around DevOps processes, they all see an opportunity to extend their franchises by providing analytics applications that are aimed well beyond their existing base of IT users. Less clear right now is which set of tools within a DevOps toolchain will serve as the primary source of data for those analytics applications. However, Gandhi did note that unlike continuous integration/continuous deployment (CI/CD) platforms, APM services can provide real-time visibility into the actual digital experiences that change as various events impact production applications.
Regardless of the ultimate source of data, however, the one thing that is certain is the level of insight business users can have into application development and deployment processes trends is, for better or worse, about to increase substantially.