Software is an essential part of our everyday lives, but that doesn't mean that people are always happy with the app experiences that they're having.
We at DeepCode conducted a survey to learn more about what people really think about software quality today. Is it getting better or worse? How important are bugs and security vulnerabilities to the average user? The results are interesting, whether you're building or managing software.
I'm going to highlight the data from the eight questions contained in the survey, provide some analysis on each question, and then summarize the key points that we can learn from the overall results.
People's habits are baked in for a core group of apps: 78% use 10 or fewer apps each day, and 41% use five or fewer apps on a daily basis. When you consider the apps that we all use for activities such as email, web browsing, messaging, social media, entertainment and work, you can see that there's only so much room for people to bring extra software into their daily routines.
Bugs and security vulnerabilities clearly have consequences: 92% of users lose confidence when they encounter them. People have high standards and they're not willing to ignore issues.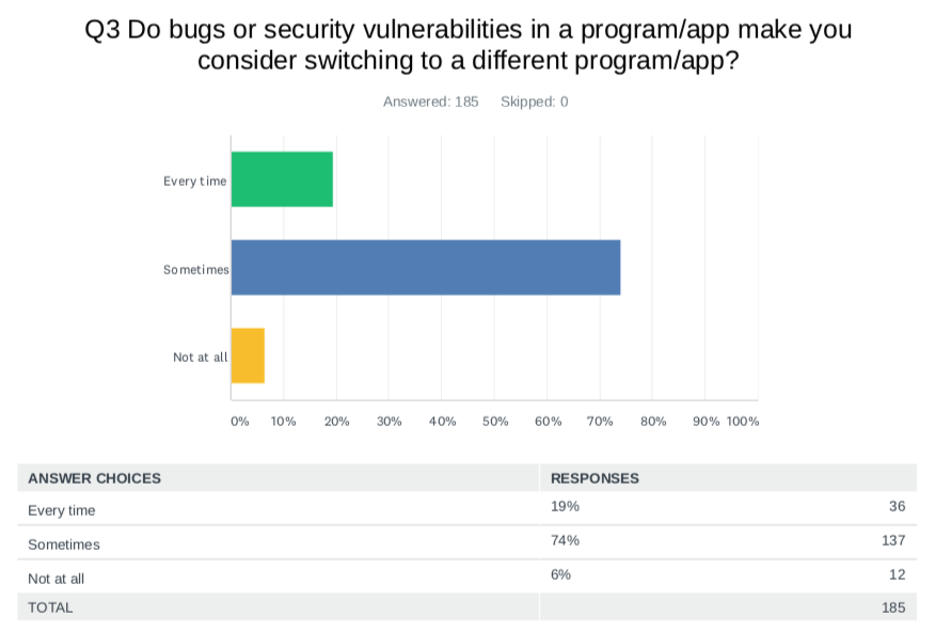 Not only are software issues taken seriously, but they cause 93% of users to consider switching to a different app. With so many options available today that share a lot of similarities, software companies have to be careful not to push people in a different direction.
Considering making a change to different software is one thing, but 72% have actually done it because of bugs and security issues. User loyalty doesn't always last forever.
A nice majority believe that software companies take quality issues as seriously as they should. Users know developers have a lot to deal with and are doing their best, but as we've seen so far, that doesn't change the fact that they'll have a negative reaction when your software lets them down.
There's still a perception out there that all users care about are big, new features. Because of that, many times you'll see software companies downplay bug fix releases as if they're not worth mentioning. With 85% preferring bug/security fixes over new features, your best feature in any release is improved quality.
The earlier statistic about software companies taking quality seriously carries over to this question because 83% think it's improving. It's encouraging to see that extra attention on bugs and security issues is directly resulting in better software.
This one is rather evenly split, but if software quality is indeed getting better, then hopefully the percentage of those impacted will trend downward over time. It's important to be cautiously optimistic here, however, because as software gets more ingrained in our lives through the internet of things and beyond, we're opening ourselves to data and privacy threats that none of us are properly prepared for.
Quality Is Key
The results of this survey prove that quality software matters. Our brains may be telling us that, but if we're honest, sometimes our hearts convince us that new features are the most important thing—no matter the cost. Users prefer bug/security fixes, and if they encounter software problems, they'll consider switching. It's really that simple.
Smaller software companies may not have the resources to innovate on the same level as some of the bigger players, but they can focus on improving the quality of what they offer. When a user has a bad experience with a competitor, your company can be known for quality and provide a safe haven for anyone comparing different options.
The users have spoken: You'll be rewarded for building quality into the software development process.