GitHub this week rolled out a series of offerings including updates to its server platform that includes a major update to the on-premises edition of the Git-based repository for source code.
Scheduled to be available next week, GitHub CEO Nat Friedman noted via a pre-recorded video that opened the online GitHub Universe event that version 3.0 of GitHub Enterprise Server was the first update to the platform made in years. It brings with it support for capabilities such as GitHub Actions and Packages, as well as support for code scanning and, in beta, a secrets scanning capability that GitHub already makes available via its cloud service.
GitHub Enterprise 3.0 server platform now also supports GitHub Mobile to enable developers to work remotely.
The Microsoft subsidiary is also moving to extend the capabilities of its cloud service with the addition of an auto-merge capability, available in beta, that allows authors of pull requests to opt in to having a pull request merged automatically once its required reviews or status checks have passed. Previously, DevOps teams were required to wait until pull requests were completed before moving on to the next task.
GitHub also announced that its previously previewed Discussion collaboration tool is now available as a public beta on all public repositories. The company plans to extend the capability to GitHub Mobile soon.
Other capabilities being added in beta include environments to more easily isolate workflows among team members, a dependency review tool, support for required reviewers, access to deployments and deployment logs and a workflow visualizer for DevOps pipelines.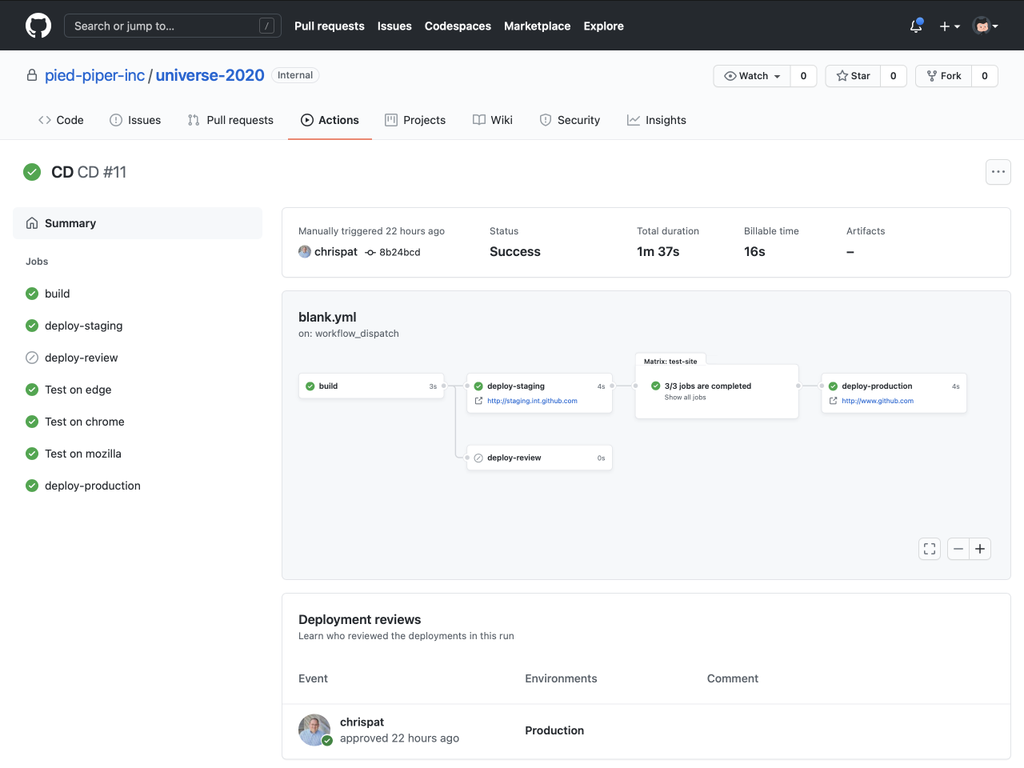 GitHub is also providing DevOps teams with a dark mode option available in beta.
Finally, GitHub has extended its GitHub Sponsors program to enable organizations to contribute funds directly to developers working on specific open source projects. Many of those contributors are finding they can make as much money via contributions as they previously had for a single employer, noted Freidman.
Friedman said GitHub is, as ever, committed to continuing to improve the developer experience. Naturally, those capabilities will continue to manifest themselves first on the GitHub cloud platform.
The degree to which that sits well with IT organizations that prefer to develop applications using repositories they deploy and control remains to be seen. While more application development is occurring in the cloud than ever, there are still plenty of organizations that are wary of making intellectual property available on any type of cloud platform. Many organizations are also pursuing hybrid approaches that employ a mix of Git-based repositories based on the sensitivity of the application development project.
Regardless of the Git repository employed, automated workflows that are enabled by GitOps processes are becoming more widely employed. Less clear is to what degree those GitOps workflows will need to be extended across multiple Git repositories at a time when enterprise IT environments are becoming more hybrid. In those environments, parity between on-premises and cloud-based Git repositories will rapidly become an essential requirement.