Many studies have shown the significant value that DevOps can bring to a software organization. However, organizations on their own DevOps journey need more than general industry studies or case studies. Any practitioner needs to be able to show the value—specific to their organization—that the changes to people, process and tooling made in the name of DevOps are having meaningful results.
Measuring the success of a DevOps practice or project is critical to securing and maintaining support for similar projects in the future.
In a previous blog, I talked about some of the pitfalls that come from focusing on the wrong DevOps metrics and outlined a few general guidelines around what makes a good metric. Here I'll expand on that theme and discuss more specifically what types of metrics can help you show progress within your organization.
To review, in the previous blog we looked at the characteristics of a good metric. Specifically, good metrics should be obtainable, reviewable, incorruptible and actionable. With those as general guidelines, it's helpful to consider the three core components of successful DevOps implementation to help us determine where to look at measurements.
DevOps is built around people, process and technology. But it doesn't make sense to measure the components of DevOps; instead, we need to think about the goal, or outcome that each of these achieves. For example:
People changes are focused on improving culture, collaboration and sharing
Process changes are largely implemented with the goal of driving efficiency & effectiveness
Technology changes contribute to efficiency and effectiveness, but primarily drive quality and velocity
Together, all three of these should lead to significant customer and business value.
Notice how certain words above are in bold? That's not an accident. These four key areas are the foundation of a successful DevOps practice—and therefore an excellent place to focus your measurement efforts. The figure below illustrates how these four areas fit together, and provides a few examples of the types of things that can be measure in each area.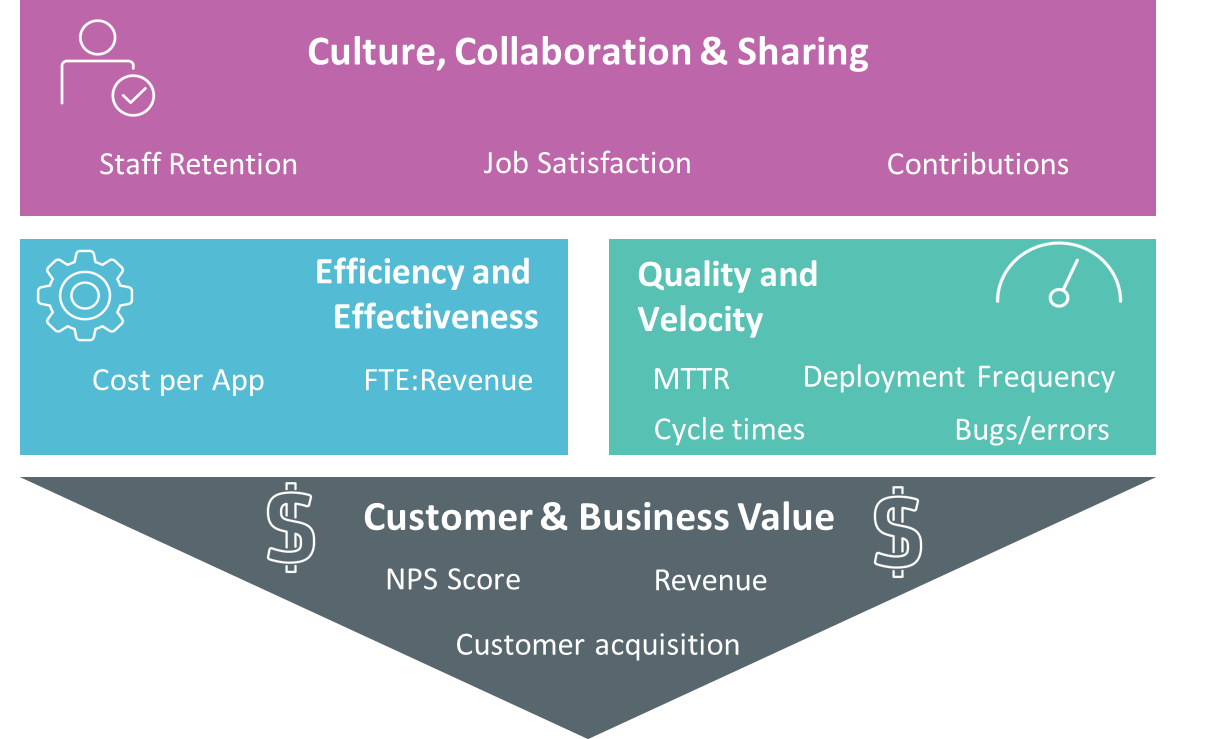 Of course, it's important to consider your own organization when considering what metrics to focus on, as well as the guidelines mentioned previously. For example, in some organizations people-related metrics could be difficult to obtain on a regular basis. That's not to say they're not important—it's been shown that DevOps can have a meaningful impact on employee satisfaction—but these metrics may not be the primary focus for some groups.
DevOps has a wide range of benefits and I've seen organizations often have their own primary motivation, whether it is costs, velocity, competition or something else. It's best to focus on metrics that are aligned to your organization's primary objectives.
Metrics matter only if what you're measuring matters to your organization.
If you are interested in learning more about DevOps metrics, the book "DevOps for Digital Leaders" explores this topic in more detail.
In my next blog, I'll delve into what to do with the metrics, once you've gathered and analyzed them. Because even the best metrics are only as good as what you—and your organization—can learn from them.