It is not often the case that a security vulnerability can get the entire Internet talking. And not just the security community on the Internet, but everyone. End-users and IT alike are looking for answers and trying to mitigate Heartbleed. It has its own web site and logo. It's that big of a deal.
Many service providers have already patched their systems, but there are a whole lot of sites on the Internet and it's estimated that a significant number of them are vulnerable.
Netcraft notes that Heartbleed, based on OpenSSL, "affects around 17% of SSL web servers which use certificates issued by trusted certificate authorities."  One of the most trusted sources of data regarding web server software in use today, Netcraft's "most recent SSL Survey found that the heartbeat extension was enabled on 17.5% of SSL sites, accounting for around half a million certificates issued by trusted certificate authorities."
But it's not just server software that may be vulnerable. Any device in the data path that terminates SSL and is based on OpenSSL could be vulnerable. Any "thing" that might use OpenSSL to enable secure communication and accepts connections could be vulnerable. In other words, hearts are bleeding all over the Internet right now, and it could take quite a while for the Internet in general to plug the holes.
The hole itself is fairly simple – it takes advantage of the mishandling of what seems like an innocuous meta-protocol that runs atop TLS and DTLS that consists of two message types: HeartbeatRequest and HeartbeatResponse. It's used to "ping" the other party in a secure connection to make sure the peer is alive. It can be used to offset idle times that might otherwise cause the connection to time out.
It can also, thanks to a missing bounds check on the message structure, arbitrarily and completely silently grab 64 kilobytes of the server's memory. That memory might include sensitive things like the private key used to encrypt communications or passwords or pieces of critical documents.
Whatever might be in memory when the vulnerable software goes to grab it is leaving the building faster than Elvis – and without a trace. There's no logs, no evidence of the theft, nothing. It's clean and remotely executable by anyone on the Internet. That may explain the attention it's currently getting.
The answer to any vulnerability is ultimately to patch it. Depending on how many servers or systems are impacted, that could take some organizations days – assuming patches are available immediately. In the meantime, the heart is still bleeding and the only way to prevent more information from leaking is to shut off the hose.
Except it's not the only way.
Programmability in the data path can mitigate this, now. Right now. Like in the next five minutes.
Let's review programmability in the network for a brief moment: you have, in the data path, a device. That device (or software) is capable of programmatically intercepting, inspecting, and transforming the data that's traversing it. That means such a system can intercept a request to initiate SSL/TLS traffic, inspect it and, if it finds a request to include Heartbeat support it can reject the connection.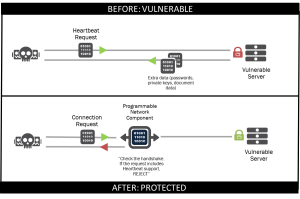 Interestingly, one of the primary motivators of early SDN architectures was the ability to support new or experimental protocols by inserting them into the data path in the network. While that's a driver for academics, a more realistic driver for businesses is the ability to interact with protocols in flight and "fix" them – especially when the "fix" involves preventing the exploitation of a vulnerability.
Programmability in the network enables this kind of rapid response to threats. Being able to deploy a solution very quickly to prevent further data leakage provides protection for both the organization and those who interact with its properties (employees, partners and customers). It also offers time for IT to patch and update all impacted systems without remaining vulnerable or taking the drastic step of going completely dark until the situation is resolved.
By enabling a view of "infrastructure as code", programmability not only enables a more software-oriented approach to deploying services, but also a software-oriented approach to quickly creating and deploying an appropriate response to emerging threats.
A devops approach can facilitate this capability, and push protection into the network as code.