Over the course of the last several years we have seen the DevOps movement continue to mature and evolve. It has moved beyond the early adopter, visionary stage into the mainstream of the market. Therefore, it should be no surprise that some of the leading solutions in the DevOps space should likewise mature and evolve as well.  Yesterday Puppet (formerly Puppet Labs) made several announcements as part of a broader message that they are ready, willing and able to continue to be a leader in this space for years to come.
There are several parts of the Puppet announcement yesterday, lets have a look at each of them:
Growth indicators – Somewhat mandatory, Puppet announced that they continue to enjoy rapid growth. 
Not a lot to add here, the numbers speak for themselves.
Puppet Labs is now just Puppet. In my conversation with Nathan Rawlins, SVP of marketing, he said that this was a case of recognizing what the market is already doing.  I don't know how many people you have heard refer to the company as Puppet Labs. Most everyone I know says Puppet. So why push rope up hill? Henceforth the company will be known simply as Puppet.
But there is more than just the name here.  Rawlins told me that along with the new name, they have also gone through a complete rebranding. New logo, new website look, new collateral look. The new brand seeks to give the impression of simplicity, stability and maturity.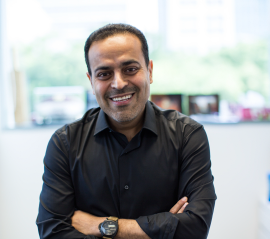 New leadership – The company has hired a software/tech industry veteran leader, Sanjay Mirchandani as President, COO. Mirchandani has held senior leadership roles at VMware, EMC and Microsoft. His responsibilities will include go-to-market operations, including sales, marketing, customer success, and global expansion. From what Rawlins told me, Sanjay will be leading much of the day to day operations of the company.
This is not a case though of a professional leader coming in to replace the founder/CEO.  Puppet's Luke Kanies remains in the CEO role. Mirchandani will free up Kanies to do what he is best at. Be a visionary and chart the course for Puppet and in turn help shape the DevOps and software delivery market as well.  It takes a confident founder to bring in a real professional to help run the business to allow you to do what you do best. Many are too insecure to share management with a newcomer who "just wouldn't love their baby the way they do." Kudos to Luke for recognizing this move for the long term good of the company.
Project Blueshift– Many people are focusing on Blueshift's capabilities of using Puppet with container technologies like Docker, Kubernetes, Meseosphere, CoreOS, etc.  While Blueshift does focus on this as of the release today, there is actually more to it than that. Blueshift is really a collaboration between the Puppet community and the company itself to ensure that Puppet will always be able to help companies adopt next-generation infrastructure technologies. While today those next-gen technologies are container related, the idea is to grow Blueshift into something capable of working with new technologies as they emerge. It is a longer range project beyond 2-3 years, instead looking at what could be on the horizon 5-10 years from now. It is an ambitious vision. It is always hard to know what is the next big thing. But the fact that Puppet is even attempting to keep its eye on this is commendable.
Upgrades to Puppet Enterprise and Puppet Orchestrator – Mixed in all of the news is that Puppet has released upgrades to its Enterprise product and the Orchestrator product that was released last year. Without going into a feature by feature recap (you can read the link to the PR if you like), Puppet continues to polish their enterprise products as part of their maturation.
Integrations with Splunk and HipChat – As DevOps matures, the market will want greater integration between their tools. Puppet has taken a nice step in that direction by releasing a Splunk App that will allow you to automate set up of Splunk servers and give greater visibility into enterprise DevOps environments.
The HipChat integration allows your Puppet Orchestration management to show up right in the HipChat GUI and allows users to manage it from within HipChat. A nice bonus is the access rights which make sure that those without permission do not have access to the Puppet Orchestration data.
All in all, this is a major step up by Puppet. To be fair, the folks at Chef have also been taking steps to further mature their product and organization. As DevOps continues to grow, I am sure we will see some of the other DevOps tools startups follow the leaders here in maturing and growing along with the DevOps market.