I was having a conversation with a client recently and we both came to the conclusion that DevOps, as used in some conversations, is misnamed. DevOps, by virtue of its name, implies that the focus of improvement is aimed at development and operations. While this is true, I believe that DevOps, at a higher level, is to improve the practices of getting business needs into production more quickly and reliably. The picture below illustrates this higher-level life cycle.

The goal in any meaningful DevOps practice is to reduce the time and improve the efficiency in moving from the "Business Need" on the left to the "It's Live!" on the right. This is why I've been such a fan of using lean approaches to improve the solution-delivery processes.
So where does business get involved? Clearly, the business should be involved with the "business needs," but organizations with good DevOps practices have the business working across the whole life cycle. The ability to do course correction and steering during the lifetime of a project is so important. We know that things change and what we plan on building may be different than what we actually deliver. Having the business in close affinity to the Development and Operations team is a good step to helping drive this alignment. If we get things right, we might be able to build a much simpler DevOps delivery cycle that looks like this: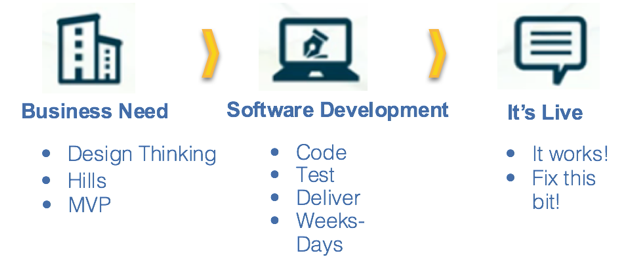 It is also important that we should be measuring things that matter to the business. By doing so, this will also aid in improving the alignment across business, development, and operations. Below are few business oriented metrics that I have used to improve solution delivery processes for my clients. These might be good to put into your "BizDevOps" measurement strategy:
Metric
 Details
Benefits/Impact
Deployment Frequency
 How frequently are new releases reaching your user? This metric should be stable release to release.
Your end users should see a steady cadence of bug fixes, new features, etc., that build confidence in the products you deliver.
Change Volume
 How many new stories (or features) are in each release?
Your end users should see new features being released consistently.
Renewals, User Volume, New Users
 Is your user base increasing, decreasing or staying the same?
A growing user base shows if your product is being viewed as useful.
Revenue per user
 Is revenue or cost changing over time with your user base?
This is another indicator that shows the value and economic impact of your product.
Client Experience KPIs

 Customer Ticket volume
 Incident Severity Ratios
 Availability of Systems

These metrics give you a perspective on the overall quality of your product.
Adopting the right business-oriented metrics that are meaningful for your team and projects will help you expand your DevOps capabilities into a broader, more meaningful "BizDevOps" practice!
For more information on metrics that are relevant, take a look at my blog, "How project managers can measure a cloud project's success." Also, refer to Forrester Consulting's report on the Total Economic Impact of IBM UrbanCode at https://ibm.biz/BdXUjt 
About the author / Rick Weaver
Rick Weaver is a Director in IBM Cloud leading the US East Cloud Advisors. Rick has extensive experience working with some of IBM's largest clients around the world. Rick has led work in helping clients around the world improve their practices around DevOps, software engineering, agile adoption, automation and cloud implementation.  In prior roles, Rick has led Rational Lab Services for AP and China, IBM's SOA Tool strategy, helped drive the internal transformation of IBM tool development and integration, and has led the worldwide technical sales team for WebSphere Tools. Rick lives in Dallas, Texas and has worked for IBM for 25 years.