According to a report by online learning platform A Cloud Guru, 90% of IT leaders expect to expand their cloud services usage over the next one to three years, yet only 56% have an actionable plan to upskill their workforce.
The recently released "State of Cloud Learning Report" revealed interesting trends in cloud adoption and cloud learning statistics. The study frames cloud expertise as a top asset and reveals changing cloud service providers (CSPs) alliances, among other insights.
Below, we cover the top findings from the report. I also chatted with Katie Bullard, president at A Cloud Guru, to dig deeper into critical takeaways.
The Report
A Cloud Guru (ACG) is an extensive educational platform hosting cloud training and certification programs. Earlier this year, ACG questioned its user base on cloud learning and cloud adoption patterns. The "State of Cloud Learning" report surveyed 6,000 cloud learning administrators 20,000 individual leaners.
Cloud Certification > Degree
Amid an increasingly remote economy and developer drought, demand for skilled cloud professionals is rising rapidly. According to the report, 82% of hiring managers say cloud certifications make a candidate more attractive and 87% of hiring managers value hands-on experience and certifications over a university degree. "Gaining cloud expertise is a top skill for anyone entering the tech industry," Bullard said.
It appears cloud expertise is directly correlated to career advancement, regardless of whether candidates possess a traditional degree. Eighty percent of individuals surveyed realize a higher salary as a direct result of cloud certification, and 52% say cloud certifications expanded their career opportunities.
Cloud Acceleration
The cloud is ramping up, as is the need for cloud specialists. Seventy-one percent of leaders surveyed have seen cloud adoption speed  their time to value for new products and features. Yet, 80% view a knowledge gap as a top barrier to cloud success. Deployment and orchestration and IT security are leading barriers to cloud success at 40% of institutions.
Cloud agility requires niche skillsets. More often than not, we see those skills cultivated with on the job training. Eighty percent of cloud leaders reported it's easier to upscale existing talent than to hire new roles. Training benefits both parties, as 94% of employees are likely to stay longer at companies that invest in skills development.
"They can't solve by just hiring," noted Bullard. "They must also upscale the current team they have." As CSPs change so rapidly, continuous cloud education is an ongoing need.
Azure Popularity Skyrockets
Azure learning is up nearly 800% year-over-year on ACG—an order of magnitude far outpacing 50%–100% for AWS and Google Cloud. The report surmises that this spike in interest could reflect Microsoft's massive investment in Azure's marketing in recent years.
Among the three top cloud service providers (AWS, Azure and GCP), AWS still holds dominance. Analyzing the use of its eLearning courses, the ACG report found 76.6% of total view time related to AWS during August 2020.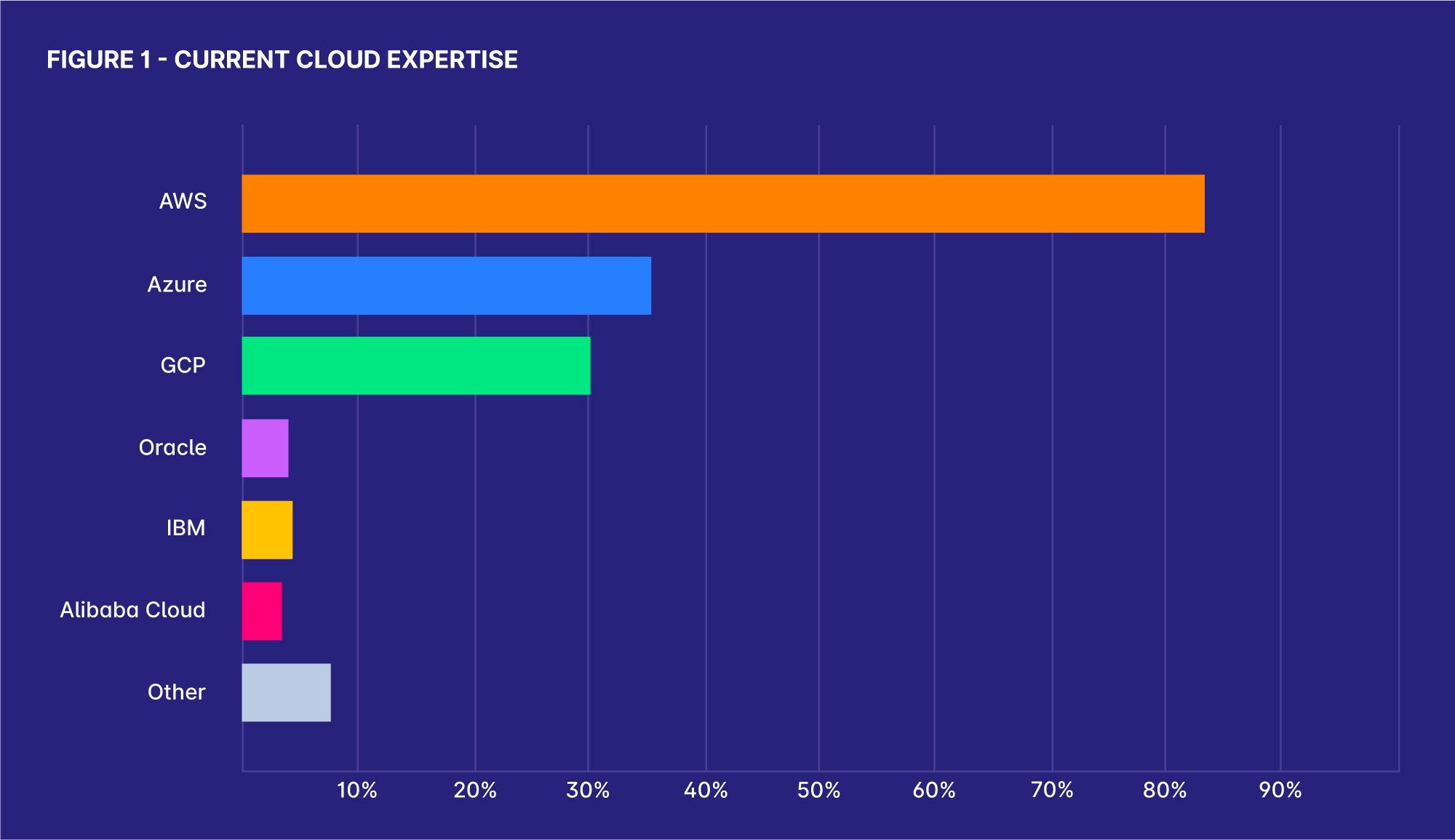 However, current training doesn't correlate to which cloud is most desired. Interestingly, when questioned on their desired cloud expertise, respondents ranked the top three providers equally, each at around 50%. Other CSP incumbents Oracle, IBM and Alibaba have also grown in interest.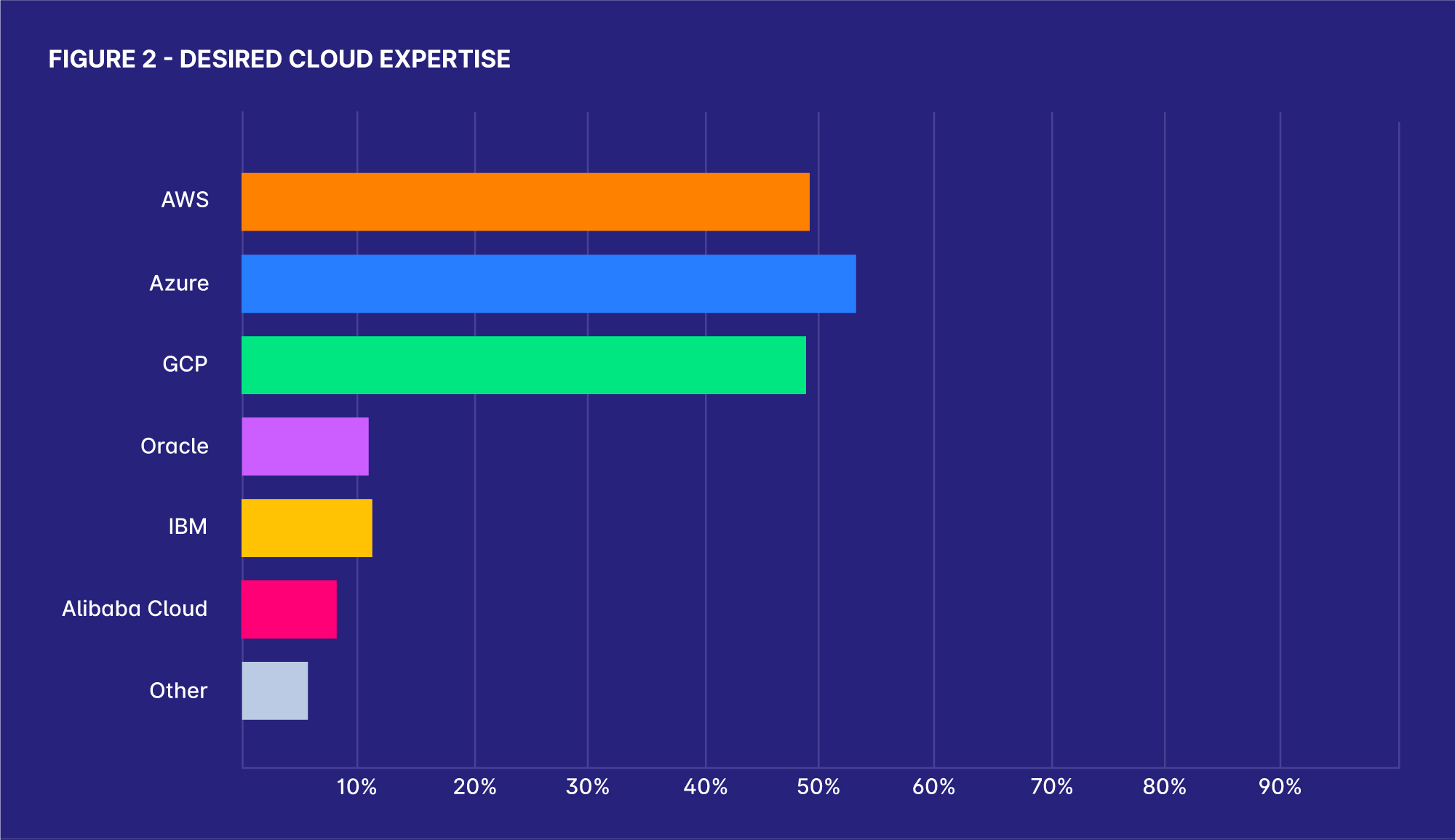 The Future Is Multi-Cloud
According to the ACG study, 70% of respondents are currently utilizing multiple cloud platforms. The report contends there is tremendous interest in AWS, yet alternative CSPs such as Azure "may provide a unique benefit to some companies." From arctic code vaults to underwater data centers, Microsoft indeed is innovating, which could influence the future CSP hegemony.
"It's not that companies are moving away from AWS to Azure," Bullard noted. A company may port a portion of its load to another cloud "for efficiency benefits, to make the platform fundamentally stronger, or to innovate faster with multiple solutions."
Hottest Cloud Skills
Besides CSP training, cloud adjacent skills such as container orchestration, infrastructure-as-code and CI/CD tooling have risen with the need for agile deployment. Highlighting the current top cloud skills, DevOps-related technologies including Kubernetes, Terraform, Docker and Ansible are among the top 10 most searched terms on ACG.
"DevOps, as a skill, is still relatively new," Bullard said. No longer a dedicated side team, DevOps has become integral to the entire development process. "No matter if you're on a DevOps team or not, it's becoming integrated into everything a developer is doing," she noted.
Final Thoughts on Cloud Andragogy
Analyzing the statistics from a cloud learning platform provides a unique window into current cloud implementations and future adoption. In summary, the ACG report demonstrates that:
eLearning for cloud technology makes candidates more attractive in the job market.
For many hiring managers, cloud certifications are more important than traditional college degrees.
Although AWS holds the most significant market share, interest in Azure has grown substantially.
Organizations are finding benefits in multi-cloud environments.
DevOps skills are emerging as necessary to keep pace.
"We're in a transformational point in time," noted Bullard. "The cloud market is accelerating, education is accelerating and people are rethinking the way they approach training."
With COVID-19 forcing a remote economy, online learning is far more pervasive. Now more than ever, companies must consider how they strategically scale teams and how they scale on-the-job technology training for cloud and DevOps. Because, if the goal is always to be evolving, then adults need school, too!