Automated tests are an important part of continuous integration, but if they're not reliable, they can cause more problems than they solve.
This problem is not new to Angie Jones, who works as a consultant automation engineer advising scrum teams on automation strategies and developing automation frameworks for countless software products.
Jones currently works for LexisNexis, an information provider for legal and regulatory businesses. LexisNexis recently began embracing agile and test automation companywide, and she was brought aboard to help the company master the change. She is consulting with multiple teams to help define their automation strategy, building automation frameworks and training their testers on automation techniques.
The biggest challenge so far has been finding different implementation strategies for different teams. "Automation strategies are not one-size-fits-all and should be customized for a given context," she says.
Jones will bring her expertise to the upcoming SauceCon event and plans to present a talk titled, "The Build That Cried Broken: Building Trust in Your Continuous Integration Tests." Her presentation will focus on automated tests that are part of a continuous integration process. These tests aren't run privately on someone's local machine, and the person running them simply gives a final verdict to the team and spares everyone the glitches and hiccups. In CI, the unreliability of these tests are exposed for all to see, and they are detrimental to the process.
In her talk, Jones will share how her team managed to turn their CI builds from an untrustworthy mess to a credible source of information. Since this isn't a quick fix with a lot of cultural and mindset changes, she will discuss that as well.
She is very excited to give this talk at SauceCon because "people attending this conference are the ones who are invested in ensuring that they get CI right, and I want them to know that automated tests don't have to be their downfall. Besides that, it's a really fun talk that I think everyone will enjoy," she says.
As a Master Inventor, Jones is known for her innovative and out-of-the-box thinking style which has resulted in 22 patented inventions in the United States and China. Angie shares her wealth of knowledge by blogging at angiejones.tech, speaking and teaching internationally at software conferences, serving as an adjunct college professor of Computer Programming and teaching tech workshops to young girls through TechGirlz and Black Girls Code. When she is not inventing something or helping people with test automation, she is reading urban fiction or soul line dancing!
Join her and other presenters at SauceCon, the first-ever Sauce Labs user conference. SauceCon is a three-day event filled with training, workshops, best practices and visionary content from the leading minds in automated testing. For more on upcoming SauceCon presentations or to register, visit the SauceCon website.
About the Author / Elizabeth Hechtel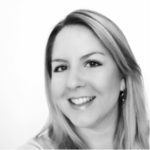 Elizabeth is a passionate tech writer at TestObject. As a Junior Marketing Manager she is focusing on delivering the best quality content on mobile testing. Personally, she loves learning new languages and reading up on recent advancement of modern technology.