SolarWinds today updated its AppOptics application performance management (APM) platform by adding both service- and trace-level root cause analysis capabilities.
Jim Hansen, vice president of products, application management for SolarWinds, said the goal is to provide most of the same capabilities any IT organization would find in an APM platform that would cost 10 times more than AppOptics.
That's critical at a time when thanks to the rise of microservices-based applications based on containers more IT organizations are discovering they need to apply APM platforms more broadly, added Hansen. Previously, IT teams tended to reserve usage of APM platforms to their most mission-critical applications because of the costs involved. However, as SolarWinds moves to drive the cost of accessing an APM platform delivered via a software-as-a-service (SaaS) application, Hansen noted APM platforms are becoming more affordable.
The service-level root cause analysis module is also designed to more accessible to the average IT administrator by reducing the number of steps and clicks required to identify the specific performance problem or issue. A complementary AppOptics trace-level root cause analysis then makes it possible to drill down into application metrics all the way down to specific lines of code and transactions. The goal is to make APM platforms more accessible to IT generalists, said Hansen.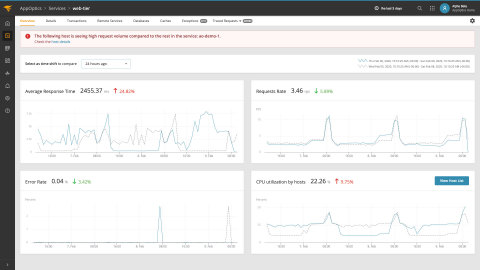 Those service- and trace-level root analysis features are available both in the core platform as well as a free AppOptics Dev Edition tool that SolarWinds makes available for developers.
While AppOptics is the core APM platform provided by SolarWinds, the company also makes available a Loggly log management platform and Pingdom performance monitoring tools for websites. Collectively, those platforms make it easier to manage IT environments that are becoming increasingly complex to manage, said Hansen.
In general, Hansen said IT organizations are starting to converge application and infrastructure management, especially if they have embraced best DevOps processes. In some cases, one member of a DevOps team is managing both, while other organizations are having teams of IT professionals collaborate around the same APM platform.
At the same time, Hansen noted IT organizations want to be able to employ the same APM platform to manage both monolithic and microservices-based applications versus having to acquire separate APM platforms for both types of applications.
It's too early to say to what degree SolarWinds might be able to usurp rival providers of APM platforms that have been available for more than two decades. However, Hansen noted that in terms of market penetration, fewer than 10% of IT organizations have standardized on an APM platform.
As organizations transition to microservices-based applications, APM platforms become a necessity. The overall IT environment is simply becoming too complex to manually monitor and manage. At the same time, businesses are starting to have a greater appreciation for how dependent digital processes are on software. The issue now isn't so much whether those organizations need an APM platform as much as it is figuring out which APM platform can they afford.