Etsy is a shining example of the success that can be achieved with continuous delivery (CD). By 2014 Etsy had doubled its deployment rate, deploying more than 50 times a day. Today the site deploys API changes in 18 seconds and launches a new website every 150 seconds.
That's speed, to be sure. Speed that very few enterprises need or want to achieve. But that doesn't mean that Etsy and CD don't have valuable lessons for the enterprise, because one of the reasons CD and Etsy succeeds is because of the underlying principle of standardization.  
Whether it's standardization of tools or of processes – or both – it is standardization that eventually drives such speed. The use of the same tools and the same processes over and over hones them until they're an optimized, lean delivery machine. That standardization has other, benefits, too that are as beneficial – maybe moreso – to the enterprise than the speed it eventually brings.
Standardization of delivery processes in the enterprise, especially when extended to such concerns as security and the network, result in direct and indirect benefits. Directly, standardization allows security and even network infrastructure to ensure that corporate policies are implemented. If all infrastructure – application and network alike – should only be hosting certain services (like HTTP and SSH) and not others, standardization can help enforce that. Template-based (or policy-based, if you prefer) automation along with an "infrastructure as code" approach can assist in ensuring that basic security and network policies are put into place for every application deployed. Customization can (and should) be allowed and encouraged as extensions to the core templates (or policies) deployed during the app deployment process.
Indirectly, standardization on a common toolset and processes will reduce the stress on network and security operations that comes from trying to implement common policies across a conga line of solutions. There's no getting around the reality that many enterprises employ sometimes twenty or more "middle boxes" that provide everything from security to monitoring to performance and scalability services. Each one must be provisioned and configured during the app deployment process. This is not a trivial problem. 26% of organizations cited "security policies that are too complex and can't be enforced with the current network security processes and controls" as a significant challenge in a 2014 ESG survey.  Establishing a standardized template that encapsulates common (required) policy implementations can go along way toward addressing the challenges network security professionals face when trying to secure applications across a growing portfolio of both applications and network services.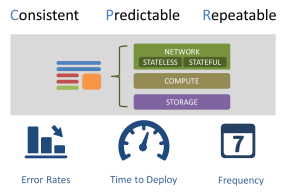 This level of standardization is not easily achieved. There is no easy button, and that's one of the reasons DevOps can be a desirable approach in the enterprise to addressing these kinds of problems. It isn't just about achieving phenomenal speed, but rather achieving consistency through the standardization of processes and methods used to deploy security policies and controls that can improve the stability and the security of the entire application and network environment.
DevOps is, in relation to network and security operations, more about CPR for infrastructure services than it is speed. Consistency through standardization. Predictability through automation. Repeatability through templates and by treating infrastructure as code.
DevOps is an approach to operations and inter-operations that can have just as many benefits in the enterprise as it does for web-scale and startups born in the cloud. The same standardization that benefits Etsy by giving it extreme speed can benefit enterprises by endowing it with extreme security.