No, this isn't about some new calendar featuring scantily clad IT chicks. In fact the fact you even thought that is half the problem. This article arises out of the fact that I was speaking with a colleague the other day and once again had to regretfully recite that something like 95% of you reading this article are male (as well as every other article here).  Why is this? Why aren't there more women in DevOps specifically and IT in general?
Don't get me wrong this is not a DevOps specific issue. We go through the same issue in the infosec realm as well. In spite of the fact that many trade mags in security have featured prominent woman in security and many security conferences have featured panels and discussions on this. The good news is slowly but surely this is starting to change. We are seeing more woman in the infosec world.
So lets take that strategy from infosec and lets use it for DevOps.  Lets feature some prominent woman in the DevOps world.  I want to emphasize that these woman are here not just because they are woman and not men, but irregardless of their sex, they are remarkable people worthy of the recognition.
Also before we get started, let me say that I compiled this list based upon people I have met, heard or read about. I don't know all of these woman personally, though many of them I have met. Feel free to comment and add your favorites and choices.
So here is my first list of the women of DevOps:
1.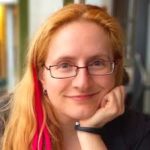 Bridget Kromhout is a Principal Technologist for Cloud Foundry at Pivotal. Her CS degree emphasis was in theory, but she now deals with the concrete (if 'cloud' can be considered tangible). After years in site reliability operations (most recently at DramaFever), she traded in oncall for more travel. A frequent speaker at tech conferences, she helps organize the AWS and devops meetups at home in Minneapolis, serves on the program committee for Velocity, and acts as a global core organizer for devopsdays. She podcasts at Arrested DevOps, occasionally blogs at bridgetkromhout.com, and is active in a Twitterverse near you.
So that is the official bio (from her speaking appearance at Velocity). I only met Bridget in person recently but have been a fan for a long time. From her leadership in turning the DevOps Days MSP into one of the best in the world, to designing the DevOps against humanity cards and just the respect she gets from her peers in the DevOps community she is worthy to be the first person on this list.

Julie Tsai, here is her official LinkedIn bio:Director of Engineering, Information Security for retail giant. Technical Operations leader and Systems Architect with proven decision-making and managerial ability. Experienced as CISO reporting to CEO, and concurrent Ops/IT head, for privately-held $100 mm Internet Advertising company with Fortune 1000 clients. IPO-readiness audit response; PCI,GLB compliance; SOX significant deficiency remediations; forensics experience. Ops due diligence representation; post-transaction department merging; deep budget cutting. Contract negotiation and budget optimization. Change management, incident management, uptime and DR/BC. Developed intuition for "what's going to break next."
Notwithstanding the above, I couldn't wait to add Julie Tsai to this list. She presented at our DevOps Connect: DevSecOps at RSA Conference last year (8 months pregnant and all) and just blew me away. She was so bright it was like a shining star up there on the stage. Her accomplishments speak for themselves. To me she represents the kind of person I would want my daughter or son for that matter to grow up and be professionally.
3.


Helen Beal, fanatical about making life on earth fantastic – with nearly 20 years' experience working with companies to elicit real business value from software, Helen heads up the DevOps practice at Ranger4 focusing on how organisations can embrace DevOps philosophies to influence their IT culture and behaviours and implement tools for change. Helen is also a bibliophile and fond of llamas.
The first person on this list that I also consider a personal friend, Helen has become a DevOps evangelist bar none over in the UK and beyond. She is constantly appearing, speaking and evangelizing on behalf of Ranger4 while organizations should adopt DevOps. She has also developed several DevOps workshops and lift offs.  If you get a chance you should catch Helen at a DevOps event near you.
4.
Terri Potts is an Engineering Fellow at Raytheon where she is the Information, Intelligence and Services Business Software Technical Director. She has worked at Raytheon since 1998 and has been an advocate and champion for modern software development methods since 1999. Her current professional interests include software and systems architecture, model driven software development, domain specific languages, software product lines, software factories and DevOps. Terri has been successful leading adoption of DevOps on Raytheon programs. Prior to working for Raytheon Company, she served eleven years in the United States Air Force in all phases of software acquisition and development of defense systems.
Another speaker from last year DevOps Connect: DevSecOps at RSA Conference, she is also speaking at DOES next month. Terri is a dynamic individual who is spreading the DevOps gospel in the federal market and is smart enough to relate the story as a lesson for us all. Terri is a true leader, man or woman in the DevOps world.

Heather Mickman is the leader for the API and Integration team at Target and a DevOps enthusiast. Throughout her career, Heather has continuously embraced hard technology challenges from consulting large Fortune 50 companies on Supply Chain approach, implementing warehouse automation technologies, running large Ops & Support organizations, and establishing enterprise security approaches. She has a passion for technology, building high performing teams, driving a culture of innovation, and having fun along the way. Heather lives in Minneapolis with her 2 sons and 2 dachshunds.
Taking the disaster that was Target IT and using it as a tool for transformational change via DevOps is worthy of all of our praise. If you get the chance to hear how Heather has helped lead this transformation (another DOES speaker) you should not miss it. Interesting note is how many large retailers have adopted DevOps successfully. Somewhat of a little known secret, but retail seems to be a prime vertical for DevOps adoption.
6.

Rosalind Radcliffe is a Distinguished Engineer within the IBM. She is Chief Architect for CLM and DevOps. She is responsible for driving the DevOps for multi platform architecture. This includes z System and Power system. In addition she is responsible for the architecture for the Collaborative Management capability for Enterprise solutions. This includes UrbanCode Deploy and Rational Team Concert's support for standard Mainframe development activities. She is a member of the IBM Academy of Technology and a Master Inventor. Prior to Rational, she was in Tivoli responsible for the SOA Management Strategy for IBM.
Another person I have met in person and interviewed several times here on DevOps.com.  Rosalind's CV is beyond impressive. Speaking with her though you know you are in the presence of intelligence.  I enjoy speaking with her and reading what she writes. She recently wrote Mobile to Mainframe DevOps for Dummies as well.  Rosalind is a real thought leader in every sense of the word.
These are my first 6 women of DevOps. I will add to this list in the weeks ahead.