Akamai today extended its DevOps strategy to provide tighter integrations with continuous integration/continuous (CI/CD) platforms and IT automation tools such as Terraform from HashiCorp.
In addition, Akamai is adding support for serverless computing functions to Akamai EdgeWorkers, a JavaScript-based framework through which application logic can be executed on the edge of the Akamai content delivery network (CDN) now as a microservice.
Greg Griffiths, product marketing manager for DevOps solutions at Akamai, said the latest additions will make it easier for DevOps teams to view the Akamai CDN as a natural extension for deploying applications. Akamai launched its first DevOps initiative last year. The goal is to make possible for DevOps teams to spin up new properties and make configuration changes from within the context of their CI/CD workflows, he said.
Terraform support, meanwhile, will make it possible for DevOps teams to programmatically provision and manage properties and DNS zones as code, added Griffiths.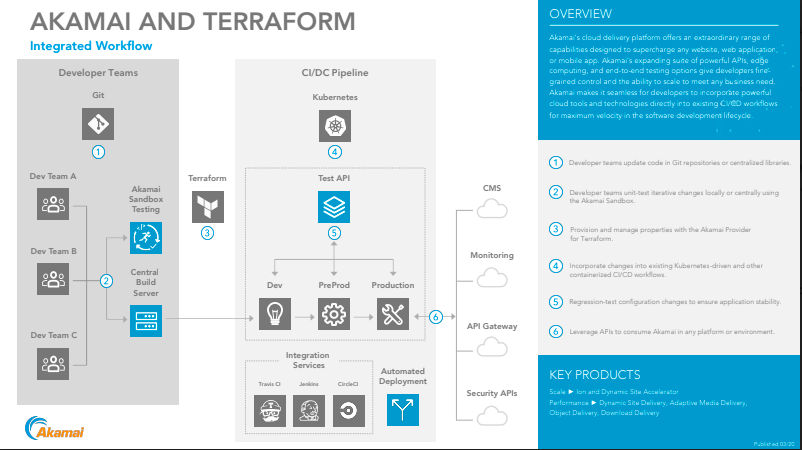 As part of that effort, the Akamai Pipeline can now synchronize with the Akamai Control Center to capture any manual configuration changes in a way that then allows them to be incorporated into a CI/CD workflow, he noted.
Akamai has been making a case for deploying applications as close to the network edge as possible using its CDN to reduce network latency. As part of that effort, EdgeWorkers allows developers to spin up microservices as needed. Those microservices can now access data embedded in the function, including all the data from the HTTP request such as cookies, headers, URL and query parameters.
DevOps teams can now also more easily conduct A/B testing and feature experiments using cached content in addition to delivering different application experiences by modifying the path to cached images and other content based on variables such as customer location or time of day.
Other new capabilities being added by Akamai include the ability to modify both the path and query arguments for a request and determine to which origin any request should be routed.
Griffiths said now that more organizations are leveraging the Akamai CDN as a vehicle for delivering applications at the network edge, the next big initiative will be to make it easier to leverage the company's managed security services to embrace DevSecOps.
It's not clear to what degree DevOps teams have embraced CDNs as a vehicle delivering applications. Organizations have, however, been leveraging CDNs to deliver web applications for years now. By providing tighter integration with CI/CD platforms Akamai is essentially making the CDN just another target for deploying applications at the end of a DevOps workflow. That capability may prove critical as organizations move to deploy more application code on edge computing platforms involving use cases that require data to be processed and analyzed in near real-time.
Of course, Akamai is not the only CDN providers with similar ambitions. It is, however, already the largest, so from a DevOps perspective most organizations will soon encounter an Akamai point of presence somewhere soon, if they have not already.