Cloudian today added a monitoring and observability tool to its object-based portfolio of appliances for storing unstructured data in on-premises IT environments.
Jon Toor, chief marketing officer for Cloudian, said HyperIQ provides access to analytics and health checks that enables predictive maintenance, enhances security and optimizes storage utilization. Cloudian is also pledging to extend the reach of HyperIQ in the future to other IT infrastructure via connectors.
HyperIQ comes in the form of a virtual machine that IT teams download and install on-premises. A free HyperIQ Basic version comes with pre-configured dashboards. HyperIQ Enterprise comes with support and access to more advanced analytics features and is licensed by capacity at 0.025 cents per GB per month.
Cloudian is also providing integration to multiple notification channels, including Slack, OpsGenie, Kafka and PagerDuty, to share alerts based on parameters IT organizations define in HyperIQ. In addition to pre-configured dashboards, IT teams can also leverage more than 100 data panels to drill into user or storage data at a more granular level.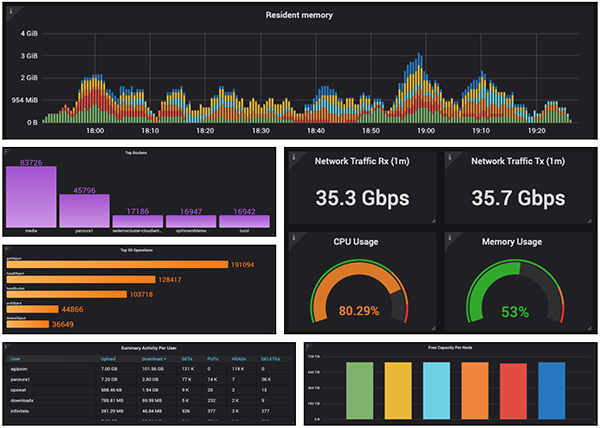 Toor said HyperIQ will become the foundation upon which Cloudian will also start to add AIOps capabilities to its platform. Based on machine learning algorithms, HyperIQ will enable Cloudian to collect the data required to train those algorithms, he said.
Cloudian has been making the case for a distributed storage system that enables IT teams to globally manage appliances via a single user interface. As modern applications have become more complex, the need to access unstructured data stored within on-premises IT environments has become more pronounced.
The challenge IT teams face is they don't have enough staff available to manage each of those systems locally. In the wake of the economic downturn brought on by the COVID-19 pandemic, that issue has only become further exacerbated. Many IT organizations are either trying to reduce the size of their IT staff or limit the number of additional full-time employees they hire.
At the same time, the amount of unstructured data an organization needs to store continues to grow. While much of that data can be stored on public clouds, a wide variety of global compliance regulations require much of that data to be stored in an on-premises IT environment.
Given how distributed that data is, there is a clear need for deeper levels of analytics that ultimately should enable the management of distributed storage systems to be more automated. Many IT organizations have already significantly automated the management of storage systems within a local data center. The challenge now is to automate distributed systems residing in multiple geographic regions.
Reliance on object-based storage systems to manage unstructured data within local data centers is still a relatively new phenomenon. Cloud storage service providers have been making use of object-based storage systems for the better part of a decade to manage massive amounts of data. Now internal IT teams are starting to follow suit. It's not likely object-based storage systems will completely replace file-based storage systems anytime soon. However, the opportunity to automate the management of modern object-based storage systems may be far greater.