BigPanda Inc. and Datadog today announced they will integrate their respective platforms to make it easier to form artificial intelligence for automating IT operations (AIOps) to consume data generated by the Datadog IT monitoring service. The two companies are pledging to invest in a go-to-market partnership to create a comprehensive platform for monitoring, analytics and incident management.
As part of that effort, Datadog is committing to making available an "integration tile" through which BigPanda will also be able to feed root cause analytics based on machine learning algorithms into the Datadog console. That capability will be enabled by a service-to-service topology map created by Datadog that will be used to drive event enrichment, correlation, impact analysis and prioritization.
Mohan Kompella, vice president of product marketing for BigPanda, said Datadog affords his company a unique opportunity to better train AI models using a massive amount of IT and security metrics that Datadog aggregates daily. That data can then be combined with data ingested from other IT service management systems, which will enable IT operations to automate processes using better-trained AI models, added Kompella. Thanks to modern application programming interfaces (APIs), Kompella noted it's become a lot easier for platforms such as BigPanda to consume a wide range of data.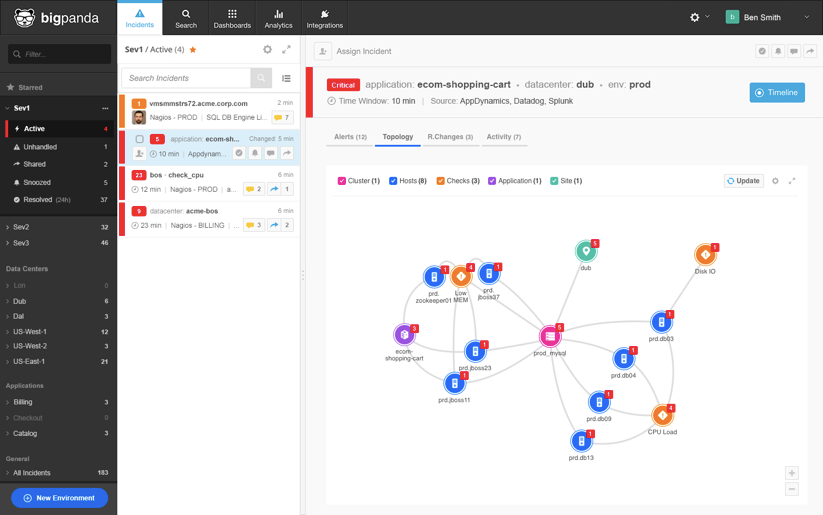 The more data an AI model is exposed to the faster it learns about the IT environment an organization is seeking to automate. Each IT environment is unique, so it usually takes some time for AI models to be optimally tuned. The more data that's made available, the faster the AI platform is able to make accurate recommendations. It's then up to each IT team to decide to what degree they want the AIOps platform to automate a task based on those recommendations versus implementing themselves. The more accurate the recommendations become over time, the more confidence IT teams gain in the AIOps platform.
Of course, IT environments tend to change rapidly and evolve in the DevOps era. The alliance with Datadog will provide BigPanda with a primary source of data from tools that are already widely employed by DevOps teams.
Ultimately, the goal is to reduce the mean time to resolution for IT incidents, in addition to eliminating as much as possible the need to invite developers and IT operations teams to a "war room" meeting to discover the root cause of an issue. Many IT teams these days find themselves spending weeks trying to ascertain the root cause of an issue that, once discovered, only takes a few minutes to fix. AIOps platforms afford IT teams the opportunity to eliminate a lot of friction that currently exists in those complex IT environments that have scaled beyond the ability of humans to manage without some AI assistance.
In the wake of the economic downturn brought on by the COVID-19 pandemic, interest in AIOps is clearly on the rise. IT environments continue to grow in size as the enterprise IT becomes more extended. It won't be long before most IT teams expect to be able to leverage AI to manage highly distributed computing environments. It may, of course, be a while before IT teams fully trust those platforms; however, it's also clear IT as a whole is reaching a point where there is no alternative.