One again this year, DevOps.com, Sonatype and RSA Conference are teaming up to bring a Security/DevOps day of learning and networking to RSA Conference 2017 in San Francisco on February 13, 2017.  The event is DevSecOps @ RSA Conference 2017. Building on the previous two years of great events, this yearsevent promises to be even better. Some of the confirmed speakers are below and you can see for yourself what an amazing array of sessions there are. The best part is attending all of the RSA DevSecOps events are free.
DevSecOps Sessions
The line up for DevSecOps includes DevOps and DevSecOps pioneers, John Willis, Damon Edwards, Jez Humble, Dr. Nicole Forsgren, J. Paul Reed, Josh Corman, Shannon Lietz and more. Check out the site page for full details on speakers and topics.
Attending the full day event (10am to 4pm) is free, but you need to register with RSA Conference. If you are already attending RSA, you need to modify your registration to indicate you are attending DevSecOps (or Rugged DevOps). If you are not already registered you can do so and receive a free expo pass to RSA Conference, which will allow you to register and attend the DevSecOps conference. You can use the code: 1U7DEVOPSXP and register here.
DevOps Wine-ing (No Whining) Party
In addition to the full day of amazing speakers, we will host the annual DevOps Wine-ing (no whining) cocktail party, immediately following the sessions. You need to be registered separately for the Wine-ing event. There is a link to the eventbrite registration here.
The wine-ing event is from 4:30 to 6:30 and should once again be a great time for the security and DevOps tribes to intermingle. A tip of the hat to Josh Corman who is speaking at DevSecOps for starting the DevOps Wine-ing party 4 years ago.
Security @ the Speed of DevOps Lunch 'n Learn
On the following day, Tuesday we will host a lunch-n-learn on the "Security at the Speed of DevOps" report we are co-producing with the Cloud Security Alliance. We will have a panel including George and some leading DevSecOps and Cloud Security experts discussing the findings over lunch at Jillians. Again this event is free but you need to register for it here.
The report is being written by George Hulme and is based on a survey co-produced and distributed by DevOps.com and the Cloud Security Alliance. You can participate in the survey (we need your help here, so please do) by taking a few minutes at https://www.surveymonkey.com/r/RSACSADEVOPS. Feel free to tell your friends about it as well.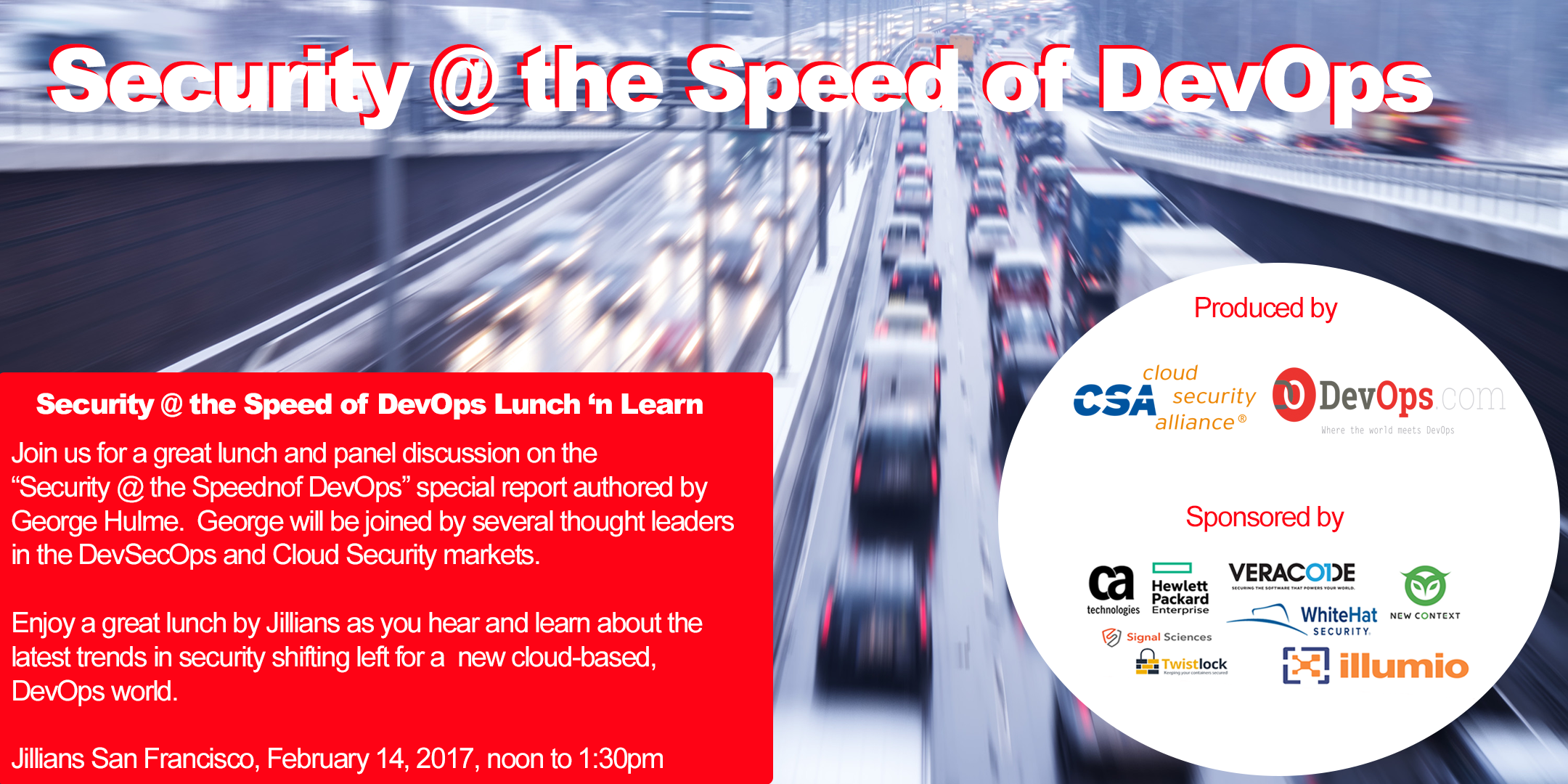 We will be distributing copies of the report at RSA Conference, as well as digitally via DevOps.com. We will also be distributing several other surprise giveaways at the event as well.
Yes, this years RSA Conference will feature lots of DevSecOps and you can partake in all of it for free. Of course this wouldn't be possible without the help of a great bunch of sponsors who have stepped up this year to support the events. In addition to RSA Conference, Sonatype and DevOps.com, sponsors for the event are:
Gold Sponsors
CA Technologies, HPE, White Hat Security, Veracode, Cloud Passage, New Context and Illumio
Silver Sponsors
Signal Sciences, Twistlock
See you on the 13th in San Francisco!