Recently I came across three articles that gave me pause. Each article was a bit disconcerting on its own merit, but when I considered them together, the result caused more than a momentary worry. One article was report in Bloomberg Technology quoting Jack Ma, head of Alibaba, the second richest man in China and a major player in the e-commerce space. He said:
"In the next 30 years, the world will see much more pain than happiness."
Ma was referring the impending effects of automation and e-commerce on the economies and societies of the world .
The second was from a piece written by Martin Neil Baily and published by the Brookings Institution in 2015. The article is titled, "U.S. manufacturing may depend on automation to survive and prosper." Here is the quote, referring to U.S. manufacturing:
"The manufacturing sector is still very much alive and reports of its demise are not just premature but wrong. … The sector will be revived not by blocking new technologies with restrictive labor practices or over-regulation but by installing them—even if that means putting robots in place instead of workers."
The last piece is by Joe McKendrick over at ZDNet. The subtitle to his article titled, "Containers, DevOps, IT automation seen as antidotes to complexity," says it all:
"Seven in 10 IT professionals agree: if we don't automate, we die."
When I put the ideas in the articles together, I get a thought that goes like this: In the coming decades more automation will be put in place, a good many workers are going to be displaced by robots, and it's going to be a world of pain.
Do these notions seem far-fetched? Maybe not. The need is there, the will is there and the money has been allocated. The result is going to be great for the bottom line. For humans and workers, not so much.
But, a thought is not reality. There are many people out there saying that automation is a blessing and in the short and long term, most of us will do well. Automation will create more jobs than it destroys.
Predicating the Future is a Risky Business
Predicating the future is a risky business. Could anybody have predicted that the underlying technology that powered Netscape back in the 1990s would produce today's internet of things? Who would have thought that the first cell phones, selling for around $4,000 in 1984, would lead to mobile devices becoming the dominant computing device today? Not many. To quote Yogi Berra:
"It's tough to make predictions, especially about the future."
Yet, the three predictions I describe above bothered me. I wondered, Do these guys know something I don't?
So I decided to do take a look at some data.
What the Data Says
One of the metrics that I have found particularly interesting when considering automation is the relationship between the number of employees a company has and its revenue. This number is sometimes referred to as Revenue Per Employee (RPE). The simple assumption is that companies that have high revenue per employee are more productive because that productivity is realized via tools and machines; in other words, automation.
Using data in both the NYSE and NASDAQ stock exchanges, I determined the Top 100 companies with the highest RPE in a given year. I excluded from consideration companies that had fewer than 1,000 employees. (A publicly listed trading company that deals in precious metals, with 30 employees generating revenue of $120 million will create a distortion that is atypical to the norm.) I looked at each year between 2007 and 2017. The result is shown in Figure 1, below.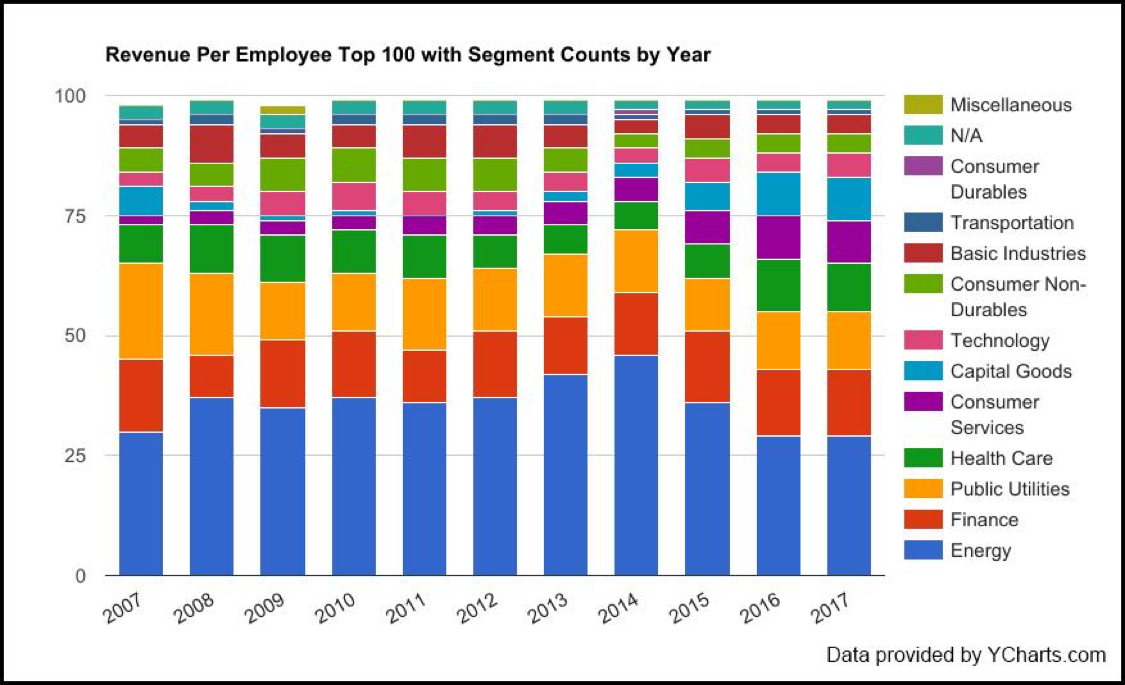 Figure 1: Top 100 Companies by Revenue Per Employee excluding companies with less than 1.000 employers
Given the large representation of the Energy sector in RPE, I decided to look at the Top 10 companies in terms of revenue from 2007 to 2016 to see if there was any correlation. I grouped the Top 10 revenue earners into sectors. The result is shown below in Figure 2:
Figure 2: Grouping of Top 10 Revenue Earners according to sector 2007 – 2016
Notice that companies in the Energy sector have the largest representation in the Top 10 revenue earners throughout the years. This pattern is somewhat similar to that of representation of Energy shown Figure 1, in that Energy has the largest representation. There is a correlation.
An Assumption Proved False
My initial thinking was that there is something going on in the Energy sector that might be relevant to my simple assumption about RPE: The greater the RPE, the more automation in force. I looked that the individual RPE performance of Royal Dutch Shell (RDS.A), ExxonMobil (XOM) and Chevron (CHV), three companies in the Energy sector that always appeared in the Top 10 Revenue Earners from 2007-2017. I compared each company RPE to its Total Employees. Figure 3 below shows my findings:
Figure 3: Revenue Per Employee and Total Employees for  ExxonMobil (XOM), Royal Dutch Shell (RDS.A) and Chevron (CHV)
As mentioned above, my initial assumption is that as automation increases, RPE should increase, while employee count remains steady or decreases. Figure 4 below illustrates the assumption.
Figure 4: One might assume that as automation becomes more prevalent, fewer employees should produce more revenue per employee
Yet, as you can see in Figure 3, the numbers did not confirm my assumption. We see a significant dip in RPE from all three companies around 2010, while ExxonMobil acquired more than 20,000 employees. Also, we see that Royal Dutch Shell and Chevron have a decline in the number of employees over the number of years. If the efficiency that automation might be attributed to RPE were in force, revenue numbers would at the least mirror employee numbers, or hopefully increase due to more productivity achieved through automation. But revenue does not continue to map to increased revenue versus the number of employees. Revenue is all over the place.
I was stumped until I considered the impact of price of oil. When I compare revenue to the historical price of oil according to Brent Crude Spot Price to oil company revenue during the years in question, a similarity occurs, as shown in Figure 5, below.
Figure 5: Oil Company Revenue compared to Price of Oil, 2007-2015
The shape of the lines in the lower chart in Figure 5, Revenue in Billions and the shape of the line for oil price, in the top chart look similar.
A reasonable inference can be made that the while oil companies enjoy a sizeable return per employee due to capital investments in tools, technology and automation (ExxonMobil returned more than $3 million per employee in 2016, for example), market price conditions have a more significant effect on revenue.
So it seems that in terms of the Energy sector, for this admittedly small sample size, automation does allow for significant revenue, but does not increase revenue by way of increased efficiency in terms of operational production. I went back to being stumped. When Jack Ma was talking about decades of pain, was he talking about continuing slump in revenue from the Energy sector? Or was he talking about something else? I decided to look at some data about the world's largest commercial employer, Wal-Mart.
All Roads Lead to Wal-Mart
Wal-Mart employs more than 2 million people and is the leading revenue earner for the years 2014-2017. Yet, when we look at its RPE compared to other companies, Wal-Mart is at the bottom of the stack, as shown in Figure 6, below. As mentioned above, in 2016 Exxon earned more than $3 million per employee. Amazon had an RPE of ~$475,000. JPMorgan Chase came in at ~$401,000. Wal-Mart? $211,000. To put it in perspective, ExxonMobil did more than ten times as much in terms of RPE.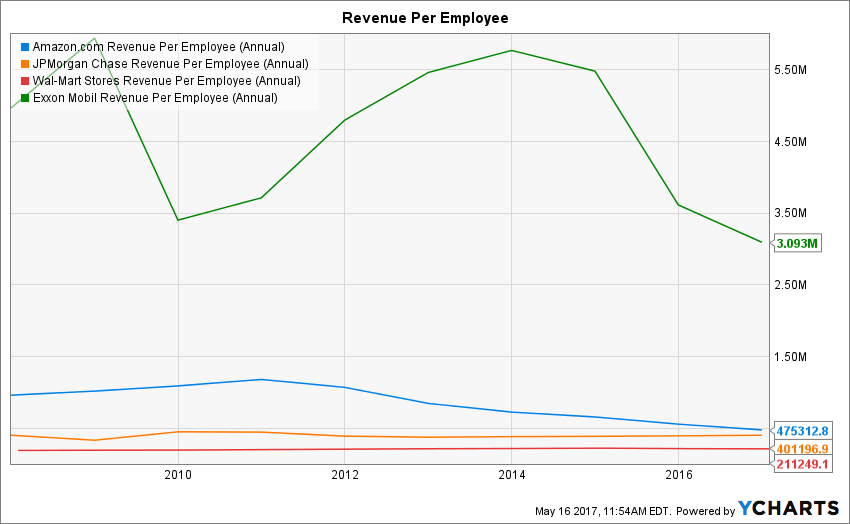 Figure 6: Wal-Mart's Revenue Per Employee of $211,000 in 201y puts it well below others
I could not help but wonder, why does ExxonMobil have a higher RPE than Wal-Mart? Or, for that matter, why so to for JPMorgan Chase and Amazon? I have a theory to propose to answer the question.
Energy, Finance and Amazon have historically been heavily automated industries. The size of a land-based crew drilling oil is between four to six employees per eight-hour shift. These people are not out there with picks and shovels. They are operating big machines with each machine having some amount of automation built in.
Once the well is drilled, there is some maintenance labor, but revenue is derived from what comes out of the ground. A lot of machinery is used to get the oil out of the ground, processed and delivered for end use. Hence, a large automation factor. Human labor is secondary.
Same with Finance. Computers have been at the heart of Finance industry—banking, investments and insurance—since the first mainframes were put into action. Is the revenue of some companies in the Finance sector subject to the whims of the market? Most likely, yes, particularly as one considers the events of 2008. But again, one trader with a single Bloomberg terminal can do a lot of work.
And Amazon? The company has been the poster child for automation since Jeff Bezos sold the first book online.
Still, as noteworthy as the facts were, there seemed to be no historical precedent to justify Jack Ma's prediction doom. But, the dreadfully low RPE of Amazon might give us a clue. So went back to the drawing board and spent another afternoon making charts using data from NYSE and NASDAQ.I came up with the two charts you see in Figure 7 below. Then, the plausible became possible.
The Plausible Becomes Possible
The chart on on the top of Figure 7 below shows the annual revenue for Amazon, ExxonMobil and Wal-Mart. The chart on the bottom of the illustration shows the total employees for each company. The time span of each chart is 10 years. Wal-Mart shows a steady rise in revenue until 2016 when things start to go flat. ExxonMobile starts to lose revenue in 2012, while its total employee count remains relatively even. Amazon, on the other hand, shows a steady rise in revenue, as well as a rise in employee count. Both Amazon's total employee count and revenue grows at a steeper growth trajectory than Wal-Mart.
Figure 7: Total Employees and Revenue: As Wal-Mart hires more employees revenue begin to flatten; Amazon revenue increases
Is there something going on?
Well, when we look at net income, there very well might be. Figure 8, below shows the net income of ExxonMobil, Wal-Mart and Amazon. This is where the rubber hits the road. Net income is the money that's left over after all expenses and taxes have been paid. It all comes out in the wash when you look at net income. You can be a company doing $1 billion in revenue, but if your expenses are $999 million, your company is doing no better than one doing $10 million in revenue with $9 million in expenses. In terms of Amazon, Wal-Mart and ExxonMobil, as we move to the later years, 2016-2017, the numbers come into the same ballpark. And, in that ballpark Wal-Mart is showing some decline, ExxonMobil is showing a continuing big decline. Amazon is on the rise.
Figure 8: Net Income: Wal-Mart and ExxonMobil show declining net income while Amazon is on on the rise
So now is a good time to go back and review the assertions made at the beginning of the piece:
Jack Ma: "In the next 30 years, the world will see much more pain than happiness."
Brookings Institution: "even if that means putting robots in place instead of workers."
Joe McKendrick: "Seven in 10 IT professionals agree: if we don't automate, we die."
Given that data presented, we see that industries that have a good deal of automation, Energy and Finance for example, have a high degree of employee efficiency as reflected in RPE. Also, we see that Energy is subject to the whims of market pricing. And lastly, we can see the country's largest employer, Walmart, has poor RPE numbers, while Amazon, in many ways analogous to Wal-Mart in that Amazon has a significant presence in the retail space, albeit the online retail space, has very good RPE and increasing net income.
Will Amazon continue to hire? A reasonable assumption is yes. Will Exxon continue to hire? If you go back to Figure 7, you will see that ExxonMobil employee count has been declining since 2010. Couple this fact with a continuing decline in revenue, we're not going to get fired if we say that ExxonMobil is probably not going to increase employee count unless some sort of miraculous business pivot happens. But what about Wal-Mart?
Wal-Mart has 2 million employees, a dreadful RPE number and declining net income. What will happen should Wal-Mart's CxOs decide to more fully embrace automation? After all, hiring more people does not seem to help. It hired more and revenue declined. It's a pretty good bet that Wal-Mart will go more toward the full automation end of things. How else will the company survive? So let's play out this scenario.
A Closing Hypothetical Scenario
Let's close with a hypothetical scenario. Let's say that somehow Wal-Mart magically figures out a way to increase its RPE from the current $241,000 to $475,000 within the next five years.  ($475,000 is the current RPE of Amazon.) And, let's say that Wal-Mart's revenues continue to stay level at the current $482 billion a year. Thus, to calculate the number of employees required to achieve the desired RPE, we use the formula:
$475K (RPE) = $482 bln/Number of Employees
When we do the math, the number of employees that Wal-Mart needs to achieve $482 billion in revenue with an RPE of $475,000 is 101,4736,842—about half the size of its current workforce. Think about this. The implications are dramatic.
Most likely, Wal-Mart will continue to automate. It must to survive. The question becomes, given its current dismal RPE, does the company somehow double its revenue to maintain the size of its current workforce. Or does, it accept current revenue trends and let 1 million people go.
It seems that Jack Ma is predicting the latter. This might very well be but one of many examples in decades of pain he predicts, an outcome that is the result analysis offered by the Brookings Institution and 7 out of 10 IT professionals. Or, who knows? Maybe the future is one in which the Wal-Marts of the world double revenue and manage to keep the human workforce intact.
As we have learned on the terrain, it's easy to predict the future when it involves describing the outcome of writing a check for $100 when you have only $10 in the checking account. Predicting the impact of automation on future human employment is a more complicated terrain to travel. But no matter what, there will be a future and most likely, it will be more automated. What will happen to the employees at Wal-Mart? I'll let you be the judge.
A Special Thanks to YCharts.com
Please allow me to extend a special thanks for the folks at YCharts.com for providing access to the data and charting tools used in this article. They were extremely helpful throughout the development of the ideas expressed herein which, by the way, are my own. — Bob Reselman