Qualys today announced it is offering a completely free, 60-day version of its cloud-based remote endpoint protection solution. The product is fully featured, with nothing turned off in the free version. It's also cloud-based, so there are no worries about hosting the solution. This comes at a perfect time, with so many workers working remotely.
You can download the free solution at:
www.qualys.com/forms/remote-endpoint
According to the Qualys release:
"The Qualys remote endpoint security solution allows security teams to leverage the lightweight Qualys Cloud Agent to:
Complete an up-to-date inventory of all their remote endpoint hardware and the applications they are running
Gain a real-time view of all critical vulnerabilities impacting the operating system and applications posing a risk to these devices
Remotely patch these systems within hours from the cloud with one click of a mouse without using the limited bandwidth available on VPN gateways
Realize visibility in device hygiene by tracking common misconfigurations that leave the endpoints exposed to exploits."
DevOps.com spoke with Qualys President Sumedh Thakar for more information on this new free solution. That conversation can be heard below:
Here's a screenshot of the web-based interface of the solution: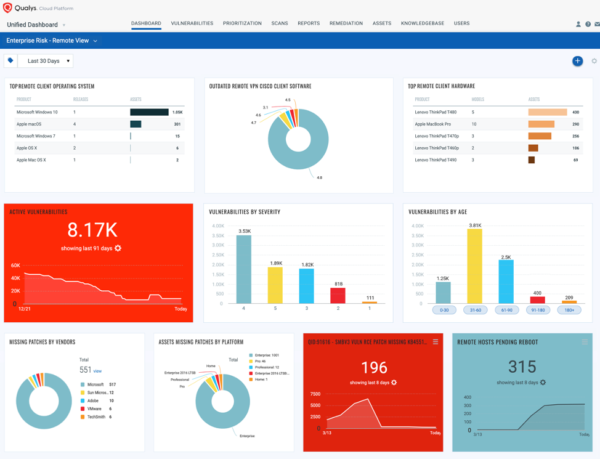 What happens after the 60 days you ask?  Qualys did not say definitively what the plan is for that, but I suspect that will depend on what happens with our economy and the work-from-home trends. In the meantime, if you are looking for a remote endpoint solution for the enterprise, this is a great chance to try one free for 60 days.