Kong Inc. today released an update to the enterprise edition of its platform that provides a foundation for connecting all the classes of applications that make up a modern IT environment.
Company CTO Marco Palladino said version 2.1 of Kong Enterprise makes it possible to deploy the data plane that integrates hybrid instances of the platform without requiring a separate instance of an open source Cassandra database in each location.
The latest update also adds support for Kong Mesh, a service mesh for integrating services that is built on top of Kuma, an open source project that Kong donated to the Cloud Native Computing Foundation (CNCF) earlier this year, which supports both containers and legacy virtual machine platforms.
Kong has also made it possible to build plugins using the Go programming language and added support for plugins to manage application programming interface (API) life cycles.
Finally, Kong has added support for the new Kong Vitals user interface for dashboards and an application registration tool within its developer portal.
Based on an API management platform that serves as the foundation for Kong Enterprise, Kong Enterprise takes connectivity within enterprise IT environments to a higher level of abstraction, Palladino said, by integrating all Layer 4 through 7 services for both monolithic and microservices-based applications. Rather than having to manage an array of networking services and associated services in isolated silos, Kong Enterprise provides a layer of abstraction for unifying the management of highly distributed IT environments running loosely coupled applications.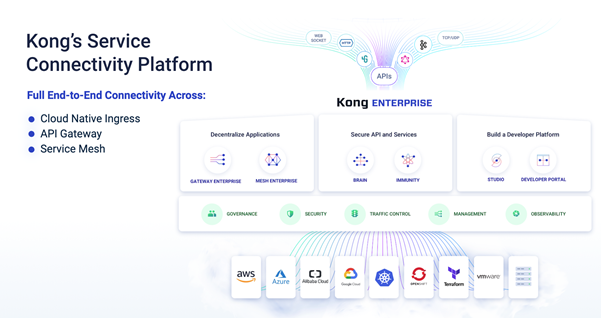 Thus far, more than 250 IT organizations have embraced Kong Enterprise to simplify the management of distributed IT environments, Palladino said. Those efforts will only accelerate as enterprise IT organizations move to reduce the total cost of IT by streamlining the management of IT. Most enterprise IT organizations today are managing multiple platforms using separate tools that have to be mastered by different administrators. Kong is making a case for unifying the management of more than 20 different platforms. At the core of that effort is Kong Gateway, an instance of Kubernetes through which Kong extends the reach of its framework into those environments.
Thanks mainly to the economic downturn brought on by the COVID-19 pandemic the rate at which enterprise IT organizations have been moving toward hybrid cloud computing is expected to accelerate. Most organizations will not be able to economically justify hiring and retaining separate administrators for each platform they deploy.
At the same time, digital business transformation initiatives require a more agile approach to enterprise IT enable by managing API-based services at a higher level of abstraction.
Naturally, it may take for organizations to exercise the political will need to bring all the fiefdoms that make up an enterprise IT environment together. However, as organizations continue to move down the path toward DevOps the need to ruthlessly automate distributed IT processes across an extended enterprise has never been more apparent.