At the Open Infrastructure Summit conference, Mirantis today unfurled a software-as-a-service (SaaS) application through which IT administrators can employ modeling tools to configure private clouds based on either OpenStack or Kubernetes.
Boris Renski, chief marketing officer for Mirantis, said rather than having to manually configure a private cloud for an on-premises IT environment using YAML files, the Model Designer for Mirantis Private Cloud enables IT administrators to configure a private cloud using modeling tools they access via a graphical interface (GUI). The Model Designer is scheduled for general availabilility in May.
That approach then makes it feasible for IT administrators with little to no programming expertise to quickly spin up private clouds within the context of a DevOps environment using a set of declarative tools, added Renksi.
Those tools also enable IT administrators to specify the degree of configurability they require. A basic configurability level automatically populates most of the cluster settings to a default set of pretested values. The most advanced "ultraviolence" configurability setting enables IT administrators to adjust virtually every aspect of their on-premises cloud. The resulting configuration models are then fed into DriveTrain, which is the automation framework that Mirantis provides within Mirantis Private Cloud.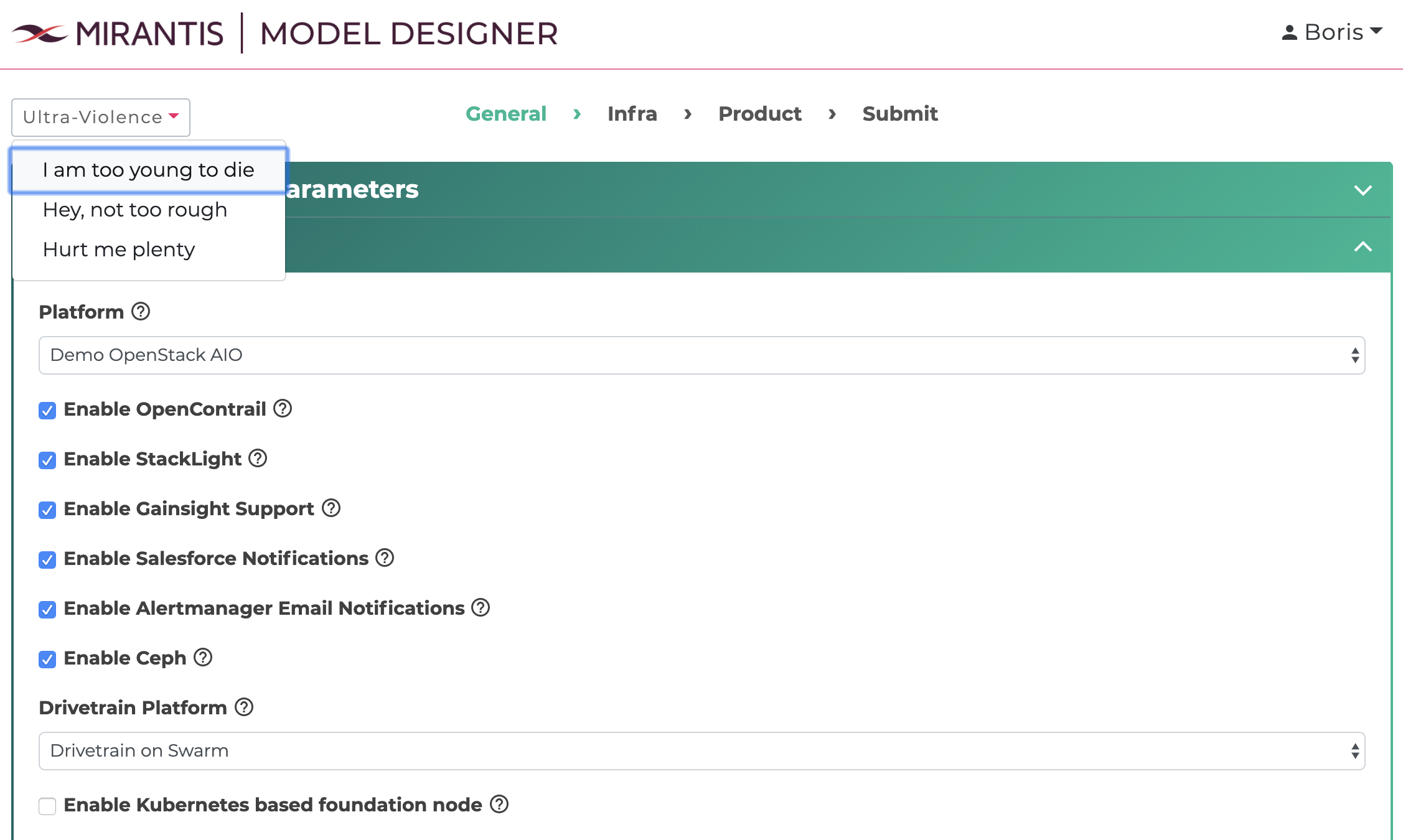 Renski said requiring IT administrators to master all the nuances associated with managing YAML files to stand up a private cloud is one of things holding back adoption of both on-premises private clouds and the best DevOps practices that should be relied to mange them. Most organizations that want to make the transition to DevOps clearly want to be able to manage infrastructure as code in much the same way public cloud service providers do today. The challenge is, the learning curve associated with achieving that goal is simply too high for the average IT administrator, he said, adding a modeling tool made available as SaaS application will make it possible for even mere IT mortals to easily spin up a private cloud within an on-premises IT environment.
Both OpenStack and Kubernetes suffer to varying degrees from often being too complex for the average IT organization to set up. Because of those complexity issues, adoption of both platforms often is limited to IT organizations that have advanced IT skills. But as the deployment processes surrounding both platforms become more automated, it's probable the number of organizations adopting either platform will increase. At the same, IT organizations that do embrace either platform more likely will spin up more instances once they no longer have to rely on a cumbersome manual set of processes.
Of course, setting up a private cloud based on either OpenStack or Kubernetes is only the beginning of the IT challenge. Once all those private clouds are deployed, IT organizations need to acquire the tools and expertise required to manage them on an ongoing basis. In fact, one of the things IT organizations should consider in the age of the private cloud is the level of integration of the tools from vendors they intend to rely on to set up and then manage a private cloud.