Tricentis has extended the reach of its portfolio of testing tools to now include software-as-a-service (SaaS) applications from ServiceNow.
Martin Klaus, vice president of product marketing for Tricentis, said testing has become a larger issue because in addition to patch updates ServiceNow is now on a cadence to deliver to two major updates to its platform a year.
More IT organizations are now leveraging the ServiceNow platform to build and deploy custom applications. Rather than build an entire application from the ground up, many organizations are accelerating digital business application deployments by extending functionality already provided by a SaaS application provider. All the updates regularly made to those applications create a testing automation challenge that can be addressed using Tricentis Test Automation for ServiceNow, said Klaus.
Deployed natively on the ServiceNow platform, Tricentis Test Automation for ServiceNow provides access to capabilities such as point-and-click recording, real-time playback of tests and automatic test case creation, he said. The goal is to speed up the testing process for ServiceNow applications by running hundreds of tests generated by machine learning algorithms in seconds versus what previously would have required days to complete, Klaus added.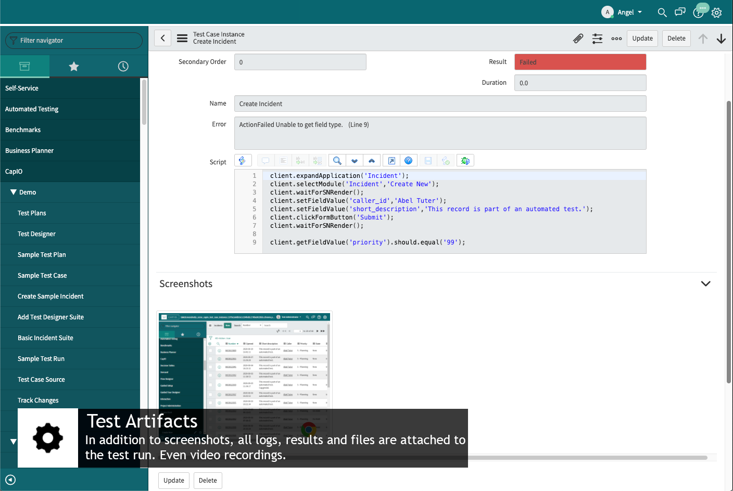 At present, there are more than 6,200 enterprise customers running ServiceNow applications, many of which are employing DevOps processes to build and extend ServiceNow applications. ServiceNow has also extended its DevOps focus via alliances with providers of DevOps platforms.
The bulk of the use cases for ServiceNow involve IT service management (ITSM). However, ServiceNow as of late has been expanding its focus on digital business applications by, among other things, adding additional workflows applications, including a workplace contact tracing application aimed at human resources (HR) teams.
The more ServiceNow applications an organization adds, the more complex the testing challenge becomes, especially as workflows start to extend across SaaS applications from different providers. For example, it's not uncommon for organizations to build and deploy custom applications spanning ServiceNow and SAP platforms, said Klaus. Tricentis provides a set of testing tools that can be applied across both multiple SaaS application platforms as well as the custom applications a DevOps teams builds and deploys on their own, he noted.
As organizations depend more on digital business applications, disruptions caused by updates to the underlying software components upon which a workflow depends becomes a bigger issue. In many cases, it's not employee productivity that is affected. Organizations are now driving revenue through digital business applications that can't be generated if the application isn't available. As a result, there's a growing focus on testing updates to digital business applications.
It's hard to say to what degree SaaS application platforms will become part of a larger DevOps pantheon. However, the number of applications being built and deployed using low-code/no-code tools that extend these platforms has increased. There might even come a day soon when the backlog for deploying these applications becomes a bigger issue than it is today. In the meantime, it's clear many DevOps teams are going to have to expand their definition of what constitutes a deployment platform.