Veritas has extended the capabilities of the company's NetBackup software as part of an effort to reduce the total cost of data protection.
Version 8.3 of NetBackup now includes Veritas Resiliency Platform (VRP), a disaster recovery tool, and CloudPoint, a tool for backing data up on a public cloud. All of these tools are part of what Veritas calls its Enterprise Data Services Platform (EDSP).
In addition, Veritas has integrated hardened NetBackup appliances and vendor-agnostic immutability for storage via its NetBackup OpenStorage Technology (OST) to help organizations recover from a ransomware attack more easily.
Veritas is also adding support for 2048-bit encryption and integration with third-party key management systems (EKMS) along with more flexible enhancements to the role-based access control (RBAC) it provides.
Other capabilities in this release of NetBackup include more granular recovery of virtual machines, the ability to orchestrated rehearsals to verify effectiveness of recovery procedures, and the ability to move data between cloud platforms.
Veritas has also extended discovery, backup, restore and automation at scale for Microsoft SQL, Oracle and Oracle Real Application Clusters (RAC) to simplify data protection processes spanning multiple classes of databases.
Finally, Veritas claims with this release, data protection via auto-discovery of resources and load balancing is now 25% faster and the discovery of VMware vCenter and vCloud platforms is 50% faster.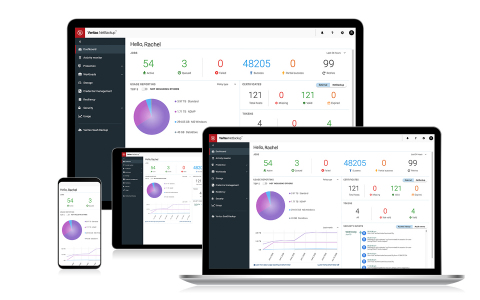 Doug Matthews, vice president of data protection and compliance for Veritas, said with the expansion of EDSP it's now much more cost-effective to protect data residing on multiple platforms. In the wake of the economic downturn brought on by the COVID-19 pandemic, there's much greater sensitivity to IT costs, he said.
At the same time, Matthews said Veritas is seeing DevOps teams become much more involved in automating data protection processes. Veritas has defined more than 600 application programming interfaces to enable DevOps teams to programmatically invoke its data protection software, he said.
Cybersecurity teams are also becoming more involved as backup and recovery becomes a core element of ransomware defense strategies, Matthews added. In an ideal world, anytime a ransomware attack occurs, a pristine copy of any impacted data would be readily available on another unaffected platform.
The convergence of data protection and cybersecurity has been a long time coming. Symantec once owned Veritas in the hopes of achieving that goal. Now Veritas is working with a much broader array of third-party partners to achieve that same goal, Matthews said. It may wind up being the rise of DevOps that finally forces that issue as data protection becomes one more IT task to be automated.
In the meantime, IT organizations may want to revisit their entire approach to data protection. Chances are good that most of them have multiple redundant data protection tools and services in place that have been acquired over time. Consolidating those functions ultimately not only reduces licensing costs, but it also creates an opportunity to automate a set of mundane tasks that all too often IT staff forget to perform consistently at a time that will prove crucial.